Post-Pandemic Housing: Domestic Science
18 Jan 2021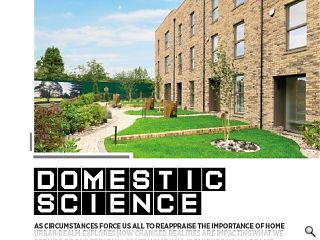 As circumstances force us all to reappraise the importance of home Urban Realm explores how changed realities are impacting what we require of our personal space.What will it take for us all to live healthier, happier and more harmonious lives?
Office space may be temporarily out of favour but our homes are very much in vogue as the pervasive backdrop to our locked down lives. Ever heavier demands on accommodation have already spurred an intensification of use from the appearance of makeshift work desks to contrived Zoom bookcases but what are the long-term implications? How will accommodation evolve to suit our needs? With active travel and outdoor space at a premium, how will reduced mobility translate into how we live our lives and will that induce domestic bliss or cabin fever?
We put these questions to 7N Architects principal Ewan Anderson who is in the throes of delivering a major residential masterplan at Jordanhill Park in the west end of Glasgow on behalf of CALA Homes. Until recently home to the University of Strathclyde this elevated setting provides an insight into future thinking that preserves the best of the old while producing a blank canvas for the delivery of a more collegiate form of living.
Anderson said: "It's an extraordinary site. IIt was originally an estate and stable with a mansion and sits in an elevated setting amid a mature landscape with views all around. You can see the Campsies and over the Clyde to the south, that's the reason the college went there in the first place. It's a fantastic parkland setting. We were keen to keep that feeling of living in the park because that's what makes it special."
Fit-out work has already begun on the B-listed David Stow Building ahead of a launch next spring, with 7N Architects maximising the volume of spaces through the removal of suspended ceilings and unsympathetic later additions - right down to restoring the original colour palette of the windows. Anderson told Urban Realm: "We had a lengthy debate about the grey windows but we uncovered an early design that showed they were grey in the first place. It wasn't until the latter part of the 20th century that they were painted white.
"Stow is interesting because it's 100 years old in parts but of early 20th-century construction in others, which helped because there are large spans of steelwork in there. It's been great to play with big volumes because we had the space to make sure the layouts are sensitively integrated with the facades. There are no split windows. It all works. It's a relatively relaxed conversion as we've been able to work with the existing fabric and structure. The stairwells are fantastic and the windows are huge."
Clearance of surplus college buildings has permitted high density to be kept high while retaining as much open space and mature woodland as possible, providing a readymade landscape setting with fortuitous timing for the changed priorities of the current pandemic.
Maintaining an open aspect to the front of the Stow Building has given room to breathe in the picturesque tradition with new apartment buildings, referred to as large villas, inserted within this landscape in a manner not unlike the original mansion setting, with brownfield areas given over to a more urban expression of townhouses.
All roads are shared surfaces with structured planting focussed on a linear park which runs right through the site and connects to the central green space. Anderson explains: "If you want to walk your dog or kids want to go out and play they can navigate down the shared streets straight to the park. The terraces are oriented at 90 degrees to freestanding houses to the north so you get views out. It's a perforated edge to the site because we were keen to avoid the closed-cell more typical of housebuilder environments.
Maintaining the expansive environment of its elevated plateau setting CALA and 7N were keen to avoid creating a gated community, ensuring people have access across the full periphery.
We've all felt the mental health ramifications of being cooped up at home, but how will this impact efforts to build neighbourhoods where people interact together. Might we return to a simpler way of living following principles such as the Parisian 15 minute city where people rely on local shops and amenities? "It will inform planning policy going forward." Anderson predicts: "It's interesting to look at Jordanhill Park in the context of the pandemic. The landscape setting is important to all our projects and it's something we're seeing residential developers become much more aware of, it's now easier to argue for shared green space, larger balconies and walking routes.
"There are vertical layers of planting between each house so when you're walking you get a layered feeling of green space as you approach the linear park. Tragically, it's taken something like this for people to wwthink more about wellbeing but it's an opportunity which should be grasped."
By engaging directly with a major housebuilder 7N ensures that architect-designed homes can be enjoyed by a much broader demographic upping the standard of accommodation on offer. Anderson says: "Architects should get involved in as many areas as possible. If you're trying to improve the environment you have to work in fields where you can make the most difference. If you can make the mainstream 25% better you will achieve a lot more than a one-off house and do it 100% better. All of the homes in Jordanhill Park are bespoke, they're not standard products and the masterplan is quite different from what they'd normally do.
"Standard housebuilder house types are quite rigid, this was trying to make them more flexible. If you're in the city you need to apply a certain level of density to keep the parkland. A suburban carpet approach with individual houses would lose a lot of the open space. This is about creating a more urban environment of shared spaces. It's a more communal way of living."

Any move toward a holistic and more sustainable way of living starts at home and the first tentative steps towards that goal are now being made. By adopting a back to the future strategy of minimal travel, local services and generous amenity means that the future is bright, the future is green.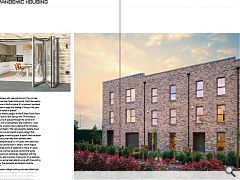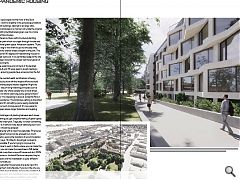 Back to January 2021