Post-Pandemic Offices
18 Jan 2021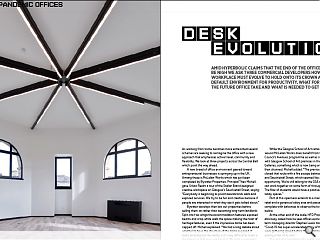 Amid hyperbolic claims that the end of the office could be nigh we ask three commercial developers how the workplace must evolve to hold onto its crown as the default environment for productivity. What form will the future office take and what is needed to get us there?
As working from home becomes more entrenched several schemes are seeking to reimagine the office with a new approach that emphasises active travel, community and flexibility. We look at three projects across the Central Belt which point the way ahead.
A new breed of office environment geared toward entrepreneurial businesses is springing up in the UK. Among these is McLellan Works which has just been completed by Bywater Properties. Principal Theo Michell, gave Urban Realm a tour of the Stallan Brand designed creative workspace on Glasgow's Sauchiehall Street, saying: "Everybody is beginning to pivot towards brick walls and exposed services. We try to be fun and creative because if people are interested in what they see it gets talked about."
Bywater develops then lets out properties before selling them on rather than becoming long-term landlords Split into two wings the accommodation features exposed beams and crisp white walls the space making the most of heritage features, even if the impressive dome has been capped off. Michell explained: "We had a long debate about whether to have the structure of the dome exposed. It looks amazing but the reality is it's very difficult to insert a mezzanine in that space and heat it. We took a pragmatic decision to seal it off."
While the Glasgow School of Art remains an open wound McLellan Works does benefit from Glasgow City Council's Avenues programme as well as connectivity with Glasgow School of Art premises in the McLellan Galleries, something which is now being embraced rather than shunned. Michell added: "The previous owners had closed that route with a fire escape between the GSA and Sauchiehall Street, which seemed like a wasted opportunity. We're still talking to the GSA about how we can work together on some form of through interaction. The flow of students would have a positive impact on the lobby spaces."
Part of this openness extends to a managed mix of retail and a generous lobby area and passage to the GSA, complete with balconies to observe the toing and froing below.
At the other end of the scale, HFD Property Group ais also busy, asked how he sees offices evolving in the near term managing director Stephen Lewis told Urban Realm: "Covid-19 has super-accelerated many of the trends that were gathering speed before the pandemic, as well as adding a few of its own."
This includes prioritising the health and wellbeing of staff as well as flexible collaboration with a heavy emphasis on touch-free technologies thrown into the mix. Lewis continues: "Intelligent building systems and the application of concepts such as the Internet of Things (IoT) were already being widely discussed and that will only become more commonplace, with a greater need for automation in building management driving efficiency.
"We expect collaborative space to become even more important – occupiers will likely need even more space for meetings and areas where people can work together. Research has also suggested that organisations are likely to need as much, or more, space to safely accommodate their staff and visitors – even if it's not as many as before on a day-to-day basis.
"There are also strong indications that flexibility will be key. While fewer people may need to be accommodated at any one time, there will need to be better provision for workers to come and go, and all the health and safety procedures that will be associated with allowing that – such as temperature checking, at least in the initial post-pandemic period."
Dismissing hopes of a rapid return to normal even with a vaccine breakthrough Lewis predicts a phased relaxation of restrictions: " In many cases the experience of 2020 has made businesses realise the importance that their offices play as a place for their people to meet, collaborate, exchange ideas, and feel part of something bigger. There have been several studies suggesting workers feel the same way too and want to combine working from home with time in the office, rather than choosing one or the other."
It is a philosophy which is very much in evidence at the latest venture of property investment development and asset management company Ediston, delivered with Orion Capital Managers and 10 Design. As chairman Andy McKinlay explains: "We are busy 'future-proofing' our office developments. At New Town Quarter, for example, we are introducing innovations in sustainability, hands-free technology and air quality, with an eye on introducing natural ventilation. Plus easy access to outdoor space and a full-office footprint roof garden.
"People remain at the heart of our office buildings. Occupiers give offices life, definition and personality. New Town Quarter is a very special mixed-use location - whether you are living, working or visiting - which combines the vibrancy of the city centre with high-quality green and public spaces. This is the future of our city centres – a location which isn't just for 9-5 working, but a vibrant community around a mix of uses, reflecting our post-Covid lust for life."
At Ediston the expectation is that pent-up demand will prompt an immediate boomerang back to the office to meet a need for the positive social aspects of face-to-face collaboration such as teamwork, creativity and fitness through provision of wellbeing activities such as yoga.
Following a similar tack, HFD are adapting their approach to meet shifting occupier requirements by specifying circulation routes and sanitising facilities to mitigate against future outbreaks. The gold standard here is 177 Bothwell Street, designed by Sheppard Robson Architects, which has been significantly remodelled to ensure anyone arriving at the front door will be able to reach their floor without having to touch any surfaces.
Explaining how hands-free navigation will work in practice Lewis says: "Visitors' mobile devices will also be pre-accredited, allowing them to operate security gates and lifts with an app, while touchless, app-activated lighting and heating will remove the need to physically operate switches. Water, soap, hand-drying facilities, and toilet flushing will be fitted with sensor technology to remove the need for touch and they will automatically inform the facilities management team when supplies are running low. A dedicated loading bay and delivery lockers will mean that mail and packages can be delivered directly between supplier and customer."
Ventilation will be a key area of consideration with underfloor heating replacing air-based systems and new filtering systems which will improve not only employee wellbeing but also sustainability. Outlining HFD's definition of a sustainable office Lewis says: "The building needs to be accessible, giving staff the option for active and eco-friendly travel to the building by walking, running, or cycling; not just by car or public transport. They also want useful amenities nearby – a post office, bank or specific retailers as well as food options, in case staff need to run errands during the working week."
This approach extends to the structure itself, employing recyclable material where possible and embracing energy efficiency to the point that 177 Bothwell Street will be powered by 100% renewable energy, possibly attaining the top EPC rating among city centre offices in Glasgow. Staff wellbeing meanwhile is met through sourcing products free from volatile organic compounds and installing circadian lighting which can adjust blue light levels according to the time of day.
Looking at the market more broadly does Lewis foresee a divergence in demand between out-of-town and city centre locations? "For the last three decades or so, there has undoubtedly been an ebb and flow between city centres and business parks with favour shifting from one to the other. In recent years, city centre offices have been the preference for some occupiers, leading to greater urbanisation. However, through the experience of the past eight months, there appears to be an opportunity for out of town areas too.
"We are nowhere near the so-called 'death of the office', but organisations will nevertheless adapt their property use to our new set of circumstances. A 'hub and spoke' model has been discussed as one option for larger businesses – having a smaller city centre headquarters and combining that with premises in suburban areas or business parks."
Addressing the disruption of recent months how it has informed their priorities McKinlay said: "We have seen requirements for space reduce, focusing on short-term flexibility - but also moves to occupy existing or new space at lower densities, quite rightly reflecting the need for social distancing in the workplace. But the real change will come with a vaccine. When news of a potential vaccine was announced, Zoom shares plunged. The office is alive and kicking!"
When all is in flux around us the instinctive reaction is to hold onto known quantities and as a staple part of the circadian rhythm of life for most the humble office isn't going anywhere. Instead, it will evolve as it always has to meet the needs and wants of a population celebrating a new found sense of freedom.
Back to January 2021