RIAS Election: Christina Gaiger
15 Oct 2020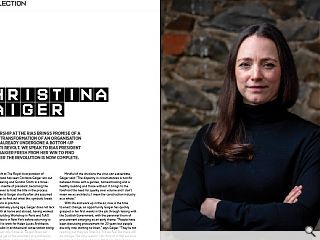 New leadership at the RIAS brings promise of a top-down transformation of an organisation which has already undergone a bottom-up grassroots revolt. We spoke to RIAS president Christina Gaiger following her election win to find out whether the revolution is now complete.
A generational shift at The Royal Incorporation of Architects in Scotland has seen Christina Gaiger win out against Karen Pickering and Gordon Smith in a three-way tussle for the mantle of president, becoming the youngest person ever to hold the title in the process. Urban Realm spoke to Gaiger shortly after she assumed the levers of power to find out what this symbolic break with the past means in practice.
Despite her relatively young age, Gaiger does not lack for experience both at home and abroad, having worked for Renzo Piano Building Workshop in Paris and TsAO & McKOWN Architects in New York before returning to Edinburgh in 2014 to work for Helen Lucas Architects, becoming a specialist in architectural conservation along the way. In her latest role, however, Gaiger faces her toughest challenge yet as the president of a profession undergoing transformative change that has already upended established norms of work and practice.
Mindful of the divisions the virus can exacerbate, Gaiger said: "The disparity in circumstances is horrific between those with a garden, homeschooling and a healthy building and those without. It brings to the forefront the need for quality over volume and I don't mean we as architects, I mean the construction industry as a whole."
With life and work up in the air, now is the time to enact change, an opportunity Gaiger has quickly grasped in her first weeks in the job through liaising with the Scottish Government, with the perennial thorn of procurement emerging as an early theme. "People have been discussing procurement for 20 years but people are only now starting to listen," says Gaiger. "They're not reacting but they are listening. It does feel like there will be change. The only reason I can think of is that we have become more aware of space. What I'm interested in is what will come of it.
"There are probably 10 institutions and bodies talking about all of these things. If we can start crossbody conversations we can speak with a more united voice, not just the RIAS. When we look at carbon targets it cannot happen without unity, it's impossible."
The simple act of looking out the window demonstrates the immediate impacts of the lockdown with reduced traffic and the growing importance of green space but does this mean industry will now be more receptive to different ways of doing business? "It's not resulted in policy change, it feels like people are paused," says Gaiger.
In particular, the RIAS has been looking at issues related to the green recovery but just as the political will to adapt strengthens so is the financial capability to do so shrinking. "There's going to be a recession," cautions Gaiger. "There have already been job losses and the economic impact will come to the fore. Then the challenge will be whether we pursue quality or prioritise volume as a response. That's the line and the question is which side the Scottish government wants to fall on. It's very difficult because one side is supporting the economy and the other side is seen supporting the green economy."
Gaiger's election speaks volumes for the current mood among members who've had enough of past ways of doing things and are desperate for a new direction. In answering these calls Gaiger has bravely put herself forward as a lightning rod for discontent. Described variously as the youngest RIAS president and the second female president, Gaiger is keen to use her voice to open up conversations in new directions which may not previously have been explored, hopefully identifying new approaches in the process. But how does Gaiger see herself? As a radical or someone who is more consensual? Brave even?
"A few people have used the term 'brave'. I don't identify with it", Gaiger responds. "I feel like I'm in a privileged position because of the people I've had around me and the opportunities I've had throughout my career. I wanted change, that's why I joined A New Chapter. I wouldn't say I'm an activist or radical, I have a collective approach. I don't believe my voice is more valuable than anyone else's. It's more about giving people the space to talk and having a forum where people listen and enact change.
"Every architect dreams of a perfect world, we're utopian idealists at heart, but we can't achieve that. It's about identifying things you can meaningfully change."
On the campaign trail, Gaiger championed establishing a support network but what form is that likely to take? "I'd love to see a digital forum, we're testing a few scenarios but the idea is there will be conversations which members can plug into and seek support. In the current circumstances where we're looking at redundancies, it may be a place where people can go and seek advice, collaboration and opportunities. As Urban Realm probably knows forums and commentary can spiral! People aren't scared to reach out online anymore, it's become the norm.
"There are great things to learn from what might appear to be negative comments. I want to focus on what we are doing right and identify why we don't do other things. What can the RIAS do is the most important question. It doesn't have the resources and the capacity to do everything but it is a powerful platform."
Is there a danger that architects are still too shy in coming forward, with most focussed solely on day-to-day issues rather than longer-term aims? "I like to think if you are made redundant you'd be able to come to your professional body and receive some form of assistance and reassurance, it's about more than sending letters asking for help but providing a service. People can clam up at the worst times and we do have a dilution of our role in the profession and we do need to fight for it. We need to shout about the skills we have - we're the most qualified profession."
Historically the RIAS has been close to the Scottish Government with Gaiger having to quickly adapt to countless acronyms, documents and official jargon that constitutes much of the day to day activities of the Scottish government, a minefield of etiquette that comes with opening new doors but has it been the case that architects have been too polite? Will the RIAS call out issues and failings where appropriate?
"I think you're completely right that being nice only gets you so far", Gaiger concurs. "We do need to have the strength and will to overcome fear of difficult conversations. It's not just opening doors but kicking the door down if you're talking about the built environment. If it's invitation-only why aren't we invited? I have no problem having difficult conversations!"
One difficult conversation is the Neil Baxter affair which is still rumbling on in the background three years on. Frustrated that that episode is still casting a shadow Gaiger said: "The process is not wholly behind us and is still ongoing, there are strands still being looked at. As an organisation council has been very inward-looking and I like to think we are now moving forward in a governance sense and finding our feet and are now much more outward-looking. Our door is not completely closed.
"I like to think we are moving away from it but it's not completely behind us yet. It's outwith my term as president and I would hate for anything to mar the energy efforts of people trying to move forward and I think that's a corner we've turned. We need to look at how we get our message across to the membership. I'm hoping that's something we can get better at."
The RIAS has long been crying out for someone with the drive and conviction to unite a fragmented profession and carry it forward to realise long-held goals. In Gaiger the RIAS now has just such a president but will a democratic approach to governance be enough? We have a mere two years to find out.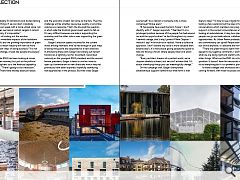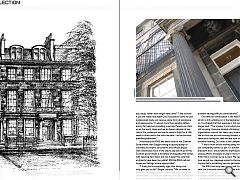 Back to October 2020