Juan Carlos Calderón: Time & Motion
15 Oct 2020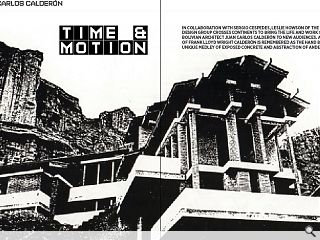 In collaboration with Sergio Cespedes, Leslie Howson of the Urban Design Group crosses continents to bring the life and work of late Bolivian architect Juan Carlos Calderón to new audiences. A disciple of Frank Lloyd Wright Calderón is remembered as the hand behind a unique medley of exposed concrete and abstraction of Andean details.
Juan Carlos Calderón was Bolivia`s most successful and prolific architect and author of some of its most important buildings yet is largely unknown outside the Americas.
Born Juan Carlos Calderón Romero in La Paz, he received his architectural education at Oklahoma State University. After graduation in 1957, he worked with various architects in the United States including Royston Hanamoto and Beck & Abey where he served as design director, before moving back to his home city in 1972, to start his practice.
Calderón's first project the Casa Soria, was a private house in La Paz, designed according to the principles of Organicism, an environmentally integrated approach to architectural design promoted by Frank Lloyd Wright. Calderón then began to receive commissions for the design of other residential buildings as well as offices and public buildings, the first being Entel Oruro and Entel la Paz. He excelled and his architecture soon stood out due to its distinctive identity and character as he began to make an impact.
During this early period, he designed a series of residences, banks, hotels, office buildings, buildings for private companies, churches, museums and in more recent years educational centres, cultural centres, offices for international institutions and events; including the design of his countries pavilion for the 1992 Expo in Seville. He was also proud to be asked to design the Museum of Art and Culture to be built on the mountain of Santa Barbara with views over La Paz.This museum he designed as a modern structural framework to allow free interrelationships between various activities and in which Calderón was to very clearly reflect his theories of time and movement in design, showing an architectural plan and volume with growth patterns similar to that of a nautilus.
Calderón carried out works of the most diverse genres both in Bolivia and in the United States. Many of these were award-winning and went onto become landmarks in the city of La Paz such as the Hansa building, the Communications Palace, the Plaza Hotel the Illimani I and II buildings, the USAID building, Entel Oruro and La Paz, Soboce, Gisbert, the Kusillo Children's Museum and in recent years, the buildings of the French Alliance, El Puente in Tarija, the Campus Bolivian Private University UPB, the building of the Andean Development Corporation CAF, the IDB Inter-American Development Bank building and the Postgraduate building of the Bolivian Private University UPB, the Ministry of Economy and Public Finance of Bolivia, Bolivian Stock Exchange in 2017. The Espacio Simón I. Patiño building, completed in 2018 is an architectural landmark and the last work to be designed by Calderón, marking the end of a successful professional life.
Calderón taught architecture, at universities in the United States and Bolivia as well as writing extensively on the theme of urban architecture, his work being published in several countries of the American Continent. He obtained several awards as Professor of the Year at the Florida A&M University School of Architecture in Tallahassee, Florida (1986-1988); the Grand Order of Bolivian Education (1990); Special Mention for the entire Work, with the Gabriela Mistral Award from the OAS (1991); Gold Medal from the College of Architects of Bolivia (1995) and in 2005 he received the National Culture Prize, one of the highest distinctions that the Bolivian State awards to personalities who have stood out in the cultural field. In 2010 he received the Lohmann Medal from his Alma Mater Oklahoma State University USA, a recognition of merit, in a significant contribution to the profession and education of engineers and architects, and was subsequently inducted into the hall of fame of his university and in November 2011, the Pan American Federation of Architect Associations presented him with the Juan Torres Higueras Award. In recognition of his contribution to the architecture, art and culture of Bolivia, Calderón was nominated for the Pritzker Prize for architecture and in September 2017, was awarded the title of Doctor Honoris Causa by the Universidad Mayor de San Andrés (UMSA).
Juan Carlos Calderón was an architect who instantly impressed me when I met him in his small La Paz office in 1989 whilst on a tour of South American countries as a younger architect and after being drawn to his work exhibited in La Paz. I found him to be likeable, courteous, wise and charismatic, passionate about his craft and undoubtedly the most impressive architect I have ever met both as a man in terms of his work. He was a design-oriented architect and an artist rolled into one.
Calderón`s mantra was design, purposely avoiding involvement in the contract management side of building, yet he was always able to ensure that the build process produced the designs he originally envisaged and developed and always in great detail. To Calderón, design was all, something which unfortunately many in the architectural profession have lost sight of, preferring the business of architecture rather architecture as a design passion. Calderón said to me when we met, 'let architects design and let builders build.'
He proved that design and build, feared by many UK architects, does not mean the design has to be compromised. Calderón established a watching brief for all his buildings and the results speak for themselves.
Calderón was a designer after the style of Frank Lloyd Wright of whom he was great admirer and whom he met in 1958 at a time when Wright was supervising the construction of the Guggenheim Museum in New York.This meeting would be a most important influence on Calderón`s professional life as an architect.
Whilst adopting Wrights organic design philosophy, which he followed throughout his working life, Calderón developed his own very specific theory of `time and movement` as a fourth dimension in architecture, explained in great detail in his first book 'Time and Motion in Architecture'. It is this combined design philosophy which is characteristic of all Calderón`s architecture, whether a single residence or an urban tower. These principles of time and movement are an important and constant feature of Calderón`s architecture evident in such as the Hansa in La Paz.
Calderón was able to show various model views of the building as seen by an observer moving around it and by doing so was able to emphasise the notion of viewing a building in the round, leading to the importance of designing in three dimensions and more importantly the fourth dimension of motion. This philosophy he proposed as being rooted in the dynamic principles of Futurism and the organic architecture of Frank Lloyd Wright. Such integration he saw as being achieved by viewing the building as an ever changing volume conceived and built in time. These principles he saw as a 'new grammar of design in which time would be incorporated as a fourth dimension of architecture.`
For Calderón the importance of hand drawing, at which he was a master, was a lifelong passion with sketching designs being a constant process from the earliest concept to the finished building.

"What really makes an architect, is that ideas flow from the mind through the arm and come out of the hand with force and expression and reflect a humanism, not like the coldness of drawing by computer."

Calderón`s buildings are characterized by his use of natural materials in conjunction with exposed concrete and by his abstraction of many traditional Bolivian Andean details seen in the friezes of the Entel buildings, details of murals in such buildings as the Post Office buildings and the Ministry of Transport and Communications. He also designed much of the interior furnishing and fittings of his buildings, seeing every such detail as integral to the architecture of the building as a whole.
Calderón's architectural practice became recognized for its high-quality architecture and he became the best and most successful Bolivian architect of his time, a fact acknowledged by the presentation of the 2005 National Culture Award and the Doctor Honoris Causa from the Universidad Mayor de San Andrés 2017. His architecture was published in many national and international magazines and the awards came from different places in Latin America and from his University. He was the envy of many of his peers for his success and was highly admired among architecture students to whom he gave an endless number of lectures explaining his design philosophy instilling the organism as a way of life and recommending that students move away from fashions because what is in fashion goes out of fashion, and rather seek a design philosophy in architecture.
In an interview with a teaching colleague, Calderón said of his contribution to architecture:"In a most modest way and in a country about which many people know very little, if anything at all, my attempt to contribute has been along the lines of humanism, of respect to nature, of love for architecture and the denunciation of greed which is destroying the western world. I have with a certain amount of success, spread the basic concepts of organic architecture, so widely ignored and misinterpreted in this century and yet possessing the seeds of a truly humanistic architecture of our time. From this position, I have developed some ideas of my own to do with time and motion as important elements of architectural design, elements I consider to be the trademark of the post-Einstein era."
Calderón was a passionate designer architect and an accomplished artist. Architecture was his passion, he dedicated his life to architecture and design. To him, architecture was an art and way of life and not just a business career.

"The key to success is that your profession and your hobby are the same thing."

The range of Juan Carlos Calderón`s work was phenomenal and unequalled in his own country. Being faithful to his philosophy and ideas, especially developing and applying his theory of time and movement in architecture, is what has charted his path to success as well as an undoubted talent and a passion for drawing by hand. His idealism, skill as a designer, artistry, attention to detail, dedication and passion to design, design philosophy and unique views on time and movement in architecture his humanity, his humility with people in need and the assurance that he was a good architect, are some aspects that characterized him and gave him that authority he had when it was time to express himself and fight for some cause. He kept abreast of current events especially in his own country and had a passion for his country and its people.
Despite an illustrious architectural career, Calderón in the last days of his life was concerned that he might be forgotten but as Cepedes reassured him his work remains in the streets of La Paz, each building that bears his name is recognized as an architectural landmark, there for future generations of architecture students to study. Cepedes says that Calderón was designing even in his last days in hospital when he asked for a paper and pencil to design the scenery for the Opera Carmen and a mural for his last building. Although he wished his work to pass to the students of the faculty of architecture of the University in La Paz, the recipients of Calderón's work were, in fact, the Bolivian Private University who now hold a full archive of his sketches, drawings, paintings and stage set designs.

Back to October 2020