Active Travel: Action Stations
15 Oct 2020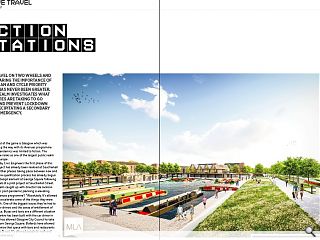 With travel on two wheels and none soaring the importance of pedestrian and cycle priority routes has never been greater. Urban Realm investigates what steps cities are taking to go green and prevent lockdown from precipitating a secondary health emergency.
One city ahead of the game is Glasgow which was already leading the way with its Avenues programme when talk ofpandemics was limited to fiction. The £115m initiative ranks as one of the largest public realm initiatives in Europe.
Delivered by Civic Engineers the first phase of this ambitious project has already been realised at Sauchiehall Street with further phases taking place between now and 2027, with a pre-qualification process has already begun for the latest design element at George Square following hot on the heels of a pilot project at Sauchiehall Street.
Urban Realm caught up with director Isla Jackson to ask whether post-pandemic planning is elevating Glasgow's Avenues programme?: "Absolutely. It's allowed the council to accelerate some of the things they were struggling with. One of the biggest issues they've had to deal with is car drivers and the sense of entitlement of using the space. Buses and taxis are a different situation but the city centre has been built with the car driver in mind and this has allowed Glasgow City Council to take out parking from George Square. Bollards have allowed people to colonise that space with bars and restaurants past West Nile Street. It's allowed people to walk and cycle more comfortably."
The adage you should never let a good crisis go to waste certainly holds for the moment as people radically reshape established patterns of work, travel and socialising - with as yet unquantifiable ramifications for the office, transport and leisure.
The Avenues programme remains a hybrid solution, allocating space for all (including road traffic) as transport priorities shift, but is there now an argument to go one step further and ban private vehicles from the city centre entirely? Jackson said: "We always intended to have less and slower moving traffic and that is about rebalancing towards pedestrians and cyclists. You can use your car to get to the city but you shouldn't use it to travel through. It needs to be your destination. It's about creating a more inclusive city whether that's someone pushing a pram, a wheelchair or the mobility/vision impaired. It's humbling walking around the city and seeing how these people have to negotiate the streets.
"A lot of the lanes in Glasgow are cobbled and they come right out to the street. If you have a mobility issue that's a real challenge."
Glasgow is fortunate to have been bestowed with a generous provision of infrastructure from its industrial heyday from an excellent public transport system to forward-thinking grid-iron road pattern which accommodates up to four lanes of traffic on major thoroughfares such as Argyle Street.
"It's essentially a dual carriageway," says Jackson. "If you want to cross from one side to the other you're taking your life in your hands. We need to reduce that space down to a minimum while still allowing two buses to pass each other." This recognition has led to the creation of a parallel network of cycle and footways segregated by a 2.5m multipurpose strip which can serve as a bus lane, rain garden or simple traffic buffer. The precise configuration being dependant on the full road width and the presence of infrastructure such as railway tunnels.
Rain gardens have gained particular importance following a number of flash flood incidents over the summer, events likely to increase in frequency going forward as the climate crisis places heavier demands on surface water treatment and drainage.
"There are multiple layers involved," says Jackson. "Not just what you see on the ground. The worst thing would be if spaces weren't maintained and just ended up a mess. A pilot scheme on Washington Street is taking water down from Argyle Street through these rain gardens to demonstrate that these do work. We have to eliminate any maintenance burden. What's it going to look like in 50 years time? That's the biggest challenge, people need to embrace active travel for the climate and their health."
"We're trying to provide an attractive environment so you don't have to lycra up to cycle in from Bridgeton or the West End", explains Jackson. "We don't want people to travel by car if the distance is less than five miles. People say 'oh, it rains a lot in Glasgow', well it rains a lot in Copenhagen and it doesn't stop them." Much like a mountaineer climbing simply because it's there Glasgow is providing the infrastructure necessary to traverse the city without to tail the back-end of a belching double-decker bus.
The other integral aspect of the project is bolstering the outdoor economy, something that has assumed primary importance as people shun crowds and interior spaces in favour of locations able to accommodate social distancing rules. Will The Avenues be sufficient to banish a pall of doom cast over the retail and leisure sector? Can High Street's rediscover their primacy over shopping malls? Jackson said: "There's a misconception that you can't take away parking because that's how customers get to the shop. It's cyclists and walkers who make up the majority of people going into shops. There have been studies which show retail spend goes up when people don't have a car as they simply drive in and away again.
"Sauchiehall Street is not perfect but it was always accepted that that was the first avenue and a pilot to show what needed to be looked at and improved. There are continuous lessons learned going on with issues such as loading bays and people crossing cycle lanes to reach the bus stops. People with visual impairments tend to use a building line but a lot of shops and cafés will have A-boards directly outside which must be negotiated, we've tried to pull all that back. It's these nuances which allow everybody to use the street."
One early concern is safety, with particular attention being paid to junctions and points of intersection between routes. Jackson explained: "Part of the issue is concern if a cyclist is hit by a car, or a cyclist hits a pedestrian - because cyclists can be quite aggressive too. Doing this across the whole city is challenging and there is a concern someone gets hurt. It takes confidence to roll these projects out properly without diluting it down to the point where it does everything and nothing.
"Every avenue should be better than the one that precedes it because the confidence is there and behaviour is changing in the general population."
Another tangential benefit of the Avenues is their role in expanding green spaces, particularly important in the city centre and tenement areas where private gardens are hard to come by. If cities are to thrive in a post-covid world then biodiversity and green infrastructure are two of the principal tools to achieve it.
Inertia is the enemy of us all and sometimes it takes an external shove to precipitate a change in behaviour. With people already adapting their lives on an individual basis the necessary buy-in from communities and businesses will surely follow and ensure that this is a revolution which can grow legs.
Back to October 2020