Crinan Canal: The Egg Shed
|
Send to friend
21 Jul 2020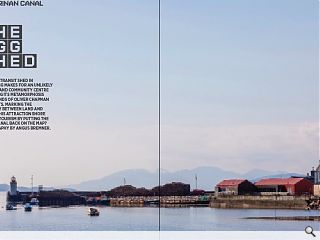 A former transit shed in Ardrishaig makes for an unlikely heritage and community centre following its metamorphosis at the hands of Oliver Chapman Architects. Marking the boundary between land and sea can this attraction shore up local tourism by putting the Crinan Canal back on the map? Photography by Angus Bremner.
At the Ardrishaig entrance to the Crinan Canal, a striking heritage and community centre has risen from the abandoned remains of a former transit shed, bringing an industrial waterfront back into the public domain in the process.
Colloquially referred to as The Egg Shed, referencing one of the primary products to pass through its doors, this unassuming space on the shores of Loch Gilp has been repurposed as a waterside destination following painstaking work to remove a less welcome legacy of oil contamination relating to the sites most recent use as an oil storage depot with eggs winning out as the more palatable tale. Unfairly passed over in favour of the Georgian delights of Inveraray Ardrishaig (and Lochgilphead just around the corner) are in process of reimagining themselves as tourist destinations in their own right, with the canal serving as the jewel in the crown and the Egg Shed serving as a honeypot to ensure visitors (and their cash) stick around. Outlining how the such a venture came to be, project architect Oliver Chapman of Oliver Chapman Architects told Urban Realm: "We did a charrette with Scottish Canals about three years ago, they own a lot of land and have a good partnership with the council. The canal is a good draw but you don't see it as you approach, it's hardly visible. It's only when you head north you see that interesting heritage."
Ardrishaig sits at the mouth of the canal and still retains infrastructure such as a ticket and harbourmaster office which once dealt with passengers sailing up the Clyde for a canal tour, although its days as a steamer terminal are now long gone. "A lot of people get anxious about the road network and the Rest and Be Thankful is always a talking point," notes Chapman. "There's a real push to get timber lorries off the roads and onto boats. Now instead of being a steamer terminal, there's a nice set up with the Forestry Commission whereby a boat turns up every couple of days to take lorry loads of timber off to Ayr.
"When we did the charrette we thought heavy goods traffic would be a bad neighbour, everyone's going to get fraught about health and safety, but all the locals like to see activity and be part of that." Bold use of red steel serves as a nod to the rural surroundings while distinguishing new and retained elements, to create what is essentially a building within a building with the new roofline overlapping the old. Chapman said: "There is a heritage of rusty red roofs and we're doing some large scale Ardrishaig Harbour signage on another existing building nearby. It's part of that agricultural and industrial heritage."When I joined Ricard Murphy back in the day he was picking up the story from Carlo Scarpa and it's a well-trodden device to separate the new from the old. I find it more and more interesting to curate the layers of history and not necessarily see things as black and white. What was fun is that the building inside the stone shell is lifted a couple of metres, so this popped up through the roof. It reminded me of a legacy of the raised land it sits on where each time somebody gets involved they raise the land a metre or two and now it's our turn."
While a waterfront situation is particularly vulnerable to flooding it also presents significant opportunities, not least of which is lochside views, something the architects have used to full advantage. Chapman continued: "We've made a nice experience inside the building where you're right up against the water. It's the sea wall of the building. I don't think there are many places where you can get that thrill of being inside a building where the water is right up close to you. The tides are quite aggressive. I've seen Ted Cullinan take the idea of a ruin and remodel it, not treating it quite so preciously as a conservation architect would do. We took the liberty of dropping the wall head down and expanding the windows so you can lookout. The building works very well as a visitor centre so you're not just looking at artefacts in a cabinet but you can see the flock of birds across the loch as well as read about them. You can link the content inside the building to the context outside."
Picking up on ideas first trialled in the Bed Box, an innovative mash-up of a bed and built-in storage, which freed up valuable floor space for other uses, Chapman has taken these ideas up a notch with adjustable connectivity while having fun with a playful cantilevered entrance. He said: "Our new building locks onto the older part but they can be opened up and closed down separately. I've always enjoyed playing around with solids and voids. It's a bit of a thrill in architecture to carve things out." More than just a standalone building the Egg Shed plays a pivotal role in a broader public realm masterplan which connects Pier Square with the canal itself. "Hopefully one day they'll be able to move cars out of Pier Square", says Chapman. Complementary efforts to transform the canal into an active travel link to Lochgilphead are also underway with landscape design specialists ERZ spearheading efforts to thread the canal into a revitalised Front Green. A tender has also been issued for an architect team to expand the MacPool where there is an ambition to establish a water sports destination.
Looking further ahead Chapman envisages even greater benefits by establishing a boating economy akin to that found in Scandinavia. "If you look at a map of Sweden, Denmark or Norway every little village has a marina. It must be a cultural thing," he observes. "If we put the infrastructure in for step ashore facilities we could build up that infrastructure." While tourism remains a double-edged sword, with areas such as Edinburgh and the Isle of Skye creaking under the sheer weight of the seasonal masses the Ardrishaig-Lochgilphead corridor is well placed to capitalise on any resumption in travel courtesy of its copious natural and historic assets. Development would also help draw some away from the main honeypots. The folly of putting all your eggs in a few baskets can be countered by playing to broader strengths.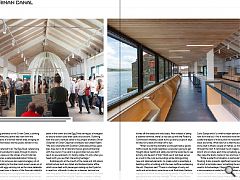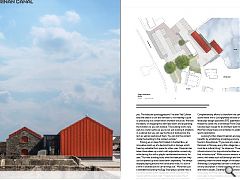 Back to July 2020