Lockdown Views: Drawing Together
|
Send to friend
21 Jul 2020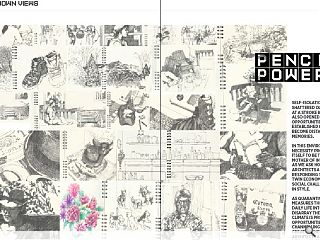 Self-isolation has shattered old habits at a stroke but has also opened up new opportunities as established norms become distant memories. In this environment, necessity proves itself to be the mother of invention as we ask how architects are responding to the twin economic and social challenges in style. As quarantine measures throw daily life into disarray the current climate is providing opportunities for channelling pent-up creative energies as architects adapt to new ways of working.
Brian McGinlay, founding director, McKinley Bell
I believe we are moving into a new way of working and I think for the better. For months now we have been reading about the 'new' normal, the office is dead, and all hail to a flexible working future. For us, we are not completely convinced. There are many advantages, but we are also acutely aware of the potential disadvantages of remote working. There are pitfalls such as a sense of social disconnection and negative issues around isolation, zoom fatigue, and mental exhaustion. So I think we will actively adopt and promote a balance of them all. You could say a 'blended' approach.
As a practice we decided to move quickly to establish our new work pattern and homes offices. We couldn't afford to wait on Boris. Fortunately for us, it was fairly straight forward to organise our infrastructure and software licenses needed across the six households - Essentially, we lifted our iMacs, plugged into our cloud server, and continued working.
Many ask should there be a rush to return to the way things were. I really don't think so. As the weeks and months pass by, we have now moved on as a practice. We need to. We have to. We are gaining better skills and have embraced technology. Who knew of Zoom? As a practice we have been arguably too traditional in our methods of communication by phone, email, or organised meeting. Zoom & Teams has genuinely been breath of fresh air for our practice. I really can't imagine the need to return to the days of walking across the city or travelling across the country for an hour meeting. Likewise, in terms of our industry, and as architects, I think we need to continue to lead the way and by more efficient means. I suppose if we don't, the worry is our profession will soon be left behind.
At the start of the year McGinlay Bell were in the later stages of organising a move to a new office. It was time for us to move to bigger premises as literally the walls were falling in with stuff, mainly larger physical models. We have been rapidly growing out of our city centre basement for some time now and with one door window, the space was quite honestly taking its toll on our team's state of mind and wellbeing. Our pre-covid new studio looked to accommodate better arrangement of desk space, suitable making space, and space for simple things like a separate meeting room. Thankfully, however, we didn't sign the 3-year lease! This crisis still poses uncertainty but has given us time to reflect and has certainly changed our perspective of our methods of practice and, whether a good balance can be struck between home and office.
The government job retention scheme is an incredibleinitiative. Overnight a good number of our commercial office projects literally stopped long term due to the pandemic. The retention scheme has played a huge role in protecting the business and importantly, our team. With our core staff now all on furlough it is difficult for me to fully understand whether home working would be completely efficient and work for everyone. For us, we believe that the physical office will always play a crucial role and will remain the embodiment of our cultural practice. It may however look very different. We feel the physical office space holds value for cultural learning. It is our place of collaborative thought, resources, ideas, creative making, and a share and expression of varied skills sets. The loss of an office I feel would be detrimental to our practice but equally for our young practitioners who, more so than not, learn from observation and from passing conversations and encounters.
With potential imposed social distancing laws our latest thoughts have visualised the idea of a new place to come together, a 'hub' or a 'workshop' type environment versus the traditional office. It doesn't need to be a large shinny office accommodating all. Many other creative industries have been embracing shared collaborative space for over a decade now. Perhaps it is time for us to consider similar notions. We aren't talking about hot-desking which arguably poses their own post-covid hygiene problems but more a hierarchical flexible space to facilitate many practice activities. It certain wouldn't suit everyone so we will keep the option open to our staff. Perhaps home working is a good place for head space and focused production where, the office becomes a focused place for creative conversation and social engagement.
In terms of the economy post-covid it's fair to say we are all yet to see the full impact across our industry. We are seeing positive movements and some good will from our clients to continue and push forward on projects. This, for us, is encouraging. We are however undoubtedly going to be a hit hard in the short-term, so we already are bracing ourselves for that. I constantly worry about our business, our staff, and the many students I teach at the University of Strathclyde. Part I & II Graduates are extremely important to our profession. They bring great energy, ideas and new skills which have been crucial to the growth of our practice. I feel for them, but I immediately think back to the 2008 downturn when Glasgow saw many fantastic graduates grab their own opportunity to self-initiate work and establish practice - Something which under our Dr Jonathan Charley's tutelage he encouraged us all to pursue coming out of Strathclyde. More so than not architects are trained to be optimists. Graduates will need to remain open-minded and patient in these times. Whether full-time, part-time, or freelance paid posts are made available, opportunities will come from practice and likewise from many other creative fields in which architectural students can also massively contribute to. We certainly can't lose these talented students from our profession.
As we plan to get back to some sort normality, we look forward to establishing our new methods of practice. Our business model has and always will continue to remain fluid. We constantly review our plans, but as a small office most of our time is focused on the immediate future and delivering on the work that is in front of us. Our intentions have never been to one day become a large office but has been to gain a solid depth of expertise and skills set that is inherently associated to our core team. Our focus will be to upskill knowledge while remaining nibble. Pre-covid we gained great opportunity to collaborate with other like-minded practices to produce and deliver projects. These separate collaborations with Stallan-Brand and Avanti Architects have been extremely rewarding for the practice and for us to quickly gain further experience on larger projects. We hope the industry can embrace these types of opportunities both in terms of practice to practice relations but equally greater mechanisms within the procurement processes. I would like to think we all now have a chance to consider effective change. A chance to embrace and trust small teams and individuals in the delivery of projects. A chance to really see the benefit of the right people (or Team) for the right job.


Akiko Kobayashi, founder, Akiko Kobayashi
I'm keen to get back into the studio. There will just be a new level of home working flexibility needed with days of the week and hardware that's either portable or duplicated. For everyone else, I imagine it'll only continue as needed for health protection, but architecture practice needs people in studios together, even if it's not the most efficient way of delivering work. I was speaking to landscape architects yesterday who seem to have much more time to get work done as travel time has been eliminated, but the job is far less enjoyable. So, efficiency isn't a good metric. We're not design/drafting/contract admin machines
I will continue to focus on serving the same client sector. I am however already seeing the value of delivering specific 'post-Covid' strategies, particularly in the design of workplaces and childcare. Clients appreciate this level of thinking at this stage when we're still in the pandemic, as it makes the reality of any proposal immediately relevant and therefore I think more tangible.
What's happening with the BLM movement (rather than Covid) has helped me to value the relationships that I've established with my client base.
Overall, perhaps the scale of my work means that I don't feel the economic effects just yet. My client base is the third sector, and whilst we hear of grant funding decisions being postponed, my clients are well-established organisations that seem to have both reserves and most importantly a need to carry on delivering their services. This might not be physical services at the moment, but there's no feeling that improvements to their previous physical environments won't still be needed. If anything, the current climate should be highlighting the importance of their service within the mechanisms of society - I'm specifically thinking of Women's Aid and Care for Carers.


Alan Dunlop, founder, Alan Dunlop Architects
I think the element of working from home has been easier than people thought because of Zoom and Skype but I don't know what the future holds. Because of how suddenly it happened there was no chance to make provisions.
I've always kept a sketchbook, I take it everywhere I go. I don't think there's anything like a sketch to record where you've been. It's a pleasure to do it and because the sites are closed, teaching is closed and there's no university access I wanted to keep my brain active so I thought to keep a diary through drawing. I started life drawing classes last year and have been drawing other things as a consequence.
A fundamental part of my teaching is encouraging students to draw rather than use CGI. To draw you have to study things and it makes things much more memorable. Some of the students almost have a phobia, they've never done it before, it takes a wee while to encourage them to pick up a pencil. It doesn't matter how talented you are or how good your line is, it's a process you go through and you have to look. I've never seen a computer-generated drawing which I'd like to put on my wall but even the most basic sketches have an inherent beauty in them. I find clients like drawings, they look at photographic images but they also like drawings.
A hand drawing in itself can transcend a way of explaining architecture.


Chris Dobson, director, 3DReid
Given the recent clamour at Primarks, IKEAs and McDonald's are notions of a profound step change in our collective behaviour post-Covid-19 wide of the mark?
We are a social animal and a continued erosion of our currently distanced behaviour seems almost certain. Whilst concepts of educational environments that promote separation between children and offices which screen us from one another may seem novel and current at present, do these really represent the way in which we want to live and work and see our future generations learn and interact?
Should we not take a less reactive approach and consider instead a longer term ambition to the design of our built environment, one which places our collective wellbeing at this centre of this? These are not new sentiments – Aalto's Paimio Sanatorium harnessed the power of the natural world within a healing environment, the oft-referenced Copenhagen pioneered the marginalisation of car use in a northern European climate. Our lockdown period of reflection will hopefully have given all of us a moment of pause to think about such a recalibration and the opportunities that it presents.
The same might be said for our studio environments. Thinkpieces and cost-cutting prospects may float possibilities of entirely home-based working. But, how does that aid what is a collaborative practice? Certainly, a great positive of these challenging times has been to truly demonstrate how flexible working need not mean reduced productivity and to highlight the undoubted benefits of a healthy work-life balance that can be afforded to the individual through a more fluid daily routine. To fulfil that balance necessitates the opportunity to escape the makeshift workspaces of our homes when isolation becomes too much. To have an office base through which to be able to experience again the impromptu conversations and sparks that arise from sharing the same physical space with others. The building of relationships has as much to do with personal connections and the nuances of expression that are lost within the mechanics of the pixels of our on-screen interactions.
Home-working also further highlights the inequalities that are present within both our profession and our society – whilst high earners may have the means to create comfortable studies, the young and lower earners, especially those in shared accommodation, often perch upon the ends of their beds. Digital poverty now adding broadband and associated hardware to the multitude of factors separating the haves and have nots.
It is another facet of the challenge facing new graduates, especially those located in towns and cities with high property prices. Many before have graduated during recessions but current conditions are particularly cruel. Shorn of degree shows offering the chance of exposure through a celebration of their work and with the opportunity of temporary employment in other industries to help bridge the gap, immediate recruitment prospects are likely to be slim.
Now, more than ever, the next generation of architects need our support and it is our responsibility to offer nurturing environments in which they can thrive. For the younger members of the team, in particular, the physical office is integral to their learning. The knowledge gathered through osmosis of the general work-based chatter, the ability to sit together around a table to review drawings and emails, the opportunity to be most effectively coached in the use of new software.
Whatever shape our studio takes, moving forward, it will represent a microcosm of the considerations, challenges and opportunities that will extend across all of our work. How can we best re-shape our built environment to promote supportive and inclusive communities, to aid the disadvantaged, to create sustainable and healthy places in which to live, play and work, to harness the potential power of our recently reacquainted togetherness?
And does our pandemic experience herald a genuine change in attitude within the business hierarchy, Work to Live, not Live to Work? In whatever manner a workplace may evolve post Covid-19, one thing is for certain, Architects need a shared space to work and learn from each other.


Calum Duncan, founder Calum Duncan Architects; chair Play Scotland
Being playful during these times of home- working, home-learning and restricted movement is more important than ever. Play is a vital and simple way for families and siblings to feel connected; it is a tonic in the face of anxiety, and it is a way of exploring ideas as an opportunity for intuitive learning. However, we are challenged by good appropriate space, inside and out, for everyone to play and explore. Our roadmap to the lifting of current restrictions is likely to result in traffic increasing again on our streets. Public transport is going to remain restricted, and people will be gradually returning to places of work. Local authorities are looking to expand the provision of space for pedestrians and cyclists to maintain distancing. We would encourage these improvements to be implemented as extensively and boldly as possible. Space is needed for children and young people to PLAY, as well as all of us to get fresh air and exercise.
In built-up areas, parks and greenspace are already under pressure, and we can extend this space within our towns and cities through appropriate road closures for play, walking and exercise. This could be roads which are next to parks and schools, even rewilding some of these streets, or consider new connections to woodlands and greenspace which are currently not available of less known. A busy road junction adjacent to schools could be transformed into an expanded playground space, whilst calming car use too. A stretch of residential street could be closed where residents have limited or no gardens.
Closed sections of roads can become space to play on bikes, skateboard, chalk drawing, clowning, games and ball games between siblings, play musical instruments, or simply relax and escape the indoors with space to breathe. In the UK overall, 15% of dwellings have no access to private outdoor space. Only 25% of flats have outdoor space and dwellings in the most deprived areas are least likely to have private outdoor space. It is not just for local authorities to take actions on these issues, we can all help. For every single journey we need to make, the less we drive, the slower we drive, the more we cycle and the more we walk, the more space we are making for all ages to enjoy and play. We have an opportunity to change our mindsets which will improve play space, mental health and wellbeing, as well as the air quality for all of us. Let's make space to play and breathe.


Graeme Nicholls, director, Graeme Nicholls Architects
Although the practice is now based in a city centre office, for the first couple of years after setting up we worked from a home studio with other collaborators also being based from home. So, it has not been a culture shock for us that maybe some other practices have encountered. Our I.T. systems and working methods were already geared up for this, so it has been an easy transition.
Most people I speak to in other practices seem to be saying they will 'wait and see' when it comes to current staffing levels and likely recruitment over the next period. I think graduates might find the demand levels lower than normal until firms have more of a sense of the overall impact on their workloads as lockdown eases.
We have been lucky that it has been business-as-usual for us, as most of the projects we are working on are at early stages rather than on-site.
Those projects have progressed as normal, and we have even seen some new projects come into the office. Developers seem to be pretty active at the moment, which is positive and encouraging for the longer-term prospects.


Richard MacDonald,, director, Keppie Design
All of our team are working from home and our IT Infrastructure is standing up well to the scale of files and attachments coupled with the various programs we use. We envisage around 20/30% of staff continuing to work from home for the foreseeable future even after the restrictions are lifted due to various concerns regarding childcare, public transport, and other social distancing concerns. That percentage may increase but we as always are respectful of our teams individual needs, hey I may even work from home more regularly in the future.
We are always keen to recruit graduates but we have to be careful this year to ensure we have sufficient workload to support recruitment. Normally we hire around 3/4 graduates per year but this may be more difficult this year due to the constraints of Covid-19.
Whilst we recognise that certain projects will be affected in the short term by the 2m rule, our designs are not all being completely transformed. We have received client concerns around social distancing and we may have to adapt certain buildings to suit this. Also, a major entertainment project we are working on may have to increase in size quite substantially.
We are constantly reviewing our business planning due to the general volatility of architecture with challenges such as the potential Indyref2 and Brexit creating uncertainty. Covid-19 simply confuses things further but our Operations Director Pamela Ross has been extremely cautious and prudent since her appointment in 2018 resulting in a robust business model with decent reserves that should withstand the impact of the pandemic. We see a slow and gradual recovery more of a 'U' than a 'V'and our business planning is reflecting this with a significant reduction in revenues forecasted for 2020-21.


James Nelmes, director, Bennetts Associates
As Architects the current crisis has taught us we are more adaptable than we think. We transitioned from a studio-based practice in three cities to a virtual office of 70 with relative ease. Some of the changes necessary to achieve this were overdue and there are real positives to greater flexibility in how, where and when we work. Greater home working will unquestionably be a part of our future but we will return to office working when the time is right. Not because we have to but because we want to.
We miss each other and we miss the interaction of a studio-based environment. Our view of our offices is changing and we are questioning what their core purpose is. We are putting in place the measures necessary to tackle the short term challenges of returning to the office but we are more motivated by the longer-term – what will our new norm look like? Task-based work does not need to be carried out in the office. Could we remove computers entirely from our studios and use them solely as spaces for interaction, socialising, creation and review? It is the "compulsion of proximity" which continues to drive our thinking. The motivations of the theatres goers, university students and office workers we design for are no different.
It will be interesting to move beyond practice concerns and think how Architecture with a capital 'A' might change post-COVD. When OTIS invented the lift and Chicago became the birthplace of the modern high rise city did anyone think there would be a time when we might consider a world without buildings over four floors?



Karen Pickering, director, Page\Park
There will not be a rapid return to the way things were, and in some ways that will be a good thing.
Life has slowed down and we are all appreciating outdoor space more. The environment has hugely benefitted from lockdown and this shows that we can address the climate emergency if we all change our behaviours.
I think working from home will, to varying degrees, be the preferred way to work post lockdown. We have been surveying staff and most are working productively from home. Our staff are now spread across several geographical areas, using technology to stay in touch and are generally reporting a better work/life balance.
However, also as part of the survey, we found that our staff missed being with each other, particularly for the social aspects of working together, collaborative working and asking for advice from colleagues.
We have a large office and can accommodate half our staff at a safe distance. However, one of the main issues will be the commute to our offices. The majority of our staff travel to work via public transport, which at present is not being encouraged. More will commute by bike and we have doubled the cycle storage at our office. Even I am going to cycle to work!!
I think the majority of architectural practices will be keeping a close eye on staff numbers at present, to keep their existing teams together, so there may be less opportunity for graduates. However, graduates bring a great deal of flare and energy to practice and can enhance the design output, so there will undoubtedly be some opportunities out there as recovery gains momentum.
Graduates could also consider applying to work in other areas of the construction industry for potential employment, such as working for project managers or contractors, as part of the design management teams.
With the spatial consequences of social distancing measures, almost every client business and organisation is having to review their buildings and estates to get back into operation. There is a renewed focus on external space and particularly the urban public realm, and how this can support businesses to reopen in the interim period. There is an increased awareness of environmental and sustainability issues as we have all enjoyed clearer skies and better air quality, and hope this will lead to positive lasting change in terms of active transport.
The Covid-19 situation has highlighted social inequalities in housing, access to green space, physical and digital exclusion in education – and architects are well placed to assist in thinking around these issues. Indeed many architects and designers are using this time to speculate and dream of better futures.
At Page \Park we have been actively engaged in speculating how we will be designing in a post Covid world, across all our sectors.
The city and high streets will change dramatically as we have embraced online shopping to new levels during the lockdown. Retail buildings will need to be re-thought and retro-fit will be a focus. Use of external space for social and business use will become a key focus for projects in the future. Increased home working longer term may well result in an excess of office space within cities, that may require repurposing into other uses.
We were reviewing our business model before lockdown and this has given us time to focus on completing that piece of work. We have refreshed our business structure, our design groups and our operational systems. This will help our senior management group concentrate more on developing our architecture and business strategy.
All of this is to ensure we have a robust business, enabling us to progress through what is likely be a difficult time for construction over the coming year.
Competition for work will be tough in Scotland over the coming months. We are looking at widening our geographical reach for work wider in Scotland and also south of the border.


Ewan Imrie,architect, Collective Architecture
Adapting to home working, from a technical perspective, was fairly straightforward. We were already well connected and prepared from an IT/communications perspective and moved over 50 employees to homeworking the week before lockdown. However, the impact of working from home varies widely with some finding it a positive change, others an isolating and exhausting experience, and the rest varying between these extremes at different times. To mitigate this, we hold regular full team 'workshops' to discuss strategies and provide space for Q+A, which has been helpful all round. We have also put measures in place to support those with childcare and home-schooling pressures by being flexible with working patterns. Our 'virtual' team, office, management meetings and informal catch-ups have provided employees with ways to keep in touch with each other and as a way to share information.
Around half of our employees, predominantly the younger members, are keen to return to a studio environment. This, perhaps conveniently, corresponds to the likely capacity of our office with social distancing measures in place. For others, and particularly those whose kids may only return to school or nursery part-time, it looks like home working will remain part of the 'new normal' until winter at least.
As a 5th year tutor at Strathclyde University, I worry for graduates trying to find employment. Employers will be reluctant to hire in a recession where sites are progressing slowly and developments stall. Also, there may be no 'real' office environment for them to settle into. During the last recession, caused by the financial crisis, lots of excellent small firms were established by graduates. However, these practices were able to develop dynamically by doing consultation work, public art commissions, community projects, house extensions, etc., and this type of work just might not be there to offer the same opportunities to graduates. Some serious thought and action is needed to find ways to support graduates and make sure excellent talent is not lost.
As most of our income comes from the social housing sector, we are fortunate as this is likely to be less immediately affected than other sectors such as hospitality and commercial, which could be devasted in the short term. Now, more than ever, it appears vital that housing balances well-designed, generous and flexible homes with immediate access to quality open-space and community facilities and we shall continue to pursue this ambition. Also, we are using the lockdown to pursue our interest in tackling Climate Change and are putting more employees through Passivhaus training while developing strategies for zero-carbon housing, the circular-economy and strategies for retrofitting the existing housing stock, which we believe are still pivotal and pressing issues.
A key part of our business plan, in addition to striving for design quality and meeting client and users' needs, is securing the long-term employment of staff (employee-owners). To date, we have never had to make anyone redundant. In light of the current slowing of construction work and project delays caused by the lockdown, we are expecting the true effects of COVID-19 to kick in in a few months. Therefore, we are currently looking at ways to reduce overheads and are considering ongoing flexible working and implementing a 4-day week for several months. Hopefully, with these measures, we can reduce outgoings and offset this with health and wellbeing benefits for employees.
Back to July 2020