Sustainable Living: Climate Crisis
|
Send to friend
21 Jul 2020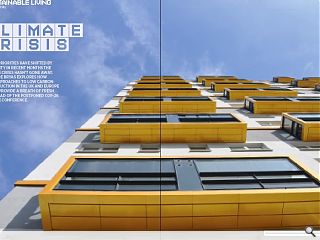 While priorities have shifted by necessity in recent months the climate crisis hasn't gone away. Marie de Bryas explores how new approaches to low carbon construction in the uk and Europe could provide a breath of fresh air ahead of the postponed Cop-26 climate conference.
In November 2021, Glasgow is due to welcome the postponed 26th session of the Conference of the Parties (the COP 26), a discussion organised to assess progress in dealing with climate change. As we know, buildings are already responsible for 40% of all CO2 emissions, and this number is predicted to rise as the global building floor area doubles by 2060.
With over 900 architects and most architecture schools that have declared climate emergency, we ask ourselves what is being done and what can the construction industry do to meet the needs of our society without breaching the earth's ecological boundaries. Since housing accounts for a fifth of the UK's greenhouse gas emissions, it feels like a good place to start. More specifically, a particular focus on social housing seems relevant, as some evidence proves that social housing leads the private sector in innovative, energy-efficient house building.
Firstly, before we consider how to design new buildings, we should, where possible, prioritise retrofitting our existing houseing stock. As well as being a loss in built heritage and culture, demolition is often energy intensive and wasteful. The government has a role to play in this crisis as the decision to demolish a building is often influenced by the difference in VAT between new build and refurbishing. Indeed, whilst much demolition and new build attract zero rate VAT, most repairs and maintenance work are charged 20%. A harmonisation in VAT could potentially result in a decrease in demolition across the nation.
But architects play an important role too. Frederic Druot, winner of the Mies van der Rohe Award in 2020 (along with Lacaton and Vassal and Christophe Hutin) for the transformation of 530 dwellings in Bordeaux argues you can "spend less to do more" with retrofitting. Most of his projects consist of refurbishing existing social housing towers by replacing their existing façades with prefabricated winter gardens and balconies. This significantly improves the thermal performance of a building whilst improving the residents' daylight, views, and increasing their space with an extra 10sqm for the same rent. "We can live in the winter garden, but we can't live in the insulation" notes Druot. In addition, the prefabrication methods allow for the existing residents to stay home during the entire refurbishment process. According to the architects, adapting and refurbishing existing facilities can save up to 50% of the cost of demolishing and re-building an entire new design.
In Scotland, Collective Architecture offers a great example of an ambitious social housing refurbishment project, Woodside multi-storey flats in Glasgow. The three 1960s towers were recently transformed to meet Passivhaus EnerPHit standards for retrofit. By reducing heating demand by 80%, the scheme alleviates fuel poverty for its residents. Unfortunately, both projects look very generic and fail to respond to their specific contexts, but they prove that we can often do a lot with what we already have, and that sustainable designs can often provide an economic and social solution.
With over half of Scottish housing deemed in a state of "critical disrepair", we have the opportunity and the necessity to have a big impact using existing domestic dwellings. Scottish tenements, representing over 40% of the housing stock, are the biggest challenge, due to their complexity of physical structure and multi-owner interest. Having nationally agreed housing standards that owners must adhere to could reduce the number of houses needing repairs.
As retrofitting isn't always an option, we must also develop strategies for new construction. Two main approaches can be used to limit the impact of a building: to reduce either the operational or the embodied energy and carbon footprint of a project. As we know, most low-embodied energy materials also have the benefit to improve indoor air-quality and health. Cross-laminated timber (CLT) technologies now make it possible to reduce significantly the use of higher-embodied energy materials such as concrete or steel. This is encouraged by the Scottish Government, which is doing its part by pledging to plant 33 million trees by 2025. Once again, it is interesting to look across the channel to see ambitious French initiatives.
Indeed, France is witnessing a whole new generation of developers committed to building greener buildings. Woodeum, one of the market leaders in CLT construction, is in the process of delivering the world's tallest timber framed tower in Bordeaux. Designed by French architect Jean-Paul Viguier, the project, called Hyperion, will create 82 apartments and offices. In addition to being a low embodied building method, the use of CLT for walls allows for flexibility inside the homes, allowing the project to evolve through time. Although the construction cost of CLT buildings is on average 1% more than traditional buildings, the project delivery can be done six months earlier than for an equivalent project, thanks to off-site prefabrication.
In the UK, the Construction Scotland Innovation Centre is leading progress in the CLT area. Thanks to vacuum technology, since 2018 it has been able to produce, panelson a commercial scale for the first time in the UK. Vacuum production is particularly interesting as it is fairly flexible in scale as opposed to hydraulic presses, which makes bigger panels exponentially more expensive. Several projects had already been using CLT technology in Scotland, most notably the Yoker tower in Glasgow, but all had to manufacture their CLT panels outside of the UK. This new factory, along with an increase in raw material, should made it easier for Scottish designers to use the technology with locally sourced wood.
The second solution is to reduce the demand for energy in a building. The current regulations are, according to the RIBA 2030 Climate Challenge, an unsustainable practice. Therefore, we can't rely on current legislation and the responsibility is put on architects, if they can, to do more than the minimum required. Another key problem in the UK is the gap between the design intention and what is delivered, in particular in terms of energy use, ventilation and indoor air quality, as well as thermal comfort and overheating. We run the risk of meeting theoretical targets instead of actual ones. This problem could be solved by increasing the number of council staff to avoid departments being over stretched, allowing for a better involvement throughout projects.
It seems delivering a PassivHaus building is one solution, although not the only one. The method has been in place for decades and is quality assured. The 2019 Stirling Prize Winner, the Goldsmith Street project, situated in the Norwich City Centre, proves that it is possible to deliver a large scale PassivHaus housing project. The project is composed of 100 sunny, light filled new homes with very low fuel bills of approximately £150 per year. However, building to PassivHaus standards comes at an initial cost. According to the PassivHaus Trust, "The current best practice is at 9% extra cost. However, Exeter City Council, with nearly 9 years' experience, are now building PassivHaus at a premium of just 8%". This remains a significant cost difference. In the midst of a recession, we could run the risk of having sustainability and carbon emissions deprioritised in favour of smaller upfront costs.
Unfortunately, the UK does not yet have a robust method of calculation for a combined embodied and operational carbon. It seems a simple test would help to consider the two methods hand in hand.
Often, the solution remains in designing well crafted, socially and environmentally mindful designs. Although architects have a big role to play in this ongoing crisis, developers and governments should take on some of the responsibility too. By shifting our demolition culture to a careful retrofitting ethos, and by building low embodied and operational energy projects, the construction industry could potentially have a sizeable impact in the battle against climate change.
We have made a lot of progress in developing technologies and changing habits in light of climate change. As the Covid-19 pandemic is currently forcing us to stop polluting the air and stay home, we could use this time of recess to rethink our current ways of doing business and develop more sustainable practices..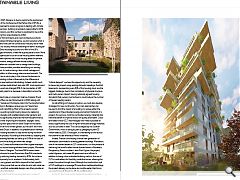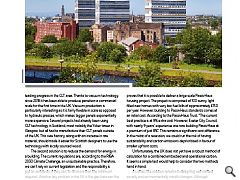 Back to July 2020