Marginal Utility: Inner Space
10 Jul 2019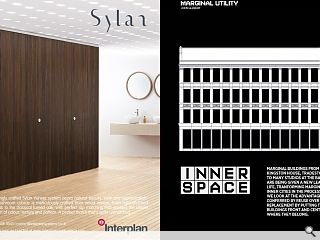 Marginal buildings from Kingston House, Tradeston, to Many Studios at the Barras are being given a new lease of life, tranforming marginalised inner cities in the process. We look at the advantages conferred by reuse over replacement by putting these buildings front and centre where they belong.
As budgets shrink and suburbanisation runs its course a group of marginal buildings on the boundary where affluence and poverty meet are being reappraised in a new more sustainable light. We look at how marginal buildings are not only being brought back into productive use but are pointing the way ahead in terms of design, wellbeing and sustainability.
From Govanhill Baths to Kinning Park community activism across Glasgow is helping to break down barriers between communities and the authorities and it is into this fraught frontline that a number of innovative new architects are emerging with ideas revitalise forgotten spaces. Becca Thomas, creative director of A New Practice (formerly Pidgin Perfect) is better than most at spotting diamonds in the rough, having labored hard to transform a disused market at Glasgow's Barras while embodying principles of openness and collaboration. Sitting within Many Studios Thomas said: "The constraints of the existing building meant we created more interesting spaces. Given such a small amount of money it would have been impossible to create a new build on this scale. Even as a refurbishment it was extremely tight, so we had to spend money on the important things like the windows and insulation."
This sparing approach recognises the line between regeneration and gentrification, repurposing the best elements of the sandstone block without alienating existing traders. Thomas said: "You don't want to make those spaces overly expensive. There's that line of regeneration in a positive and negative sense, both socially and financially. People who do not and will not set foot in an art gallery because it's a scary place will want to see what's going on and if they want to get your attention you can meet them in a comfortable space on the street." A key part of this openness lies in the use of language with Thomas mindful to avoid jargon and elitist terminology when communicating ideas: "If I've had one community member shout at me for using jargon I've had a million."
We felt that growing that way was more sustainable and then bring in architectural value with Many Studios as our first building. We haven't gone down the traditional architecture route we still do artworks and community engagement as a core part of our service." This fearlessness in doing things their own way has allowed A New Practice to avoid being pigeon-holed, and it has assembled a diverse group of product, interior and graphic designers to tackle a broad but related set of challenges in-house. As Thomas says: "It's all about design and people, if we get that right we're doing ok". Many Studios exemplifies this idealism by keeping things simple, partly through choice and partly by necessity, as when ironwork and brick walls are exposed while inserting standard 2.4m timber kit partitions. Thomas continued: "The way we had to build means nothing in here is precious except the equipment tenants bring with them. So we can attach things to walls, it doesn't matter. Everything is a working space; it doesn't matter if you throw paint at a wall." Playing its part in the wellness and wellbeing agenda, this openness extends to the practice's project at Kinning Park Complex, where vital work to upgrade the windows and roof of the community centre is required without breaking the bank.
Thomas remarked: "The building has a particular aesthetic, in that sense the building has created its own ecosystem and we don't want to ruin that. It won't be a white cube box when we finish with it, but it also can't be too posh. It can't have all that soul stripped out of it." Taken over by the community back in 1996 following a 55day occupation the council agreed to allow its users to manage
Left - Kingston House will remain as a tanible link to the past within Barclays Tradeston campus Right - Modern additions will be stripped back to reveal the building in its full skeletal glory
17
the building 'temporarily' in exchange for a peppercorn rent and they are still going strong. Thomas said: "As a community they've managed to maintain the space in a useable state for 20 years which is quite an incredible achievement. They've changed from a community interest company to a Scottish Charitable Incorporated Organisation (SCIO). They've managed to hold on long enough so that legislation has emerged to allow them to buy the building and develop plans for the long-term." This work puts A New Practice in good stead for one of their biggest commissions to date, Barclays new Tradeston campus which seeks to drag the city centre south of the River Clyde in one fell swoop. "It's very different for us because we're working within a space provided to us' says Thomas. "The work there is about trying to make connections to the river by making it a place you would go to even if you're not a Barclay's member of staff. There will be a range of retail, cafes and active travel routes.
Barclays deserve praise for embracing the almost Victorian concept of building a city within a city for their workers but is there a danger of a creeping Canary Wharf style privatization of public space? Thomas responded: "Depending on how Barclays security teams work the aim is to have these areas unpoliced but have the option to introduce policing if there is a need for it. The conversations we've been having is that it needs to be a public through route, it can't feel closed off. You might have gates which you can shut if there is a threat but they shouldn't be visible in your day to day experience. As a citizen of Glasgow I wouldn't want to feel I was entering a private space, it would be much nicer to enter a landscaped route and it would be much nicer to balance the two." The success of this approach at home is already opening doors further afield with the practice securing a desk space in trendy Shoreditch as a springboard for extending their vision to London. "Getting on the mayors design panel/framework has been very useful. We've had a number of invited tenders in response to that", says Thomas. A presence in the capital also gives Many a foothold within the UK's most cut-throat market. With a finger on the pulse of those changes Rab Bennetts, director of Bennetts Associates, said: "The workplace is changing rapidly as the occupier generation gets younger and tastes become far more diverse.
Few people (especially startups or SMEs) want long leases and 'smart' corporate office space these days, whereas characterful existing buildings often have more stimulus and the environmental benefits are pretty obvious. Property owners (at least in London) are seeing a new type of workspace that is part hotel, part office, part cultural offering, with a management service that fosters shared resources. Might this work in Glasgow?" Returning to Glasgow the long-running saga of Govanhill Baths provides plenty of ammunition for those arguing that short-sightedness is often the biggest contributor to missed and lost opportunities, with a report by the Glasgow City Heritage Trust suggesting that listed buildings in working class districts are not treated with the same respect as those in more prosperous areas.
Despite such headwinds Govanhill Baths Community Trust are now within touching distance of a sensitive reimagining by Hall Black Douglas and conservation architect Alistair Coey. Bristling at the suggestion that the baths closure was due to a lack of public money trust manager Fatima Uygun told Urban Realm: "It's got nothing to do with money, it's about political will and commitment. We're one of the richest countries in the world, the idea that we don't have money is nonsense. It's not a cost, it's an investment. The language has changed so much in the last 20 years, it's shifted from investments all the way to cost and it's a very neo-liberal way of thinking and it's very alien to how Glasgow talks about investment in communities." Govanhill Baths was always much more than just a building but what effect has the building had on the community? Uygun said: "Govanhill Baths served a range of purposes in terms of the health and wellbeing of the area. It was the place you went to get away from your family and have a hot bath. It served a much broader purpose than the sport of swimming. The steamie at the back where you could wash your clothes was like a small social work department where women could chat. People met their girlfriends there or went swimming with their dad or grandpa, it's very difficult to measure the impact these buildings have by just looking at the bricks and mortar."
That history is reflected in todays approach for a varied suite of uses, including a range of social and public initiatives which communicate the larger purpose of the building. It is also a good news story for Govanhill which so often finds itself in the press for all the wrong reasons. Is the Baths campaign an important tool for promoting a positive message? "We need buildings like this where people can socialise where they would not normally do so", says Uygun. "If you don't drink in the pub and the weather's not great and you can't go to the park where do you actually meet people and come across people you don't normally associate with? It's in buildings like this where people turn up to take part in activities. "That accessibility where everyone can feel ownership of the building means that interaction happens so much more naturally. A lot of the investment happens all over the country to integrate people and promote diversity and its usually a lost cause because it's not directed anywhere but having a building like this makes it so much more natural. It doesn't matter if you're gay, trans or Muslim, Jewish, you're here to use the sauna. For us it's the best form of integration and community cohesion that exists but it's taken us 18 years to argue that. We've had to fight and fight and fight and the majority of people who shut the pool down would have loved for us to give up rather than show that they'd made the wrong decision. We still haven't had a reason for its closure."
While positive about Govanhill Uygun is less sanguine about the growing number of community asset transfers elsewhere, warning that it unfairly burdens poorer communities, saddling them with a large building to maintain. "In years to come I think many of these asset transfers will have to be sold back to the council or put into private hands. Expecting communities with very little experience to refurbish listed buildings and run them for a profit isn't going to happen. Even we will require some sort of subsidy to keep the building going." While progress is being made the baths aren't scheduled to reopen for a further two years, fully 20 years after closing but Uygun remains optimistic about the future, saying: "The great thing about Glasgow is these buildings can still be saved, they're falling down in some places but can be refurbished. Look at Europe for god's sake. Europeans come to Glasgow and the first thing they say is 'why are things falling down? Why don't you look after your buildings?'"
As the city grows the need to reappraise edge locations will only grow with it, pushing successive forgotten spaces back into the spotlight. Rather than starting from scratch with a blank sheet these marginal spaces prove that the best approach lies in maximising the potential of what we already have.
Back to July 2019