Woodside Health Centre: Three Point Plan
10 Jul 2019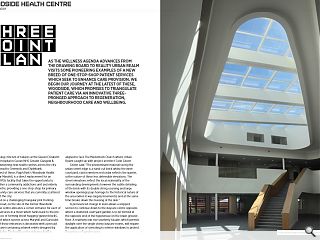 As the wellness agenda advances from the drawing board to reality Urban Realm visits some pioneering examples of a new breed of one-stop-shop patient services which seek to enhance care provision. We begin our journey at the latest of these, Woodside, which promises to triangulate patient care via an innovative threepronged approach to regeneration, neighbourhood care and wellbeing.
Amid ongoing criticism of failures at the Queen Elizabeth University Hospital in Govan NHS Greater Glasgow & Clyde are delivering new health centres across the city from Parkhead to Greenock and Clydebank. The latest of these, Page\Park's Woodside Health Centre near Maryhill, is a direct replacement for an outdated 1970s facility that takes the opportunity to draw together a community addictions unit and elderly daycare centre, providing a one-stop-shop for primary and community care services that are currently scattered throughout the city. Situated on a challenging triangular plot fronting Garscube Road, on the site of the former Woodside Primary, the centre allocates a corner entrance for each of these key services in a move which harks back to the pre1900 practice of forming street hugging 'gushet blocks', examples of which survive across Maryhill and Garscube. Each of these entrances is decorated with a precast concrete panel containing artwork reliefs designed by Bespoke Atelier. The health centre entrance itself is
aligned to face The Mackintosh Church where Urban Realm caught up with project architect Colin Glover.
Glover said: "The predominant material facing the urban street edge is a hand-cut brick whilst the inner courtyard, clad in western red cedar reflects the quieter, softer nature of these less defensible elevations. The street elevations reflect the local materiality of the surrounding developments however the subtle detailing of the brick with its double string coursing and large window openings pays homage to the historical nature of the area (when it was largely tenements) and at the same time breaks down the massing of the skin." A pronounced change in level allows a stepped section to continue down to the daycare centre opposite, where a sheltered courtyard garden is to be formed at the opposite end of the hypotenuse on the lower ground floor. A relatively low-rise southerly façade, which permits daylight over the single storey daycare rooms, will require the application of stenciling to interior windows to protect the privacy of garden users.
Recent decades have not been kind to an area which has been subjected to a local flavour of Mockintosh, evident in everything from surrounding 1980s era infill homes to neighbouring industrial units. Looking forward however the area seems set for regeneration with the likes of LUC's Hamiltonhill canal quarter, the centrepiece of which will be a tri-directional footbridge at Stockingfield Junction. Further afield efforts are being made to extend cycle lanes up from the city centre at Charing Cross. It is in this context that Woodside has risen, filling out an awkward plot right to the street edge and conjoining facilities under one roof. This roof works hard, playing host to a curvaceous glazed atrium above the ground floor public level and a streamline moderne central reception space, which includes a dental practice and pharmacy. Acoustic timber panelling meanwhile helps to minimise sound ingress. "It's all about the continuous journey," notes Glover. Timber screens meanwhile conceal air handling units and photovoltaic panels, a focus on sustainability which extends to electric charging points for cars and the deliberate curtailing of parking owing to excellent public transport links.A bike shed takes pride of place. Glover continued: "The first floor contains children's services and the second floor is a hot desk office space and staff terrace. This is all just under 7,000sq/m and NHSGGC is about to award a bigger one for Parkhead.
The health centre benefits from the additional community use, if you go to Eastwood you don't recognise it's a health centre with the café and council offices." Overcoming the challenges presented by a changing brief, including the surprise relocation of the podiatry reception and last minute alterations to a staff kitchen to provide more seating, Woodside has been heavily fire engineered, the importance of which was demonstrated when a fire took hold mid-way through construction, delaying the opening by months as smoke-damaged materials were replaced. The multitude of uses has required flooring that alternates between smooth and carpeted for clinical and more family-friendly areas. The acoustics were another important consideration. Around 280 staff will begin a phased migration in July, settling into clustered upper office areas that have been stripped back to expose the services and providing a timely fillip to nearby businesses. Glover said: "It's a concrete roof so there's thermal mass and it gives you more headroom. There are also breakout spaces which can be used and touchdown spaces for students." NHS colours brighten the walls with a series of pastel hues, softening the stark white with colours employed by individual surgeries to improve wayfinding. "Every doctor chose a colour," said Glover. "There's quite a bold colour in the circulation spaces but the consultation rooms employ pastel hues to tone it down. The challenge was to get a room everyone agrees on.
The NHS have technical standards but things like the lights have moved position because we've learned from previous iterations. It's a highly technical facility, getting sign off on seven GP practices. Everything's been through infection control, acoustics, the process takes a long time but at the end of the day they are improving their facilities." "It cost about £18m for just under 7,000sq/m. I'm not a party to the exact figure but we crammed a lot into a very tight, constrained site. We've put back something from an urban point of view that has been missing from Maryhill for a long time. It brings a little more security to the area and I hope it will seed further regeneration." The transformation of Woodside from an edge location to a bustling health hub has been achieved by doing more than simply consolidate related services. By rising above the sum of its parts the NHS has managed to achieve something at a scale which is relevant to the community it serves. In doing so it shows that the rule of three can be as satisfying in architecture as it is in writing. In doing so it demonstrates the truth of the Latin phrase 'omne trium perfectum', what comes in threes is perfect.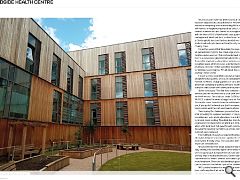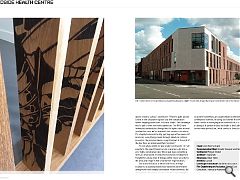 Back to July 2019