Hinterland: Seeing the Light
22 Apr 2016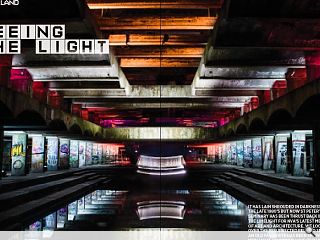 It has lain shrouded in darkness since the late 1980's but now St Peter's Seminary has been thrust back into the limelight for nva's latest medley of art and architecture. We looks over the resurrected relic to see if an old favourite has been shown in a new light, or would have been better left in the dark.
News that the future of Gillespie Kidd & Coia's modernist masterpiece St Peter's Seminary has been secured following the award of a £4.2m grant by the Heritage Lottery Fund and Creative Scotland has been well received, not least by public arts body NVA and its partners; Nord and Avanti architects alongside landscape architects ERZ, who have spent the past eight years getting the project to this stage, so has it been worth the wait?
The grant funding will enable NVA to press ahead with an ambitious plan to transform the crumbling structure, purpose built as a college for students of theology, into an arts and heritage destination following the sell-out success of the public art event Hinterland.
Marking not only a half century since the modernist masterpieces construction, but also the 150th anniversary of the construction of the original baronial mansion which once stood on the site, the timely cash injection will enable the site to be sensitively restored and consolidated to provide a venue for events, performances and other activities.
The 10-day public art event welcomed 7,500 people over the course of its run, as NVA seeks to broaden the site's appeal beyond architectural anoraks by bathing the brutalist structure in monochromatic light and specially commissioned music to signal the commencement of work to partially restore the building by 2018.
Asked about the naming strategy behind the event NVA's creative director Angus Farquhar said: "Hinterland is usually the area behind a coast where there is lower population. We try to translate from the German as 'behind land' or 'backwater'. From here it's a slightly ironic usage because the reality is there is a lot going on here and it used to be populated, we'll be bringing that population back.
"The other connection was the classic Denis Healey putdown of Margaret Thatcher where he looked at her imperiously and said 'she has no hinterland'. Hinterland is all of the knowledge that gives you breadth of character beyond your specialism. Healey said Thatcher was a train on a track, it was all politics and power. Famously she couldn't even choose music for Desert Island Discs, picking 'How Much is that Doggy in the Window'. For me Hinterland represents a place where you can gain wider knowledge.
Drawing a cross section of visitors from around the UK and beyond, including 600 locals from the village during a free preview night, not just the usual suspect architectural anoraks). "I think that would account for about four per cent of the audience," Farquhar laughs: "It's a very diverse group of people who come and see us. I can only typify it as people who are open minded and up for a bit of adventure."
Farquhar is less amused at comparisons with other recent light shows such as the Enchanted Forest, pointing out that NVA were amongst the first to pioneer the concept and arguing that they've yet to be bettered. "That's a really, really insulting thing to say," Farquar notes: "The Enchanted Forest started as a pastiche of the paths that we did in 2000. We wrote the book in terms of outdoor public artwork and there have been many weak copies since. If you look at the production values and aesthetics of these works they are just cheap illuminations of nature. Our work has seriousness, purpose and intent. It's not a light show we are public art with light as one of our mediums."
This saw NVA commission a choral work composed by Rory Boyle and performed by St Salvator's Chapel Choir from the University of St Andrews that accompanies key scenes, drawing inspiration from 19th century chanting as well as more modern traditions to offer a modern echo of the site's sacral history. Meticulously synchronised with a sequence of projections and light installations, prepared by Glasgow arts collective 85a, these comprise the sole live elements of the event to accompany the bespoke elements within the space.
As a building in transition the seminary remains in a raw state but this only serves to accentuate what is an incredibly dynamic space to explore by night. Farquhar said: "Some people find the space beguiling, others threatening. I've learned never to second guess how an audience responds it's very much down to the individual with this type of work. We've declared this work as a manifesto which shows what can be done with the space. It's in our minds that when we commission future work people respond to what is there. If it's a blockbuster show that can be shown in any black box in Glasgow there would be no point in staging it."
As a temporary work none of the Hinterland installations will be retained however a series of further interventions is planned through to 2018 to ensure that the complex retains its interest throughout work to stabilise and conserve the structure. "I often think that when buildings are behind hoardings they are actually at their most interesting", said Farquhar. "I remember seeing pictures of Andy Scott's horses when they were half built and thinking they were in some ways more interesting in that semi-state. I like to give the public access when things are closed off and get away from that culture of risk where everything has to be sanitised and put carefully in its place before you can have an experience. We also wanted the public to grow with the site so that by the time it's opened it 's laid its parts out on the table and invited people to consider its future."
This approach spared visitors from having to don their own hard hats to satisfy health and safety although visitors were handed torches to avoid any unintended trips, with visitors given the freedom to wander round the set route at their own speed.
Farquhar concluded: "In terms of the aesthetic approach it draws on industrial heritage, rumination, graffiti, and the one overt reference we make is to the birth of modernism, referring back to Malevich and supremacism and we've creating one really bold, coloured moment where we bathe the building in colour in homage. Much of the rest is very monochrome."
Speaking in the wake of the latest funding announcement John Allan, of Avanti Architects, said: "At last, after ten years of engagement with the monumental challenges presented by St Peter's, we can move from words to deeds.
"Now we can embark on the task of making St Peter's a permanent and inspirational venue for creativity, learning and debate. It will surely be the outstanding heritage rescue project of our time."
Brian McGinlay, Nord consultant and co-founder of McGinlay Bell Architects, was equally effusive, saying: "The development project over the past two years in particular has been faced with many obstacles and challenging hurdles on the way but has always been highly rewarding.
"To the building, the recent environmental cleaning & vault stabilisation works has realised the projects initial milestone. Truly fascinating and technically innovative in its process we have worked closely and carefully to uncover this 'almost lost' modernist & international architectural masterpiece making once again safe & accessible for all to experience this incredible crafted & sculpted structure."
Both architects will now set about transforming a triple-height chapel into a 600 capacity venue and convert a former crypt into an atmospheric exhibition space – all the while maintaining open access to the site by the public. Beyond the brutalist landmark the 104 acre estate within which it sits will also be revamped by ERZ, with paths reinstated, bridges restored and a Victorian walled garden brought back into use.
Rolf Roscher of ERZ chimed with these thoughts, adding: "St Peter's seminary and its associated landscape may reasonably be regarded as Scotland's most significant lost cultural landmark.
"The physical history of Kilmahew / St Peter's demonstrates an accumulation of very different perceptions of landscape as it has been successively reshaped over five centuries. The ideas manifest in the ruined modernist seminary buildings make this a unique place to explore the role of public space at the start of the twenty-first century."
Whilst seminary architects Andy McMillan and Isi Metzstein of Gillespie Kidd and Coia sadly couldn't be at the launch they will surely have been looking down on the celebrations, no doubt satisfied that this an architectural space so unlike any other in the UK is in safe hands.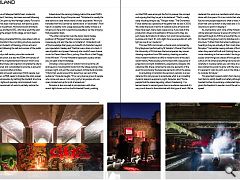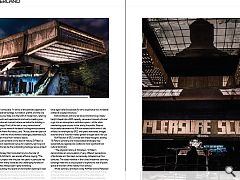 Back to April 2016