Light & Life: Stand Up
22 Apr 2016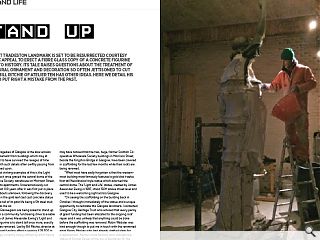 A long lost Tradeston landmark is set to be resurrected courtesy of a public appeal to erect a fibre glass copy of a concrete figurine now lost to history. Its tale raises questions about the treatment of architectural ornament and decoration so often jettisoned to cut costs but Bill Ritchie of atelier ten has other ideas. Here we detail his crusade to put right a mistake from the past.
One of the great tragedies of Glasgow is the slow erosion of architectural ornament from buildings which may at first glance appear to have survived the ravages of time relatively intact, with such details often swiftly passing from memory unremarked upon.
One of the most striking examples of this is the Light and Life statue which once graced the central dome of the former Co-operative Society warehouse on Morrison Street, since converted into apartments. Unceremoniously cut down in 1996 almost 100 years after it was first put in place in 1897, its whereabouts unknown, following the discovery structural defects in the gold leaf clad cast concrete statue - all that remains to tell of its past life being a 5ft steel stub jutting forlornly into the air.
Now however Glaswegians are being asked to stand up and be counted for a community fundraising drive to enable a fibreglass replica of James Alexander Ewing's 'Light and Life' neoclassical figurine is to stand tall once more, exactly 20 years after it was removed. Led by Bill Ritchie, director at Atelier Ten, the crowd funding effort is seeking £28,500 in order to fund a copy currently being crafted by artist Kenny Mackay.
Launching the appeal Ritchie commented: "Some of you may have noticed that the two, huge, former Scottish Co-operative Wholesale Society buildings in Morrison Street, beside the Kingston Bridge in Glasgow, have been covered in scaffolding for the last few months while their roofs are being renewed.
"What most have sadly forgotten is that the western-most building most famously featured a gold clad twelve foot tall Neoclassical style statue which adorned the central dome. The 'Light and Life' statue, created by James Alexander Ewing in 1897, stood 150ft above street level and used to be a welcoming sight across Glasgow.
"On seeing the scaffolding on the building back in October, I thought immediately of the statue and a unique opportunity to reinstate this Glasgow landmark. I contacted Glasgow City Heritage Trust who advised that every penny of grant funding had been allocated to the ongoing roof repair and it was unlikely that anything could be done before the scaffolding was removed. Robin Webster was kind enough though to put me in touch with the renowned artist Kenny Mackay who had already drafted plans for a replacement. Kenny's more famous work includes the statue of Donald Dewar at the top of Buchanan St, the timorous beasties manifestation outside Princess Square and the James Braidwood statue on the Royal Mile."
As Urban Realm went to press the project had raised £3,840 toward its £28,500 target with a deadline for pledges set for 18 April. Anyone stumping up a contribution of £100 or more will be immortalised in the form of a plaque displayed in the foyer.
Ritchie added: "Many individuals have generously offered their time and materials to get this project to this stage. Atelier Ten's in house lighting designers have created a concept to illuminate the statue, whilst our friend Angus at Cartwright Lighting Associates has provided the LED luminaires which will illuminate the statue from the base. Emtec have offered their time and materials to install the lighting whilst John Bethune at structural engineers Woolgar Hunter has created a solution to ensure that the statue has a steadfast home.
"We would like to reach out to our local community to help support the reintroduction of the statue and be part of the architectural footprint of our city. With the generosity of those mentioned above, the cost of the project is now reduced largely to materials including the steel and clay employed to create the mould, the resin skin and of course a 23 carat gold leaf covering."
Though planning permission is already in place the project team are now engaged in a frantic race to complete the statue before the removal of scaffolding later in April upon completion of ongoing roof repairs. The resulting initiative proves that even for buildings in their second century of life time never stands still and that it is not too late for those who care to stand up and be counted.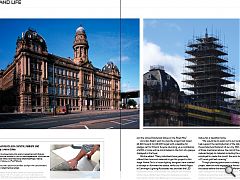 Back to April 2016