Carbuncle Town: Road Movie
22 Apr 2016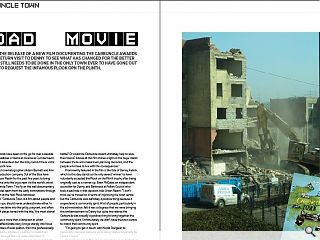 Ahead of the release of a new film documenting the Carbuncle awards we pay a return visit to Denny to see what has changed for the better and what still needs to be done in the only town ever to have gone out on a limb to request the infamous Plook on the Plinth.
The Carbuncle Awards have been on the go for over a decade now, hitting the headlines in towns as diverse as Cumbernauld, John 'o' Groats and Aberdeen but the story behind these visits has gone untold - until now.
Film maker and cinematographers Adam Barnett and Ann of independent production company Out of the Blue have been following Urban Realm for the past five years to bring all the grit and grime onto the big screen via the world's worst road movie: Carbuncle Town. This fly on the wall documentary tracks the Carbuncles team from the early nominations through to the media scrum at the final Plook handover.
Barnett stated: "Carbuncle Town is a film about people and buildings, and why you should never underestimate either. In this documentary we delve into the gritty, poignant, and often humorous world of places tarred with the title, 'the most dismal town in Scotland'!
"What emerges is more than a lampoon at urban rejuvenation. This affectionate story brings sharply into focus the rough and tumbles of local politics, from the professionally motivated to the plucky amateurs, unafraid to speak their minds. Characters emerge that are rarely celebrated in everyday life, people who are fighting to bring back dignity to their town centre and its residents. Are they fighting a losing battle? Or could the Carbuncle award ultimately help to save their towns? Above all this film shines a light on the huge chasm between those who make town planning decisions, and the people who have to live with the consequences."
Prominently featured in the film is the fate of Denny, Falkirk, which to this day stands as the only award 'winner' to have voluntarily accepted the Plook on the Plinth trophy after being originally cast as a runner-up. Brian McCabe, an independent councillor for Denny and Banknock at Falkirk Council who took a lead role in that decision, told Urban Realm: "I don't think we've moved on in terms of improving the town centre but the Carbuncle was definitely a positive thing because it engendered a community spirit. A lot of people, particularly in the administration, felt it was a disgrace that we were bringing this embarrassment to Denny but quite the reverse the Carbuncle was actually a positive thing to bring together the community spirit. Unfortunately we don't have the town centre to match that community spirit.
"I'm going to get in touch with Nicola Sturgeon to personally intervene because we're being treated abysmally by Falkirk Council."
Of chief concern to McCabe are plans for a second phase of development on the site of the notorious Church Walk blocks, demolished in the aftermath of the 2010 award. At present County Properties, are bidding £433k for the land necessary to build a 15,000sq/ft B&M store, with the caveat that should any untoward soil conditions be uncovered then these costs would be subtracted from the purchase cost. McCabe said: "The council and the developer of phase one had to pay something like £1.3m for the road. Developers for phase two had said they weren't paying a £700k contribution because it would put the purchase of the site, which is only worth £500k, into negative equity. So the council decided it would pick up the tab. That for me has set up a loophole for every other developer to say they can't afford it. So straightaway the road, which was always on the never-never, is now even further in the never-never.
McCabe railed: "It's basically a big warehouse. It's a retail park solution stuck in the middle of my town centre and there is no integration between the phases. I'd hoped to stop Craig's Chalet (an Alpine-like retail addition named in dishonour after council leader Craig Martin) which is now in the process of being built. What I have to do is stop the building of a shed. What happens if B&M say we're not interested? We then have a shell."
Denny's travails have been compounded by a lack of vision in pushing forward an ambitious regeneration rather than a scant reorganisation of retail units. It is a mystery why the council has not attempted to replace some of the homes that were lost, McCabe added: "People would even prefer just leaving it for a couple of years to see what can be done. Falkirk Council is desperate to get up and running with this so they can market phase one based on developments in phase two. They're running scared that they cannot lease it, the only tenants they have at the moment are the library, Café Anton the two chemists and Lloyds TSB.
"I met Malcolm Fraser on a couple of occasions, the town centres guru personally appointed by Nicola Sturgeon to look at town centres, when I tried to get Malcolm to engage very nice guy, sympathetic but he said I can't get involved. If the Scottish Towns Partnership had any sense they could have used Denny as a role model for a town on its knees with derelict blocks knocked down serving as a blank canvas. I'm sure Denny could have become a role model, as it is it has become a shit model."
Denny's long drawn out battle to secure much needed regeneration highlights the challenges that exist in adapting to 21st century life, something that the addition of a B&M is unlikely to help with. As the same chain is available to shoppers in Larbert, Stirling and Glasgow there is little reason for people to make their way to Denny specifically. This was an opportunity for Denny to create some home grown businesses that can't be found elsewhere. Ultimately nobody is going to go to Denny for a B&M store and it's that lack of vision which highlights the deficiencies attached to apparently just crossing your fingers and hoping something lands on your lap.
Ultimately what Carbuncle Town shows is that whilst the specific circumstances blighting many areas may differ the solutions are often remarkably similar, boiling down to a strong community buy-in, leadership and a robust economic background – raw enthusiasm alone is not enough.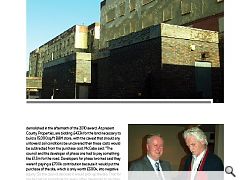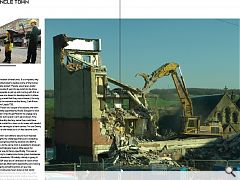 Back to April 2016