Urban Realm TOP100 Architects 2016
19 Jan 2016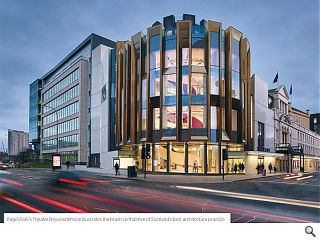 Urban Realm is ushering in the new year with an exhaustive snapshot of the architecture industry that ranks 100 practices which have done most to reshape the physical make-up of Scotland. Through a series of profiles and interviews it leaves no brick un-turned.
It was no easy job but after many months of research, polling and tracking architectural awards we've arrived at the definitive list practices at work in the country today.
Established since 2013 our annual rundown is now in its third year and takes the form of a three-stage process kick-started by an online poll conducted via the Urban Realm website.
Armed with a list of nominations we then collated fee data and information on the number of qualified architects to get a better handle on recent success.
In a shift from the methodology used in previous years however we have sought to move to a more dispassionate and transparent measure of design success. As such we've stripped out input from our editorial panel and focussed exclusively on award winning work from the Scottish Design Awards and RIAS Awards to reward design innovation, not just commercial clout.
To anyone keeping a close eye on the Scottish architectural scene it can be little surprise that Page\Park should rise to the top. Fresh from their move to an employee owned business the practice have enjoyed a period of critical and business success, winning plaudits for their work at Laurieston (alongside Elder & Cannon), an extension to Glasgow's Theatre Royal and the West End Medical Practice, Edinburgh, amongst others.
There is quantity as well as quality on display over 24 pages, confirming that Scotland remains a hotbed of design talent.
Back to January 2016