Cityof Glasgow College: River City
13 Jan 2016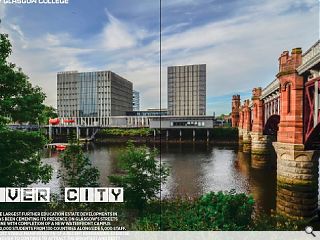 One of the largest further education estate developments in Europe has been cementing its presence on Glasgow's streets and skyline with completion of a new waterfront campus housing 40,000 students from 130 countries alongside 5,000 staff. It is the most visible manifestation of a recent re-branding exercise but is it enough to continue to attract the brightest and best?
City of Glasgow College's riverside campus, satellite of the far larger Cathedral Street edifice, has been designed in a joint venture by Reiach & Hall and Michael Laird Architects, as a physical manifestation of the new college's ambition.
Commenting on the relationship between both practices during this process Stuart Watters, director at Michael Laird Architects, said: "The integration of the site team early in 2013 has been seamless and given the duration of the project it has felt like a new architectural practice in its own right, it will be somewhat sad when the time comes for us to go our separate ways.
"The teams have been evenly split over both projects to ensure continuity from each practice has been maintained throughout the duration of the co-location. Being site based has been crucial in assisting the main contractor to coordinate and construct these buildings to an exceptionally tight programme to meet with the College academic year."
Identifying the relationship between both city campuses Reiach & Hall's Lyle Chrystie added: "The two are designed as siblings. They are obviously related but they're not the same. Riverside is in parkland by the Clyde whereas City is in a dense urban scene. So they have different jobs to do in their architecture. They're not quite on an axis but if you stand on top of Montrose Street it draws a straight line to this building and the entrance there has a fabulous view down the city to riverside.
"There is an enclosed roof well at City which you can get onto but to ensure public safety we've put storey height enclosures around it. The top of the building rises up so if you step out at the tenth floor of City there is a break-out area with vending machines, which we call the sky bar, with a view over the whole city. The top of the building is art and design but we wanted to make it a communal space for everyone to go to. If you're doing brick laying on level one you're entitled to go up there."
Similarly riverside is intended as a key gateway marking the Albert Bridge as it crosses the Clyde with a simple massing and significant scale. Despite inviting pedestrians south with its presence security concerns restrict public access to a Graven designed café, complete with a counter modelled on a lifebuoy, overlooking a riverfront colonnade. This fronts a 'garden' linking the college to new student halls opposite, the south flank of which is occupied by workshops and a refectory space with an avenue of gated cloisters to the north. Focussed on a yardarm for students to practice their signalling the garden sits above a major cabling route beneath the old Thistle Street, allowing engineer's access at all times.
This mirrors a corresponding 'grand hall' within the main college building with an atrium running the full height of the building to usher light down to the social heart of the college on the first floor. This further serves to simplify orientation and maximise views across the city centre. Chrystie commented: "It was about trying to engender a sense of community. What we tried to do was come up with a form of building where everyone would know what everyone else was doing. Folk that are learning about engineering might engage with folk who are doing Nautical Studies. The ideas of blended and cross discipline learning are enabled by encouraging the college to be inclusive and collective rather than operating in separate silos."
As well as being a unifying social hub for students and staff as they transit between departments the full height atrium doubles as a stack ventilation system, helping to drive crossflows with heavy handrails to assist anyone perturbed by the vertiginous drop and mesmerising views from the higher levels, although the top level is fully closed off, as Chrystie explained: "All the warm air from the classrooms comes up here before being extracted through the timber slats and away. We'd have really warm air polluting this space otherwise but fire protection rules stipulate that we can't be part of the same volume." Sustainability was a key requirement throughout the campus which, as home to the Maritime College for students studying engineering, science, maths and statistics, specialises in renewable technologies. With this in mind it is not surprising that the campus achieves a BREEAM excellent and EPC 'A' rating courtesy of natural ventilation, on-site energy generation, an array of solar thermal PV's and bio oil fired boilers.
Signage was devised by Studio LR to avoid labelling individual departments and ensuring that the nature of specific spaces can be intuitively understood. Another way finding trick can be found in the form of a giant Peter Grundy designed mural stretching the full height of the atrium. Janis Carson, vice principal of City of Glasgow College, explained: "This is the iconic frieze which represents aspects of our curriculum, student and Glasgow life. Different icons are used on each level for way finding such as waves, cogs and ships. There's even a whimsical haggis in there. We've got a similar three storey frieze at City."
A unifying theme throughout is that of engineering and the need to communicate the structure of the building in an honest fashion to those within. Thus steel beams remain on show with exposed servicing ducts above, part of a conscious effort to make the building a neutral backdrop for the activities which take place within.
Once staff and students have decanted from the old college building it will be demolished to create a walled garden to the rear, with satellite buildings sold off under a disposal strategy that will see North Hannover Street, Charles Oakley, Florence, Gogart and Donald Street all sold off with interest thus far primarily coming from student housing developers.
Whilst the spaces are brand new many reminders of the old college will remain, including the original workshop stools, as Carson observed: "We didn't specify new stools for the building area so we've kept the old ones, I love the patterning of 50 years of use. There are challenges because it is a training school so there is extra health and safety requirements but we've now got lathes that are more aligned with what people can expect to find in industry."
Centrepiece of the workshop is a working ship's engine big enough to power a CalMac ferry, complete with gantry that offers access to everything. Supposed to arrive in three parts it actually arrived as a single unit and wouldn't fit down the corridor, forcing contractors to install it first and then build round it. Chrystie added: "The biggest challenge was getting enough exhaust pipe for acoustic attenuation on it. It pumps out noise like you wouldn't believe. The floating slab is isolated from everything else." Pointing to the views through the north facing glazing as sparks flew around Chrystie added: "Where else can you learn to be an electrician whilst standing in a garden."
Ringing the main atrium are a number of breakout spaces with expansive views across the city, though these remain lit by £5 IKEA lights as a temporary measure, as students and staff colonise favoured floor space. Carson explained: "We've got a number of high footfall areas and we've pulled all the generic lecture theatre and exam halls together. We have one space for teaching, exams and conferences. It all opens up so the whole floor can be used for events." Looking up at the glazing Carson, remarked: "There are some quite exciting images from the last weeks of construction with a worker abseiling along that top beam with a hoover! I couldn't watch."
Among the new toys housed within is a 360 degree simulation suite that offers realistic models of global shipping lanes, harbours and vessel. Specific scenarios can be created with particular weather and traffic conditions to put students through their paces; including a particularly nasty oil slick fire for some students to navigate. The whole exercise is captured on CCTV to allow a full debrief to be conducted afterwards. Carson said: "I've been inside during gale force weather and you do hold on, even though it's not moving! We run exams for the marine and coastguard agency and they have very specific requirements." Everything associated with the vessels engine room is represented in a separate back room, which generates real time updates in response to instructions sent from the bridge.
Adjacent to the school is a similarly massed student housing block. Extensive off-site construction was utilised here, the bathroom pods for example were fabricated in this way before being installed on-site. Carson said: "We try to put students from India here because they've lived very sheltered, disciplined lives and then they come to Glasgow and young people do what young people do so we try to keep an eye on them. Some of them come in for just a few months before heading out to sea. The only thing is I get completely lost in here, particularly during construction. You get a little bit snow blind in here. We have a no alcohol policy in here which is probably just as well." Chrystie adds: "The ground floor of the halls of residence is the common room where you can play games in the evening so there is discreet and natural supervision of the riverfront."
Glasgow's shipbuilding industries may be on the wane but the city's proud maritime heritage remains. It is fitting therefore that the college should retain that physical connection to the Clyde. With the new Nautical College the city can look to the future as well as the past.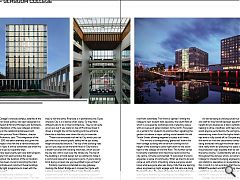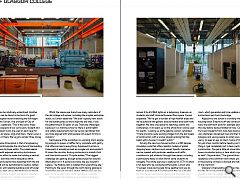 Back to January 2016