Portsoy
13 Jan 2016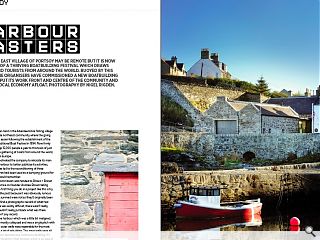 The north east village of Portsoy may be remote but it is now the heart of a thriving boatbuilding festival which draws sailors and tourists from around the world. Buoyed by this success the organisers have commissioned a new boatbuilding centre to put its work front and centre of the community and keep the local economy afloat. Photography by Nigel Rigden.
Life has always been hard in the Aberdeenshire fishing village of Portsoy, a remote northeast community where the going has become much easier following the establishment of the annual Scottish Traditional Boat Festival in 1994. Now firmly established it brings 15,000 people a year to this town of just 1,752, drawn by the gathering of boats from around the world, principally northern Europe.
This success motivated the company to relocate its main base closer to the harbour to better publicise its activities, a decision which has led to the reconditioning of three ramshackle ruins that had been used as a dumping ground for as long as anyone could remember.
The resulting commission was handed to Brown + Brown architects with practice co-founder Andrew Brown telling Urban Realm: "The first thing you do in a project like this is try to find a record of the past because it was obviously ruinous and the bits which survived were not as they'd originally been built. But trying to find a photographic record of what had actually been there was wildly difficult, there wasn't really anything. So we couldn't really put back what was there because there wasn't any record.
"It's a side of the harbour which was a little bit maligned. What was left had mostly collapsed and was a single pitch with a tin roof on it. The outer walls were repairable for the most part but there was a lot of rebuilding. The inner walls were all removed to allow it to become one continuous building. It's the only non-listed building in that harbour which is an area of outstanding conservation. So apart from the two walls facing the harbour the rest have been rebuilt and changed slightly. We tried to make it fit in as much as possible."
A tight budget of £333,600 plus VAT was further complicated by the desire to use a volunteer workforce to deliver much of the build, a process which left Brown tossing and turning through many sleepless nights. He recalled: "It was absolutely atrocious. The contractor was basically sacked halfway through and the volunteers finished it off with sub-contractors doing a lot of the work. It was always intended that we would design the building but because of the public funding the contractor couldn't be fired - otherwise the whole project would have had to be retendered, which would have meant losing all the funding. So we handed the reins across to a client appointed project manager and they called in favours to get various bits of joinery work done. It took longer than it should have and was very complicated because you had people doing things, which would have normally required a main contractor. It was a very drawn out process."
"The level of finish is not what I'd like it to be because of that but considering it was done by lay people it could have been a lot worse! There was a lot of hand holding dealing with people who are not building professionals so things had to be explained in a different way."
Brown wasn't completely unprepared for such methods of working however having previously helped out at The Noust, a similar live-build boathouse on the Isle of Tiree by Tog Studio. Brown said: "I did the very first workshop up in Tiree four years ago. Before we were taking in lots of students and things because we were trying to get into local schools and teach skills. It's clichéd but there's not a lot for kids to do and so boat building is quite popular."
Another significant constraint was the outstanding heritage value of the town, which remains largely unspoilt. Brown remarked: "The planners were very helpful and really informed what we were doing in that the building shouldn't appear modern from the harbour. Part of that is because over the summer they were filming a remake of Whisky Galore, it gets used a lot as a location for TV and film. It was also part funded by Historic Scotland and that meant there had to be a certain degree of traditional craftsmanship and so they funded the slate roof and stonework."
Now completed the boatshed is a scene of constant organised chaos with craftsmen busying themselves amidst the machinery and sawdust. Brown said: "You'd probably get two boats and a lot of people working in there. It's a noisy, busy thing so in order to make the building work it's a very simple structure so that it looks better when its busy rather than something which was already chaotic. It's a utilitarian thing.
"Everyone is surprised at how light the building is inside because we haven't made any new openings in the walls. All the light comes through the roof because the building doesn't have a favourable aspect. There's a cliff face, which comes down against the back wall and a building 3m across the lane. The north side is the gable to the harbour."
So does the completed build meet Brown's original vision? He answered: "It's pretty much exactly the same as the original sketches, it was designed so they could grow into the building a little bit with movable pods as rooms that could be used for storage. We haven't built them as yet but may well do in the future. The charity has never had a space for doing these kinds of things so they're looking at this as a long-term investment. Initially the boathouse had a second storey within the skin because the building is high enough on one side to accommodate it but due to budgetary things and access that didn't happen but it may happen in the future."
Portsoy may be remote but it now finds itself at the centre of things thanks to a charity that has really pushed the boat out, proving again that if you build it they will come.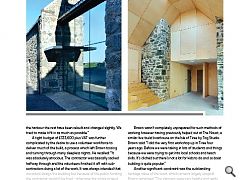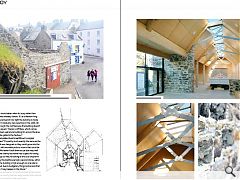 Back to January 2016