Festival of Architecture
13 Jan 2016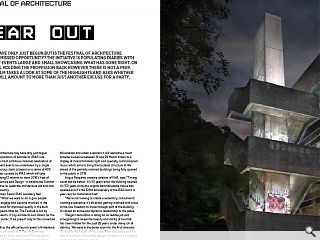 2016 may have only just begun but is the Festival of Architecture already a missed opportunity? The initiative is populating diaries with a series of events large and small showcasing what has gone right. On issues still holding the profession back however there is not a peep. Urban Realm takes a look at some of the highlights and asks whether the year will amount to more than just another excuse for a party.
The Festival of Architecture may have only just begun but the Royal Incorporation of Architects (RIAS) are already hailing the most ambitious national celebration of the built environment ever to be undertaken by a single country. This audacious claim is based on a series of 400 events and activities curated by RIAS which will take place over the coming 12 months to mark 2016's Year of Innovation, Architecture and Design - a nationwide Scottish government initiative to celebrate architecture old and new from around the country.
Speaking to Urban Realm RIAS secretary Neil Baxter explained: "What we want to do is give people an opportunity to engage and become involved in the hope that the demand for improved quality in the built environment is upped a little bit. The Festival is not by architects for architects, it's by architects and others for the broadest possible public. If we preach only to the converted then we've failed."
Leading the bill as the official launch event is Hinterland, an after dark public art event at St Peter's Seminary, Cardross, organized by public arts body NVA alongside Avanti Architects, ERZ Landscape Architects and Nord Architecture. For long a site of pilgrimage for architecture aficionados and urban explorers it will welcome a much broader audience between 18 and 29 March drawn to a display of monochromatic light and specially commissioned music which aims to bring the brutalist structure to life ahead of the partially restored buildings being fully opened to the public in 2018.
Angus Farquhar, creative director of NVA, said: "Timing could not be better. It's 50 years since the building opened, it's 150 years since the original baronial estate house was opened and it's the 100th anniversary of the RIAS but it is year zero for Hinterland itself.
"We're not looking to create a sedentary, consumerist viewing experience; it's all about getting involved with a bus to the site, freedom to move through part of the building. It's about an active and dynamic relationship to the place.
"Reigart demolition is doing an incredible job and is beginning to reveal the beauty and clarity of line that has been hidden for the past 28 years under many cm of detritus. We were in the boiler room for the first time and it's double the height of the upper floor structures and it is one of the most remarkable spaces I've been in. It's created a whole new space to work in.
"We've also found marble ornamentation from the original house buried in the ground that we're laying out almost as you would with Greco Roman ruins. Brian McGinley from Nord has been storing any significant architectural detail that we can then display or use as reference for future restoration work.
"Make no mistake, those people who still believe it should be left as a minimal ruin. We know just how dangerous it had become, the asbestos hadn't blown away, it was literally on every single surface and was capable of killing people and even this winter three vaults have fallen in. Unless we intervened in the way we did the simple fact is someone would have died there and the church would have probably gone ahead and knocked the building down."
Another highlight, which runs throughout the year is a touring exhibition of photographs depicting ten buildings from each decade of the past century drawn from public nominations and an expert panel. Scotstyle will feature buildings ranging from Aberdeen's Bon Accord Baths to Tongland Power Station in Kirkcudbright to a concrete bothy in Sutherland.
But with all this backslapping is there a risk that the Festival will be seen as too self-congratulatory? Will it tackle the problems that the industry faces? Is this a missed opportunity to push for change? Farquhar said: "I think the architectural sector has taken a kicking over the past couple of years; it has been a nightmare for most working architects. Many very good practices have shrunk beyond belief. Central and local government procurement roles have led to some of the best schemes not being built and people pricing their way into schemes that do not deserve them. I think it's very important that this is a year which actually delivers and turns things around. It shouldn't be a facelift or some fake exercise saying 'look aren't things great, we're making all these amazing buildings.' We're not.
"Look at the number of cranes in Glasgow compared to Manchester or London you're lucky if you can see five. There is not at this point a route out of the recession; we could still be in the doldrums for the next four to five years. Architecture is often a sign that there is life and money flowing through a country and is therefore often the precursor to change and recovery. We need something to celebrate the creativity of architecture and an industry which is surviving against the odds and in its imagination and its boldness help us get out of the situation that we are in. I hope that it will be an honest reflection and not just an exercise in self-aggrandisement that does not reflect what is actually quite a harsh reality for many people working in the field."
Baxter added: "I'm completely biased but I would say you get good, bad and indifferent. I would say we get a lot of good, some very good and the fantastic." Do we get any very bad? "It's not for me to judge. We've got a year when call it what you will whether it's built environment or public space or architecture between 15 and 20 per cent of the national economy is going to be in focus."
But how do you reach out to those who may have little experience of architecture? Baxter added: "In the process of popularising the Festival we have already had positive media coverage. If you put on an exhibition in a railway station I suspect it won't only be architects who see it, even if it's just people who find themselves with 15m to spare because they've missed their train. That's positive. I don't think that Festivals are about hanging your head with shame and declaring that things have gone wrong. I think it's about celebrating the good stuff and I don't think any celebration of art would ever say all art is equally good. The art you show allows people to form their own judgements. We certainly won't be dwelling on procurement, premature adoption of BIM or any of the things that occupy architects on a daily basis. "
The Festival of Architecture may be a welcome opportunity for a knees up in an industry which has suffered more than most during the twilight years of recession but the greater the indulgence the greater the potential hangover. Given what is at stake it seems negligent not to press important issues when the chance of making headway is greatest. No-one wants to be left nursing a sore head after all.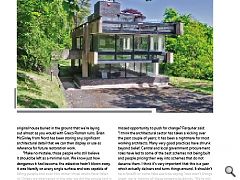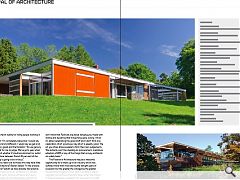 Back to January 2016