Dunoon
15 Jan 2015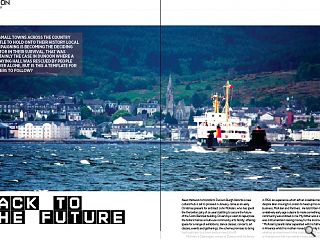 As small towns across the country battle to hold onto their history local campaigning is becoming the deciding factor in their survival. That was certainly the case in Dunoon where a decaying hall was rescued by people power alone, but is this a template for others to follow?

News thatwork to transform Dunoon Burgh Hall into a new cultural hub is set to proceed in January came as an early Christmas present for architect John McAslan, who has spent the the better paty of six years battling to secure the future of the Scots Baronial building. Driven by a vision to repurpose the historic hall as a multi-use community arts facility; offering space for a range of exhibitions, dance classes, concerts, art classes, events and gatherings, the scheme promises to bring fresh optimism to a town badly in need of a lift.
McAslan, a Glaswegian, moved to Dunoon with his family in 1954, an experience which left an indelible mark upon him despite later moving to London to head up his own architecture business, McAslan and Partners.
He told Urban Realm: "From a relatively early age a desire to make something happen in the community was instilled in me. My father was a local doctor and was instrumental in raising money for the local swimming pool. " McAslan's parents later separated with his father going to live in America whilst his mother moved the family to Dollar, but he retained an attachment tothe coastal toen: "It wasn't until 1998 or thereabouts that my mother moved back to Dunoon, we built her a little house and she re-engaged with the town having moved away 20 years previously. We were always west coast people," McAslan said.
Recollections of the Hall go back a long way for McAslan, who noted: "My mother said she remembered her horror as a doctor's wife of introducing some event when it was still being used as a performance venue. When the Burgh Hall was built in 1873/74 it was one of the first theatres in Argyll and the centre of cultural life until the Queens Hall effectively killed it off in 1954."
First falling under council ownership the Halls later passed to Fyne Homes whose aspiration stretched no further than to turn it into social housing, a goal which ultimately proved to be unfeasible, prompting a move toward demolition which in turn spurred McAslan and others to action. "There was a huge outcry about this in 2005," McAslan recalled, "an action group was formed by local agitator, Dave McEwan Hill. I call him a pest but he's a very, very good bloke. He's a classic pain in the neck for everybody but in a good way and he said 'we don't want the building demolished. We don't want it to become offices or housing, we want it to be a cultural building'".
McEwan Hills's prolific letter writing to the local paper first became known to McAslan with a fateful plop on his doormat. "My mother cut out a 2008 article from the Dunoon Observer and sent it in the post. In a rather bossy way she said 'you do this sort of stuff, you should help'. So I called up Dave McEwan Hill and we met in September 2008 at the Hall. I had never been inside before, it had always been closed, but there was the most amazing Saturday evening light." It was here that McAslan also met Sir Charles McLean, a writer and son of war hero Fitzroy MacLean, famed for audacious wartime escapades such as parachuting into Yugoslavia. McAslan continued: "They had three of the four key ingredients you need to save a building; great architecture, a local action group who are determined for something to happen and an end use. We didn't have any money – but that can follow."
As a first step the group needed to obtain ownership from Fyne Homes and remove the threat of demolition, something they achieved by setting up a charitable trust to assume responsibility. To their credit Fyne consented to a scheme hatched by McAslan to sell the premises for £1 after the architect ruled out an open tender. He explained: "I didn't want to bid against someone who wanted to use it as offices or lock-ups so we kept it very quiet." Nonetheless his enthusiasm didn't transfer to the next generation of the McAslan family, as he noted: " My daughter went there on Christmas Eve 2008 after us having bought it. She said, 'Dad, it's dark and full of pigeon shit. You were ripped off'... as water poured through the roof".
Recounting his own involvement McAslan observed: "When I was introduced as the person who bought the building there was a degree of suspicion because although my mother lived in Dunoon I was an outsider. I said, 'I promise you, all I want to do is turn this into a cultural venue, what do you think should happen first?' The pest McEwan Hill answered an 'open day.' We picked a date in May 2009 and, with phenomenal work from local volunteers, we put in a bit of cash to get it wind and watertight. Around 3,500 people came to see our programme of events and bands."
From there the group managed to scrape some funding together with help from Sarah McKinnon from Strathclyde Building Preservation Trust, who'd prepared a report when Fyne Homes had been put under pressure to find an alternate use. McKinnon helped establish a single vehicle charitable trust set up with trustees and board members who began the lengthy process of raising interest and funding from Highlands and Islands whilst the McAslan Family Trust stumped up some of their own money which was then matched by Argyll and the Islands Leader programme.
Despite this initial progress McAslan describes the period between late 2009 and late 2011 as 'dark' observing that it was 'very touch and go because we had no money'. He reminisced: "It was almost the day the recession began, the world had just imploded and here we were. It was a good time to do this because 'what the hell, there might not be any future' but our first round application wasn't successful because we didn't really have any business plan. Eventually we managed to secure £465k from Creative Scotland, about the same from HLF, £250k from Historic Scotland, £300k from Highlands and Islands Enterprise and £100k from the Monuments Trust – equating to about £1.65m in grants."
Rather than take the helm himself McAslan has appointed Page\Park to oversee the work in the New Year, prompting establishment of a pop-up venue in the town where the trust will be based until the rejuvenated Hall re-opens in the summer of 2016. But with Malcolm Fraser Architects moving onsite with a refurbishment of the Queens Hall next spring McAslan is mindful of fears that it could be a case of history repeating if the two venues come into conflict - but he stresses that there will be collaboration. "We had a vintage ball at the Queens Hall that could never take place in the Burgh Hall, it's a much bigger space. We can seat 175 people maximum, they can seat up to, 1,000 and it's run by the local authority. We haven't had a penny of local authority money and no support which has made it extremely difficult."
Lashing out at the local authority McEwan Hill said: "The Hall should be the centre of Dunoon as it was for over 70 years, it would have been scandalous to let it collapse but we're in the grip of a council that has allowed Dunoon to be reduced to dilapidation and is now blocking a hugely imaginative plan to take over Castle Toward and turn it into a trophy asset for the community. They haven't put anything into the Burgh Hall at all, it's all been volunteers. We're in the hands of a council of Visigoths who haven't a clue; we should have a pedestrianized Main Street with accessible parking to it. They're talking about borrowing £2.3m to do up the Queens Hall when for a much lower cost they could actually get someone to blow it up." Instead Hill dreams of using that cash to create a new town square commemorating the work of Pipe major John McLellan.
Whilst acknowledging some bruising encounters McAslan views the process as a primarily positive despite his many battles: "The Burgh Hall has drawn out the best in people; the only cynicism I noticed was at a council meeting where we objected to a separate Fyne Homes development next door - which was completely shit. We couldn't get any support from the useless A&DS because they wouldn't come forward with an opinion. I said to them 'what point does A&DS serve if it cannot see that this proposal, adjacent to the A listed St John's and B listed Hall, is going to damage their setting? Why won't they enter into a discussion on improving quality in an ordinary Scottish town?' As much as everyone wants social housing this is not the place for it (site of the former St Cuthbert's Church). It's a beast of a building.
"The only tiny piece of depression for me came when the local councillors unanimously voted for the development because any development is thought to be better than none. They said 'all these funds you've raised for the Burgh hall, some of us think that might have been spent on social housing rather than the cultural space'. I shook my head. We have nothing against social housing, but surely Dunoon deserves better than this? It was the poverty of architecture and building 18 flats on a sloping site, cheaply, on the main street and the fact that it had a retaining wall on the street - the only way they could figure out how to get the levels up.
"Argyll Street has lots of shops which are unoccupied, the economy needs stimulated, what it doesn't need is a blank façade and a crappy rendered block. 2016 is the year of architecture and design so why the local planning authority doesn't support us more god only knows, they're powerless. If Morrison's supermarket came along they'd say great because this is investment but they won't press Morrison's to do a bit more to make it fit with the character of the town centre. McColl's Hotel was a classic case of a prosperous business which became rundown, it will be cleared probably with some silly little houses plonked on the site. You've got ¾ of a million people using Western Ferries every year, many of them come across take a right and head north, not many head into town. If we can get a vibrant arts programme going we'll get a crowd who will come and seek out those things."
Despite devoting much of his time to the community McAslan, who now lives in London, expressed no desire to return when asked if he would do so: "God no, much as I love it I will never live in Dunoon. I love being up but it's better to do this from a slight distance. If I was embroiled in the local community I wouldn't do it. It's much better to run the board meetings every two months. They have the ideas for how the place should be run and I'm there to do what I can. There must be hundreds of buildings like this across Scotland which are languishing empty and unused which are desperately in need of being brought back into use. I hope the Burgh Halls is a test case to show one way of doing it from scratch with no money. If Dunoon can do it from nothing then Cumnock, Arisaig or Wick can too."
Proof that single-mindedness, determination and patience can get you far the Dunoon Burgh Hall saga is just the beginning of a process to stop the rot in a town struggling to stand still in the face of economic headwinds and indifferent officialdom. Despite this Dunoon is getting its heart back with a cultural hub which should start pumping creative juices down Argyll Street to the pier and McColl's hotel such that it can now afford to look to the New Year not with trepidation but anticipation.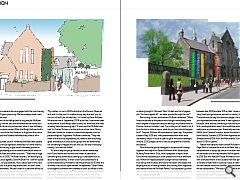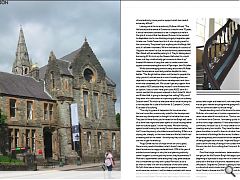 Back to January 2015