Nevis Resort
15 Jan 2015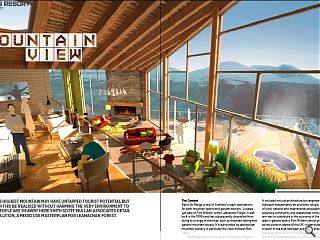 Britain's highest mountain may have untapped tourist potential but how can this be realised without harming the very environment to which people are drawn? Here Smith Scott Mullan associates detail their solution, a mixed use masterplan for Leanachan Forest.
Nevis Ski Range is one of Scotland's major destinations for both mountain sports and general tourism. Located just east of Fort William, within Leanachan Forest, it was built in the 1990s and has subsequently diversified from skiing to a range of activities, such as mountain biking and general mountain access. It is surrounded by spectacular mountain scenery, in particular the views towards Ben Nevis.
The Masterplan forms a vision for the next 20 years. It included not just architecture but engineering and transport assessments, an economic review, investigation of local, national and international precedents and extensive community and stakeholder consultation. A key aim was to contribute to the economy of the Lochaber area in general and to Fort William (which promotes itself as the outdoor capital of the UK) in particular. Developing a resort in the area had been previously assessed by a feasibility study by Rick Finc Associates and the prime aim of the Masterplan was to explore how such a concept could be implemented.
One notable feature was the lack of accommodation associated with the Ski Range. In mainland Europe there is a point at which small local mountain access systems graduate to become "destination resorts" in their own right and that it is usually reflected by on-site accommodation. This allows visitors to both use the facilities without large amounts of daily travel and enables a "sense of life" to be generated. The Masterplan investigated how this could be provided, types of accommodation that would be suitable and how architectural quality and landscape integration could be achieved.
One of the key issues to emerge from stakeholder consultation was the role of Nevis Range in hosting major outdoor events. These range from small local events which attract a few dozen people through to the MCI Mountain Bike World Cup Downhill which attracts almost 20,000 people over a weekend. These events are vital to the economy of the area and face increasing competition from other resorts around the world. Retaining these events is a key component of Fort William's status in the world of adventure sports and this requires increased areas for tented villages, support vehicles and parking as well as on-site facilities and accommodation.
The Forest itself was primarily planted for timber production and outwith a band of more natural woodland adjacent to the River Lundy, it is currently in a cycle of felling and replanting. The process of transforming the Forest towards a more diverse and natural environment is underway by Forestry Commission Scotland with the aim of focusing this process on areas around new developments.
The Masterplan identifies four specific zones which allow the development to be integrated into the landscape while providing a diverse range of delivery and business opportunities.
1. The proposals for The Nevis Ski Range guides future buildings towards the creation of a building cluster around a small courtyard, along with environmental improvements to the Car Park and Trailhead areas.
2. The identification of a site close to Nevis Range for what we term "low impact accommodation". This would include cabins, glamping pods, a bunkhouse and an area where small events could be hosted.
3. The major development goal is a high quality Spa Hotel complex, either as a single building or as a combination of building and luxury lodges. This is a building types which has been specifically identified as one which would augment the accommodation offering in the area and the location would specifically link adventure sports and quality accommodation in a way that occurs internationally, but is rare in Scotland.
One of the main issues was to site this complex close to the existing facilities and infrastructure, for both ease of access by foot and bicycle and also for sustainability reasons, while providing its own particular identity. After much plodding through uncut forest, the team identified a shallow south facing corrie (a valley) which offered a sense of isolation, along with good sunlight and stunning views of the north face of Ben Nevis. This was also fortunately an area of recently cut plantation with practically no loss of natural environment but with huge potential for forest regeneration.
Our indicative designs show a low rise building which would integrate with the landscape, allow cars to be sensitively hidden, be constructed of sustainable materials and incorporate extensive areas of glass in order to provide views of the mountains beyond. Water (both hot and cold) will be a central theme of the experience and opportunities for powering the building by sustainable sources such as biomass (where better to do it than in a large forest) or hydro power are being explored.
This is an unusual project which raises a number of points which are interesting in a Scottish context.
The rationale for this development is based on a growing demand for outdoor adventure and the acceptance of its contribution to the Health and Wellbeing agenda. Although there are many outdoor experiences that can be created close to cities, there is a demand for the "real deal" and this creates pressure on landscape resources and raises sustainability and climate change issues. An ideal policy for the delivery of such resources would be a hierarchy of locations where this demand could be met, while minimizing the pressure on wilderness areas.
As one who has spent much of my recreational time on mountain sports of various types, I do have a serious worry that we live in a world where it is increasingly seen that the mountain experience can only be satisfied by a sponsored trip to Kilimanjaro. Hence we need to build more of these experiences into the Scottish context, from outdoor facilities within our cities through to a range of other venues and feel that these proposals fit well into such a context.
We are promoting a significant development within a landscape setting, but it should really be thought of as a rural regeneration exercise, supporting an existing asset within what could almost be termed "brownfield landscape", rather than threatening an area of wild land. It is a project that attempts to re-create a natural setting rather than remove one and forestry land provides the ideal environment for such developments. It is often well provisioned with access infrastructure, avoids locating development in areas of more scenic sensitivity and provides the catalyst for environmental improvement.
In terms of its economic impact, it is close to but separate from Fort William, which already has a range of accommodation, which would be difficult to successfully add to. However, at Leanachan Forest the development can establish its own identity, making the most of the unique assets of its views towards Ben Nevis and be a positive contributor to the local economy.
This has been a fascinating project for us at SSM with a unique opportunity to work at a large scale in a rural setting. It was also an extremely enjoyable process to be involved in, with many memorable moments, such as climbing Ben Nevis in order to get context photographs and working with foresters on creating a new diverse landscape. I am thoroughly looking forward to the day when I can take my kids to such a place and enjoy the fantastic facilities which Scotland has to offer.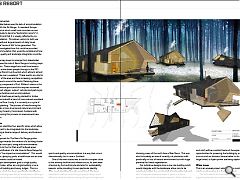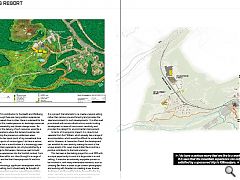 Back to January 2015