Doors Open Day: Don't Knock It
29 Oct 2014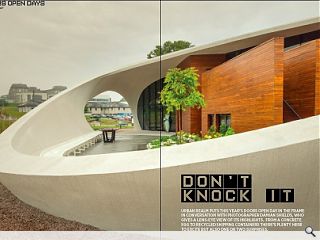 Urban Realm puts this year's Doors Open Day in the frame in conversation with photographer Damian Shields, who gives a lens-eye view of its highlights. From a concrete egg to recycled shipping containers there's plenty here to excite but also one or two surprises.
The urge to stoop and sneak a peek through the keyhole of a locked door or to press a face to a window and squint at the gloomy interior is a universal one so when janitors, custodians and owners up and down the land throw open their gates for a few short weeks in September there is an inevitable rush of the curious eager to have a nose around places that would otherwise remain strictly off limits.
Doors Open Days has developed a unique affection amongst such thanks to the sheer extent of the secret, sealed and shunned spaces now under its wing; from modern offices built from disused shipping containers to an historic mortuary chapel in Angus. From the relatively unknown Skelmorlie Aisle in Largs to familiar landmarks like Glasgow Cathedral.
The variety and geographic spread make it impossible to tick off every venue from the ever-growing list so it is fortunate that event organiser the Scottish Civic Trust have commissioned landscape photographer Damian Shields to capture some of the highlights from this year's showcase. Among the photographers highlights were several locations outside his main stomping grounds in the west, notably Pitsligo Kirk in the north east. Commenting on his visit Shields said: "I'm usually up the west coast so there was whole swathes of the north east which I hadn't visited before. I was always looking for places that spoke to me as a landscape photographer, not just to talk about the building itself but to place it in its setting.
"When you travel up and down the country you see stone dykes and walls and how the materials they're constructed from change from area to area because of the local quarries and flavours of stone. They're almost an organically grown thing that's come out the ground, the physical elements are as much about the people that use these spaces. They're all interlinked."
With only a few hours at each location Shields has no time to lose to get his work completed, making it all the more frustrating when battling against pernickety British weather, as Shields noted: "It was very grey, there was no-one about and I was pacing around the churchyard frustrated by an overcast sky. I remember looking up and praying for the heavens to open and then this circular patch of sky appeared and I started to get the warm hues of the lower sun coming through. Then the swallows started coming out, it all came together at once."
Another pleasant surprise of this commission proved to be Skelmorlie Aisle in Ayrshire, a forgotten gem tucked away in a graveyard – accessible only by visiting the Museum in Largs and asking staff to open the door. "I'd only seen tiny pictures online so I wasn't prepared for the grandiose nature of the interior", Shields remarked. "It's a small place, it's like the aisle of a church which was since demolished. There's a small room with a beautiful vaulted wood panel ceiling which has been painted with fantasy landscape scenes based on the local area. There are masonic symbols, pagan iconography, signs of the zodiac, different biblical allegories and an altar. It's a mishmash of different influences, cultures and religions in a great wee nugget of history and a beautiful sight to behold."
Built by Margaret Douglas and Robert Montgomery as a place to be interred following their death (they are buried beneath the altar) the tomb remains largely forgotten. Shields noted: "The light pouring in the back window and the nice romantic love story behind the Aisle made the shot for me. It gave it that spiritual aspect of light at the end of the tunnel. I never knew it existed and I dare say most people in Largs don't even know it's there, it's like a miniature Rosslyn Chapel.
"Glasgow Cathedral has been done to death so I found myself over complicating myself. When I turned up I took myself up the Necropolis to get a wider shot but as a photographer myself I've been exposed to a lot of images of Glasgow Cathedral and staying nearby it's totally saturated. I wanted to show it as simply as possible by cropping out all the adjacent buildings, cars and people on a long exposure.
"The problem is one of focus, the minute you include a face in the image your brain is hard-wired to take that as your first priority of interest. Your eyes go to other people and their eyes, expression and movement. It was important for me to let the buildings themselves speak directly to you and remove any distraction that would be caused by having people in the scene. I wanted you to connect directly with what was being presented, the buildings. It tells a different story if you start to involve people moving about and interacting with it. For me I wanted to say these are living, breathing things themselves."
"A lot of people will take pictures of The Kelpies at the moment say on Facebook and you read the comments and people say 'oh fantastic' and you think they're praising the photographer but what they're actually praising is the sculptor, to me it's almost like a wee bit of theft. With buildings there has been a lot of time, effort, thought, talent and skill that's been put into producing this thing which is inherently beautiful to look at so you feel a bit like a thief by presenting a photograph as a piece of art. I try to resolve that by putting more of my own identity as a photographer in the image. It's not just about the building it's about how I compose it, how I use light, what I choose to show and hide. It's putting my own stamp on it."
Illustrating his point Shields continued. "You try to put a bit of your thinking and cleverness and your intelligence and ability to resolve a composition into an image and not just let the object itself tell the entire story. Somebody might photograph the Venus de Milo and say that's a beautiful photograph but it's a beautiful sculpture. A photographer might wait until a haggard old woman walks past and casts her silhouette across it, then it's telling a story of beauty and age.
"To my mind photography forces people to zero in on something and see it reinterpreted through another individual's eyes, that's an inherently interesting thing for people to do."
But is there a risk that in drawing publicity to hidden gems their lustre will diminish as the tourist hordes descend? "There are a lot of beautiful buildings hiding in plain sight, if you look at Glasgow people are walking down the street and they're more concerned at looking in shop windows than looking up at the stone masonry. Some of the places further out such as Whitelee wind farm people might never think about visiting or finding out about. It's working to draw your attention to things and take you off the beaten track to appreciate things.
"It's difficult for me to represent an image of a building without showing in its setting to show where it was, what its purpose was, the raw materials, all draw upon the location. It was a challenging process."
As one door opens another closes and as this year's event wraps up tourists must wait until the next collection of bricks and mortar is put in the frame. In the meantime we have a collection of snapshots freezing these buildings in time to tide us through the winter.
Doors Open Days
is coordinated by the Scottish Civic Trust as part of European Heritage Days, an initiative that connects over 50 countries in celebration of heritage.
Back to October 2014