AHR: What's in a Name?
29 Oct 2014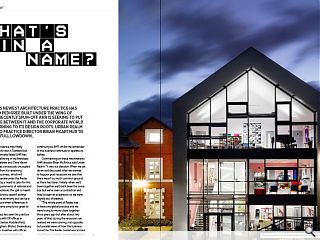 Britain's newest architecture practice has a proud pedigree built under the wing of Aedas. Recently spun-off AHR is seeking to put distance between it and the corporate world by returning to its design roots. Urban Realm spoke to practice director Brian Mcarthur to get the full lowdown.

Talk of independence may finally have been put to rest in Scotland but where Alex Salmond failed AHR has succeeded. Following in the footsteps of Gwyneth Paltrow and Chris Martin the practice has consciously uncoupled its UK offices from its remaining international business, which will continue to operate under the Aedas brand. Driven by a need to cater for the competing requirements of national and international outlooks the split is meant to show that divorce needn't always be a byword for acrimony but can be a positive measure when differences in approach become simply too great to bridge.
This process has seen the practice cleaved in two with UK offices in London, Manchester, Huddersfield, Leeds, Birmingham, Bristol, Shrewsbury and Glasgow – together with offices in Russia, Poland and Kazakhstan continuing as AHR, whilst the remainder of the business continues to operate as before.
Commenting on these machinations AHR director Brian McArthur told Urban Realm: "It was our decision. When we sat down and discussed what we wanted to happen post-recession we saw that there wasn't as much common ground as there had been. Initially when we'd been together we'd both been the same size but we've seen a contraction and they've seen an expansion, so we were slightly out of balance.
"The whole point of Aedas was to have one global practice and we were trying to move closer together three years ago but after about two years of that, during the recession, we realised we were running, not opposite, but parallel views of how the business should be. The Aedas model was to have one office in London, occasionally doing an outside project and yet our strength has always been in the regions and we want to go back to doing quality, local architecture." Not keeping all their eggs in one island basket however the team is hoping to get the best of both worlds and pick up international projects to keep staff in Russia, Pakistan, Warsaw, Kazakhstan and, soon, Dubai busy.
Dismissing emotive talk of a 'divorce' McArthur described the change as a 'demerger', adding: "The only negative headlines I've seen are by editors who've used slightly more emotive words but there's no animosity at all, it's actually rather positive. Our chairman could actually see the irony in that we could actually be working together on more projects."
Aedas was born in 2002 through the merger of Abbey Holford Rowe and Liang Peddle Thorp from Hong Kong, growing to become the 5th largest architecture firm in the UK with 450 staff and a formidable global presence. "We've always been a partnership and we'll remain a partnership. In fact if anything this brings us closer together. It's not something we haven't done before, we're kind of re-establishing ourselves and we still have ambitions to be a global practice. We still have an R&D department which will focus on pure research to support projects like the Al Bahr Towers in Abu Dhabi," explained McArthur.
Looking to his erstwhile colleagues McArthur added; "From my understanding they have a clear focus to serve on mega projects anywhere in the world where global investors are comfortable in getting a level of service commensurate with their investment. Keith Griffiths [Aedas founder and chair] said 5-10m sq/ft was the smallest they'd look at per project. We in the UK couldn't pull off one project of that scale, even our work in India is only 1-2.5m sq/ft.
"Our goal is to be markedly different; it's more about quality and interest in projects rather than size. We want quality as well but perhaps at a more regional level. We don't want to be a mega-practice, we want to improve our design reputation. In the chatrooms in your own magazine you get written off as an easy target because you're big and corporate. We don't want that anymore, we don't want to always justify ourselves. I want people to see the really good work that we do and which was lost. The best quality work that Aedas produced came through the UK studios with projects such as the Dubai Metro and Al Bahr Towers."
Conscious that the two need not be mutually exclusive McArthur noted: "I think it is possible to do good work on a large scale I don't see why it shouldn't be. But the people who are doing it can sometimes lose it on some of these big, technically complex projects - on Crossrail the technicalities almost swamp you. One of the reasons we're better being part of Aedas is that we've learnt how to manage ourselves more efficiently. When you meet guys who, by necessity have great management systems in place, you get to see how efficient it can be and we've got software that lets us know how efficient we are and what everyone is doing. We've got a wee team looking at that and when someone in Manchester says we need 10 guys they can say 'we've got someone in Glasgow for four or five weeks, maybe they can help you'.
AHR's global presence also affords the flexibility to tailor their employee spread as McArthur notes: "At the moment we have a wee bump but we weren't confident enough to take people on in the Glasgow office so we brought three people over from Warsaw who were working in Russia – which all stopped with the advent of the Ukraine crisis. They know the systems and they know how BIM and Autocad work. For the past five years we've only taken on someone to replace someone but we've now taken on four new people. There is always that grey area where you're not quite sure but we don't want short term contract people, you don't get the same commitment. We don't want to spread ourselves too thin either."
Not everyone has been as enthused about the switchover however, as McArthur observed: "Some of the guys in the Warsaw office haven't been quite as positive because they've been getting more international work and drew upon the resource of that global practice. The Aedas brand was better recognised in Dubai than the UK."
"I still get a real buzz from the work overseas and we've still got that big practice infrastructure but because we're down to 14 directors we actually know one another as well. When I was in the Middle East I was king of the exotic, there weren't many other British people kicking about at that time. Then you come back to Glasgow and realise you're one amongst many. You do get a bit conceited when you think your way must be the best way, you realise there's different ways of doing things."
When AHR first tackled the vexing question of how to refer to themselves thoughts turned toward a 'boutique' name such as 'Space', 'Complex' or some other nonsense abstract word. "That didn't really fit us," McArthur said, "we're not a boutique practice. Then we thought 'should we rename as one of our earlier names?' Well, not really, most of those partners have actually left but we've got 100 odd years of heritage and we don't want to lose that either so we decided to call ourselves Abbey Halford Rowe." It was at this point however that the team discovered the existence of an individual on Facebook who shared this identity, prompting the team (like many before them) to settle on a triple barrelled alphabetical moniker for brevity, AHR. "Some people still remember us that way because we were known as AHR-Aedas for a year or two before becoming Aedas," Remarked McArthur, "At one point we were going to be called A Human Response, as opposed to a corporate response, and we all chuckled at that thought but never actually said it out loud."
No-one considered the obscure Indian practice by the same name, which suddenly leaped up the search rankings following the deal. Commenting on the fickle nature of Google rankings McArthur said: "When you start new you have to start at the bottom. Looking at the traffic after the first day they had 1m+ hits, they must have been thinking 'wahey, someone's at last understood what we're trying to do!'
"In the UK we're still fifth. The goal was to be a big practice but it was never for global domination. Nobody has ever said we want to be the biggest. We've got Aecom and URS combining. The MoD just renewed their framework in Scotland and wanted four consortia and not just three - Aecom were the fourth. Now they're back down to three they've reduced diversity."
Far from seeing it as Aedas joining the Premier League whilst AHR make do with the First Division McArthur clearly believes that small is beautiful. Nevertheless with 450 staff AHR is no minnow and banking on uplift in the UK nations and regions seems a shrewd bet as investors switch from the over-heating capital to less congested markets. With the Scottish independence question now settled and the prospect of increased federalism on the horizon that gamble may pay off as Britain's regional cities fight back.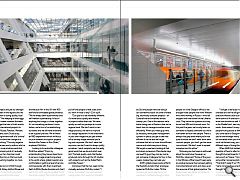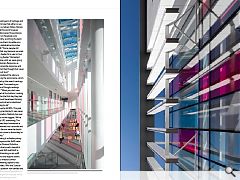 Back to October 2014