Beacon Arts Centre
|
Send to friend
22 Jul 2013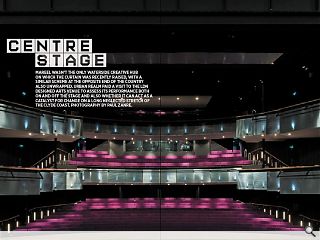 Mareel wasn't the only waterside creative hub on which the curtain was recently raised, with a similar scheme at the opposite end of the country also unwrapped. Urban Realm paid a visit to the LDN designed arts venue to assess its performance both on and off the stage and also whether it can act as a catalyst for change on a long neglected stretch of the Clyde coast. Photography by Paul Zanre.
There can be few parts of the world as blessed with natural beauty as Greenock, the ever changing diorama presented by its waterfront setting providing a dramatic canvas for fresh interventions. It is depressing then that this resource has largely been squandered in recent years but a new public arts venue aims to change all that by putting the heart back into a community which was in danger of losing its connection to the Clyde.
The £7.8m Beacon Arts Centre is situated on a stretch of waterfront to which Greenock had long since turned its back, enjoying pride of place directly opposite the historic Custom House at East India Harbour. Matching the massing and civic presence of its illustrious neighbour without compromising on its avowedly modernist principles was no small undertaking but one which LDN Architects have pulled off. Its unapologetic massiveness is doubly helpful, both in terms of keeping sound in and sound out but also in creating a highly visible honeypot from which to draw footfall across a busy dual carriageway from the town centre. A little way higher than the quayside itself the facility rests on its own plinth, contributing to a sense of scale whilst echoing the processional access to the Custom House and going some way toward allaying the very real concern over flooding.
Mindful of being pigeon holed as an exclusive club for well-to-do theatre goers the centre augments its complement of rehearsal and meeting rooms with a well-used cafeteria and social space, already well embraced by the broader community. This democratisation of function is reflected in the theatres conscious flit from its historic home in the upmarket west end to the post-industrial waterfront.
Explaining a little of the history of the site Brian Gavin, company secretary of the Greenock Arts Guild told Urban Realm: "The company was set up in 1946 to provide a facility where the local community could put on their shows, we bought an old swimming baths which had fallen into disuse during WWII. It was converted and opened as a small student theatre and over the next nine years we converted the swimming pond into a proscenium arch theatre, using the rake of the pool for the stalls with the stage at the deep end.
"We were there for over 60 years but the building was really worn out, leaking and peoples ambition had gone beyond what the building could provide."
These ambitions stretch to a 500 seat auditorium, squeezed in over three levels in a surprisingly spacious hall, eliminating this limiting factor even if ticket prices have had to be upped accordingly. Upper levels are cantilevered out from the walls as box like features, although a Millenium Bridge style wobble necessitated the careful positioning of some structural columns by Buro Happold, as project architect Alex Liddell, explained: "It's not pure principle this structure, it's a mixture of cantilever and columns. You could make it stand up with just a cantilever but you couldn't get the bounce out. In the end this became a truss and the hanging balcony became part of the structure."
Almost every surface in the room has some property to do with acoustics, from the perforated metal walls deflecting sound back to the stage to side walls designed to reflect sound waves without generating an echo. The combined effect of all this precision engineering is a visual and aural space in which you could hear and see a pin drop on stage. Generous in scale for a theatre of this size, it is one of the largest spaces for a theatre relative to the theatre size in the country, which only Pitlochry exceeding it. Although there's not a huge amount of architecture in these spaces there is a huge amount of coordination behind the scenes to ensure everything fits.
Above the theatre stands an enormous fly tower capped by the namesake beacon which stands like a lighthouse over the shoreline. Glazed panels diffract a cool white light into the night time environment, currently bare they will soon be adorned with new signage to announce the centre's arrival on a rapidly evolving skyline.
Away from the front of house things get quite basic very quickly with functional changing rooms situated off spartan block work corridors, only a giant piece of artwork rescued from the old theatre brightens things up, it being too large to be manoeuvred through internal doors. LDN plumped for a traditional look in the changing rooms themselves with low-energy LED bulbs looking the part without the associated heat load that comes from tungsten varieties, the output of which would have made the environment unbearable. A whopping 840 lamps were sourced across six separate dressing rooms, an outlay which the team believe should pay for itself within 10 years.
Currently adjoining an area of wasteland the centre will ultimately be surrounded by new housing, a marina and shops -none of which has yet materialised given the current distressed state of the market. Commenting on the situation Gavin noted: "That delay to the housing actually worked to our benefit, originally we were going to redevelop our old site with the requirement that it had to be a complete demolition. We were then given this space by the site owners (Peel Holdings), who owned site adjacent to our former site and were very keen to expand, so offered us a land swap. We set out with a design that was almost identical but facing the other way and with a little discussion we were able to persuade the owners to give us this site."
Security needs of such an islolated plot necessitate some fairly intrusive security fencing, even though rear spaces are secured by security grills placed over full height windows, preventing light fingers from acquiring the personal belongings of travelling tour groups.
Greenock is currently undergoing a period of rapid transformation, from its newly revamped town hall to the demolition of a trio of tower blocks that had stood sentinel over the town for decades and from which the dust was still settling when we clambered onto the roof to soak up the stunning views and brisk Clydeside air. Whilst that change can be disorientating it also presents a raft of opportunities, opportunities which Greenock is grasping with both hands.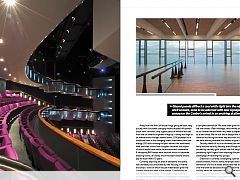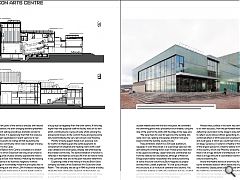 Back to July 2013