Cockenzie Power Station
22 Jul 2013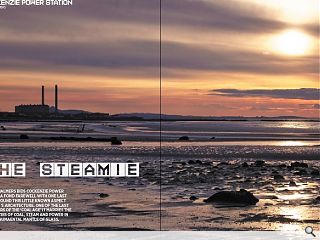 Mark Chalmers bids Cockenzie Power Station a fond farewell with one last look around this little known aspect of RMJM's architecture. One of the last survivors of the 'coal age' it marries the properties of coal, steam and power in one monumental mantle of glass.
After weeks of stormy weather, the air cleared and the turbine hall was raked by shafts of sunshine. Cockenzie stopped generating electricity a few weeks ago, and now the power plant's equipment lay cold for the first time in 45 years.
A subsonic rumble overhead: one of the turbine hall's cranes traversed along its tracks. A moment later, the huge hook of a 200 ton winch descended on a sheaf of cables each as thick as a man's arm. Its movements were slow and deliberate, accompanied by a flashing beacon and klaxon. The gantry crane was flexing its muscles. In 1966 it helped to install the power station's turbines: soon it would begin removing them.
The power station is a difficult building type to resolve using conventional notions of massing and articulation. Its volume is hard to disguise. Its scale can be overwhelming. As Robert Matthew of the architects Robert Matthew Johnson-Marshall & Partners (RMJM) said, prior to World War Two the typical response was "to cover this mass of complicated machinery and plant with a vast and ponderous shell and pretend that it is a cathedral".
When the electricity industry was nationalised in 1948, the British Electricity Authority came into being. A couple of years later it began to plan a new coal-fired power station at Kincardine, on the north bank of the Forth. At over 700 Megawatts (MW) output, it would be Britain's largest power station, usurping the famous "cathedral of power" at Battersea on the Thames. Robert Matthew was in at its conception in 1953, and thanks to him Kincardine was a decisive step forward from Battersea's sombre brickwork and monumental heaviness.
Matthew felt that Kincardine's machinery should be enclosed in a mantle of glass, which would lessen the impact of the boiler house and turbine hall, and also free the power station from allusions to religion. That approach went against convention. Basil Spence, who designed the nuclear power station at Trawsfynydd in Wales, also rebuilt Coventry Cathedral. Battersea's architect Giles Gilbert Scott also designed the Anglican Cathedral in Liverpool. Frederick Gibberd designed Didcot power station in Oxfordshire, known as the "Cathedral of the Vale", and also built the Roman Catholic Cathedral in Liverpool. All those architects were monumentalists, but Matthew's approach was quite different.
By the time Kincardine was under construction, its parent had evolved into the South of Scotland Electricity Board (SSEB). It was created in 1955, and one of its first jobs was to plan the next generation of coal-powered stations. Kincardine was the largest in UK, but it carried with it the promise of something even greater, which would seal the reputation of the SSEB and ratify the approach of its architects.
By 1961, SSEB's chief engineer James Henderson had chosen the site of the old Preston Links colliery near the village of Cockenzie on the south bank of the Forth. He settled on an arrangement with four 300MW generating sets to provide an output of 1200MW, the largest power station in Europe planned up to that date. It was estimated that Cockenzie Power Station would cost £60m to build, approaching £1 billion at today's prices.
RMJM won the architectural commission for Cockenzie, and once Matthew had outlined the approach, it was planned in detail by Chris Carter. RMJM is a very different practice now, but its founders and first generation of partners prospered during the expansion of civil society following World War Two. The NHS required new hospitals; the various Education Acts stimulated the development of universities; and the nationalised power industry embarked on a development programme. RMJM contributed by building Europe's largest teaching hospital at Ninewells in Dundee; a campus for the new University of Stirling; and a series of power stations which later included Longannet, Inverkip, and Peterhead.
Cockenzie embodies the very roots of Scottish identity in the 19th and 20th centuries: coal, steam and power. Harnessing steam was our speciality, and today's power workers are the bairns of James Watt. Cockenzie was built by Scottish companies: its boilers were designed by Yarrows at Scotstoun, and built by Babcock & Wilcox at Renfrew. The massive gantry cranes were provided by Butters Brothers, who built the slipway cranes for Clydeside's shipyards. The forced draught and suction fans came from Howdens of Glasgow, and later the Boosted Over-Fire Air fans which enabled Cockenzie to run more cleanly.
The station's countless water pumps were made by Weir Group at Cathcart. The electrical gear transformers and switchgear was supplied by Bruce Peebles & Co. just along the road at Granton. The structural steel was rolled in Lanarkshire by Colvilles, then fabricated and erected between 1962 and 1965 by Sir William Arrol & Co. An exception to the SSEB's "Buy Scottish" policy were the generators, which came from English Electric. Each one converts 400,000 horsepower at the turbine shaft into 300MW of electrical power.
The main contractor, Sir Robert McAlpine Ltd, began construction in 1962 and five years later, the first unit was fired up. Scottish Secretary, Willie Ross, formally opened Cockenzie Power Station on 24th May 1968: it cost £54m at the prices of the day, actually less than initial estimates. Scotland's reputation for world-leading generation technology was developing, and with it, opportunities for Matthew's rapidly growing practice.
Unlike the East Neuk of Fife, this stretch of coast hasn't been gentrified. It still looks like a working landscape, hosting a community of fishermen who became miners, and miners who became power workers. A street known as "Megawatt Avenue" sits close to a 14th century tower house, and a traditional Scots fishertown complete with crowsteps and pan-tiled roofs sits back off a rocky strand. Its backdrop is a vast cuboid of glass and steel which changes in colour from gunmetal to silver and back again as light shifts across the firth.
From the outside, the main building builds up in a series of increasingly large volumes: the cable flats, switchgear and control rooms in a low block which abuts the great, bright turbine hall. It steps up again to the twelve storey-high boiler house with boilers suspended from the roof girders. Outside, on the Forth side, there are giant precipitators and two slender, tapering chimneys each 150 metres high.
Scottish power stations have a subtler presence than those in the Trent Valley or the Vale of York, visible twenty miles away as plumes of steam rising from clusters of hyper-parabolic cooling towers. By contrast, SSEB's engineers decided that all Scottish power stations would draw seawater for cooling, a more efficient method which places water pumps inside a big glass box on the shore.
The railway which brought 12,000 tons of coal each day from Monktonhall and Bilston Glen, "super pits" in the Lothian coalfield, ran adjacent to the route of the Cockenzie Wagonway, the earliest railway in Scotland. In fact, Cockenzie's output was once described as "Coal by Wire", because it was tied so closely to the coal field which fed it. 275,000 volt transmission lines are strung from pylons leading away from the transformer house on the south side of the main road, joining hands with other lines which begin along the coast at Torness. Implicit, but invisible, is the electricity which flows along them.
In principle, a thermal power station's operation is very simple. Merry-go-round trains drop their coal into a stockyard, and a conveyor transports it into bunkers. A grinding mill pulverises the coal into dust, which is blown into a furnace. Steam is raised by heating water using the burning coal: that drives the blades of a turbine, and as they turn they spin the rotor of an alternator which generates electricity.
For those who only know Cockenzie through Henk Snoek's gritty black and white photos - full of harsh contrasts and sharp angles - they miss its essence, the working interior. You enter Cockenzie through a freestanding office block which is haunted by the mustards and greys of the 1960's. After several flights of stairs, you cross a trussed footbridge which spans 50 metres, then stand on the threshold of a revelation. You're unprepared for the heroic scale of the turbine hall, but once it sinks in, you awaken to the subtle handling of light.
During the daytime, the bright firth outside is tempered by a wall of translucent glass. Cockenzie is contemporary with Stirling & Gowans' Leicester University Engineering School: while both are clad in patent glazing, Leicester uses sheets of Plyglass while Cockenzie is glazed with wired Stippolyte. Its promise is delivered on at dusk when Cockenzie harnesses its own power to make itself glow and make electricity manifest.
The offices are tired, but the simple expression of the turbine hall is timeless. Cream ceramic tiles, steel girders, patent glazing, Lionweld flooring. There is surprisingly little exposed concrete, because Matthew felt it didn't suit the Scottish climate, and was best left to Le Corbusier and student schemes. Against this plain background, the turbine and generator casings are painted thistle green and thistle purple, Scottish Power's house colours. Complexity only becomes clear in the great undercrofts beneath the turbines, which contain an octopus of plumbing – steam pipework feeding the turbines, and return pipework leading to giant condensors.
One surprise is the CCR - central control room - where the consoles are painted a zesty lime green, rather than the insipid eau de nil of other power plants. Compared to the Art Deco theatricality of Battersea's control rooms, this place is rational, laid out with repetitive, modular panels. Similarly, it's easy to resist allusions to James Bond films, because Cockenzie is anything but a stage set.
Cockenzie was in continuous operation from 1967, when Unit 2 was first synchronised to the Grid, until one morning in March 2013, when the steam valves feeding the giant turbine of Unit 2 slammed shut for the final time. Over the next couple of years, Scottish Power will decommission Cockenzie, and the equipment will be removed so that the shell can be used in future for a combined-cycle gas turbine power station.
At its peak Cockenzie employed 500 workers, and is estimated to have given work to around 10,000 people over the years. It supported livelihoods at Ravenscraig, Grangemouth and the Lothian coalfield, sustaining our industrial base and carrying out a social function in the same way that the aim of Tom Johnston's North of Scotland Hydro-Electric Board was nothing less than to reverse the Highland Clearances and stem the migration which was bleeding Scotland to death.
In many respects, power stations are perceived as engineering rather than architecture, because the envelope represents only a tenth of a power station's cost. Sometimes the architect's task is little more than a styling exercise. This is perhaps why Glendinning's biography of Robert Matthew barely touches on the practice's power station work. Yet Cockenzie is fully-realised, and one of the great expressions of what Reyner Banham called the "science side" of architecture.
The people who built it weren't sentimental. There was no effort to mask the modernity of Cockenzie by pretending it was a cathedral. RMJM resolved the clash between scale and monumentality by using contemporary materials which gave it a new expression. That's why I argued for its inclusion when Prospect magazine drew up a list of Scotland's Best 100 Modern Buildings in 2005.
Reading through Cockenzie's epitaphs, it seems that we're susceptible to nostalgia, and prone to view the past through the lens of today's concerns. Yet I would argue that Cockenzie represents neither 1960's utopianism nor environmental dystopianism: instead, it stands in the high tradition of socially-rooted architecture built to serve Scotland.
Back to July 2013