Landscape Architecture
|
Send to friend
2 Jul 2013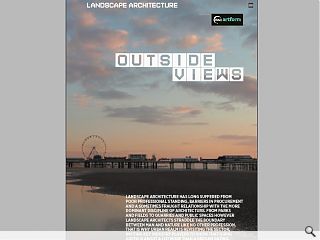 Sponsored by Bailey Artform

Landscape Architecture has long suffered from poor professional standing, barriers in procurement and a sometimes fraught relationship with the more dominant discipline of architecture. From parks and fields to quarries and public spaces landscape architects straddle the boundary between man and nature like no other profession. That is why Urban Realm is revisiting the sector, inviting key industry players to show that going green is about a lot more than a BREEAM rating.


Q&A

Rolf Roscher CMLI, Director, ERZ Limited
How is the relationship between landscape and architecture evolving?
Professionally and institutionally change is slow. The infrastructure surrounding and supporting the design of the physical environment in Scotland is essentially a couple of generations out of date. The role of the landscape architect / urban designer is often either ignored or misinterpreted. However, wider cultural changes are taking place at a faster rate. Landscape architecture is a profession for the 21st Century. I believe that the current constraints of poor professional standing and barriers in procurement processes will actually change quite rapidly in Scotland before much longer.
Should boundaries between art / landscape and architecture be torn down?
In some respects no. They are distinct disciplines. A lifetime can be spent getting good at one of those things. The change needed is in commissioning and procurement to remove barriers and to allow the best fit of a particular discipline to a particular situation and importantly to encourage multi-disciplinary working where it is relevant.

Steve Nelson CMLI
Partner, Gillespies, Glasgow
How has recession impacted our landscapes?
Much of the work for the upgrading of public spaces as part of the regeneration of town and city centres has been cut back dramatically over the last few years. Those few projects that are proceeding through the design and implementation stages are seriously hard fought tenders with additional competition coming from hard pushed architectural practices. The consequence has been a serious reduction in the levels of fees being submitted to win tenders which must be having a knock on effect on standards and quality of the finished product.
Is the profession still held back by examples of 'green toothpaste' around car parks?
No. Only the unenlightened still believe that 'green toothpaste' is the mainstay of the landscape architects portfolio. Any client worth his salt – local authority, private developer and dare I say it – architects and engineers, must have learned by now that the qualities of any project can be significantly enhanced by the inclusion of a landscape architect as an integral member of the team. This is not to say however, that car parks don't still need some green toothpaste!
Why weren't landscape architects given a lead role in George Square? Would they have done a better job?
It is not correct to assume that landscape architects were not in a lead role in the George Square competition. Landscape architects are much better placed than most architectural practices to resolve the issues of the public realm, both in terms of scale and creation of animated external spaces as well as use of hard and soft landscape materials. In the case of the George Square competition it didn't seem to matter which discipline led the design challenge as politics seem to have overruled everything!
Mike Harrison
Director, HarrisonStevens Limited
The essence of a place are the people occupying and using the space and it's connection to the landscape. Often our role as landscape architect is to act as facilitators bringing the site's baggage together, identifying the key issues and ensuring that compromise is not to the detriment of the original concept and the creation of a place. It is similar to packing for your holidays: putting your clothes on the bed and purging until it firstly fits in the allocated space and secondly that what is included ensures a fun and memorable trip. As landscape architects we are the best placed professionals to deliver unique places with meaning, sentiment, and intelligence; spaces embedded into their communities. A special place evolves through a great deal of nurturing, sensitivity and collaboration.
Many of the projects we have recently visited were let down by poor maintenance. Weeds, unruly grass, dying trees, paving poorly re-laid or replaced with a different product. All these have a detrimental effect on the quality of the place and our experience of it. Often this is a result of challenging budgets, reducing overheads and lack of suitably qualified maintenance staff. A result of the recession? Partly, and certainly adding to the pressures and a mis-understanding of the value of a cohesive external environment and a compromise to the easiest manageable solution of mass shrubs and hectares of grass. Designing to these constraints can all too often result in the 'green toothpaste'. Our challenge is to find intelligent and collaborative design solutions.
Economic expediency often results in the component elements of the external works retained within the scope of other consultants focused on their primary role. Our commission to fill the remaining spaces with latin names does not invigorate nor encourage investment into intelligent design. Consideration must be given to the detail, both hard and soft landscape together, producing a coordinated and deliverable package for the external works.
Now that your budget airline has just doubled the price of a hold bag, go and re-pack with just a hand baggage allowance - there's a challenge!

Keith Horner,
partner, Horner McLennan
How is the relationship between landscape and architecture evolving?
We seem to be seeing two opposing trends – one where landscape is openly embraced within a holistic project design approach, and the other where landscape is confined to the periphery and tail end of the design process. We will see an increase in integrated, landscape-led projects, where the landscape professional brings long-term vision and pragmatism to achieve solutions. Underlying these trends will remain the fundamental difference between architecture and landscape – that architecture can be static, whilst the landscape evolves, is long-term and only improves in character over time.
Is the profession still held back by examples of 'green toothpaste' around car parks?
Unfortunately, we have to say yes. We still see so many examples of poor site planning, where the ability of the landscape architect to achieve a coherent and structured sequence of green spaces has been compromised through lack of involvement at the initial design stage, or through the relegation of landscape issues to the bottom of the design process 'food chain'.
Should boundaries between art/landscape and architecture be torn down?
It's interesting that you group art/landscape together, rather than landscape/architecture – Geoffrey Jellicoe, doyen of the British landscape profession, considered that "landscape design may well be recognised as the most comprehensive of the arts". As a practice, we don't believe in such boundaries, although we accept that artists, landscape architects and architects tend to operate within different spheres of approach. Our approach is to encourage a collaborative dialogue which fuses the artist's conceptual idea with our contextual response to a site and the architects response to design brief, to ensure the full potential of a project is realised. The 'boundaries' only exist in an individual's egotistical mind or blinkered territorial approach to collaboration.

Sheena Raeburn,
director, Ian White Associates
How is the relationship between landscape and architecture evolving?
Carefully considered landscapes, which make great architecture really sing, should not be underestimated. When developing the brief, clients have the opportunity to put placemaking at the heart of their scheme, where site planning and the quality of the environment within which buildings are set, are recognised as key priorities from the outset.
How has recession impacted our landscapes?
In some ways this can encourage you to 'sharpen your pencil' more, by taking a more efficient approach to creativity, in order to achieve success with less. The impact of the recession is also affecting how existing landscapes are being maintained. This may not, however be as bad as it first appears; reductions in the number of maintenance visits can enhance the qualities of a site and provide greater diversity for wildlife to flourish, more so than a sterile site with bi-weekly grass cuts.
Is the profession still held back by examples of 'green toothpaste' around car parks?
Yes! However many clients and architects realise that they are missing a trick if they don't consider the benefits of integrating landscape into a development from the beginning. There is so much a landscape architect can offer – yes it can screen and soften a car park; BUT it can also help to embed a new building within its wider context; it can delight and stimulate the senses; it can offer richness and subtlety… and much more!

Kirstin Taylor, director, LDA Design
How has recession impacted our landscapes?
Throughout difficult economic times, we have recognised the need to adapt and in key development sectors, we have focused on what we term "creative delivery". In this we combine our masterplanning, planning, design and environmental consultancy skills to focus on assisting our clients' in unlocking the potential in land.
Should boundaries between art/landscape and architecture be torn down?
When working collaboratively, the entire creative practice of generating, developing, and transforming ideas in the process of design blurs the edges of differing disciplines. Almost all of our project begin as a collaborative dialogue, whether that's with architects, archaeologists, artists, engineers, or ecologists.
Why weren't landscape architects given a lead role in George Square? Would they have done a better job?
Much of what we do is about community and the facilitation of a delivery process that engages people and their collective history to truly define a place. This is a specialism we could have brought to George Square.
Back to July 2013