Carbuncle Awards 2013
18 Apr 2013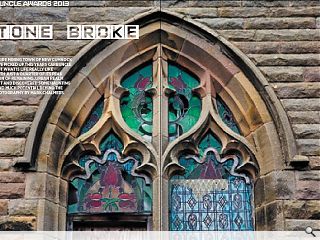 The Ayrshire mining town of New Cumnock might have picked up this years carbuncle award but what is life really like there? With just a quarter of its peak population of remaining. Urban Realm paid a visit and discovered some haunting beauty and much potential behind the decay. Photography by Mark Chalmers.
With previous Carbuncle winners Denny and Linwood benefitting from some much needed cosmetic surgery the Carbuncles team have been busy scouring the land for a new holder of the 'most dismal town in Scotland' title. Hundreds of Urban Realm readers got in touch to point the finger at dozens of the nation's grottiest nooks and crannies but ultimately there can be only one 'winner'. It gives us absolutely no pleasure in announcing therefore that New Cumnock, Ayrshire, has been awarded this year's trophy.
No stranger to The Carbuncle Award New Cumnock was last nominated back in 2009, when it narrowly missed out to Glenrothes. Since then the town has taken one step forward and two steps back with the completion of an impressive new primary school overshadowed by the threatened closure of its town hall and sell-off of the Arthur Memorial church - on its 100th anniversary no less.
These losses have been compounded by the continued haemorrhaging of shops on the High Street and a general absence of maintenance on derelict properties, raising the very real risk that a tipping point' into irreversible decline could be reached soon if action isn't taken now.
New Cumnock is also facing headwinds from the Prince Charles backed Knockroon development which threatens to suck the remaining life from the town. It also needs to reassess a policy of managed decline which is in danger of becoming a self-sustaining prophecy and seek a new role in the wider Ayrshire economy, be that as a tourism destination or commuter town courtesy of its excellent rail connections.
Local resident and historian Geoff Crolley, who accepted the award on behalf of the local community, said: "Towns like New Cumnock have given so much to businesses and what do we have to show for it? If we count up what monies have been taken from our parish by WORF & Co (windfarms, opencasts, reservoir, forestry & Co-op) in the last decade and look at our main street. We need help to regenerate the town but can't do it all by ourselves and thankfully some companies are offering help and advice. 2013 is our turning point!"
Urban Realm editor John Glenday added: "Coal mining may be winding down but the energy of locals is as strong as ever, this more than anything saw our judges warm to their plight.
"We have been following New Cumnock and the challenges they face for four years now, giving us a real sense of perspective on the challenges faced. As the Carbuncle Award has matured however so too has our approach and we believe that with the help of this award we can dig New Cumnock out from the back of the proverbial couch and put it to the fore of regional and national policy.
"More than an escape valve for pent up frustrations the Carbuncles are a springboard to tangible improvements. It's taken years for New Cumnock to get to this point and it will take years to put right but the sooner these issues are tackled the sooner they can be resolved."
Runners up in this year's awards were Fort William, Kirkintilloch, Motherwell, Newmilns and Paisley but here some of this years judges give their observations on New Cumnock below.
Mark Chalmers Comment:
From a passing car, all Scottish towns look the same: tenements; rows of cottages; auld men returning home with a Sporting Post, a bag of rolls and their wee dug. New Cumnock is an exception. Its problems are of a different order to those of Newmilns or other communities in East Ayrshire. While Newmilns is trying to fight disinvestment and depopulation – which are the real reasons behind its Carbuncle nomination - New Cumnock has given up the fight, and seemingly accepted that it is dying.
The town is underlain by a rich seam of coal, but on its edge at Connell Park the last remnant of the industry, a coal disposal point at Knockshinnoch, was demolished a few years ago. All that remains are dead legs of railway line which peter out into wilderness. In summer, it is ablaze with wild flowers and haunted by the sad calls of moorland birds, but in February the sheep turn their backs against squalls of sleet, and New Cumnock's prospects feel utterly miserable.
The Miners' Strike of 1984-85 was a pivotal moment in New Cumnock's past, and one cause of its current problems. Today the Ayrshire coalfield has no deep mines, and an old colliery hutch or a sheave wheel preserved from a headstock are the only remaining signs. The infrastructure of working mens' clubs and miners' welfares seems to have largely gone. Has New Cumnock's coal wealth – like Newmilns' lace profits – leaked away from the area too? Yes, and along with deep mining, the Bata Shoes, Stonefield Trucks and Falmer Jeans factories up the road in Cumnock have also closed. In their wake, New Cumnock's population has reputedly dropped from 7500 to 2500. Despite that, we were told there is still 25% unemployment.
Proportionally, New Cumnock's decline is more dramatic than Detroit's. Both have seen rapid depopulation, with rows of vacant houses left by the retreat of industry, unlettable and unsellable. In New Cumnock, a 1950's housing scheme complete with hundreds of houses, a shopping parade and a primary school has been bulldozed: a pattern of ghost streets on a grassy hillside is all that remains, empty but for pavements and streetlamps. Perhaps this "managed decline" was inevitable.
However, New Cumnock's situation is made absurd by the construction of Knockroon. In fact, you have to question why 700 new houses are being built only a few miles away, while a similar number have just been demolished in New Cumnock itself! The town grew up because there was work close by, whereas at Knockroon it seems that the land development tail is wagging the new settlement dog. It seems that the Planning system in Scotland is broken, and serves communities like New Cumnock very badly indeed.
If in 50 years' time, New Cumnock has been de-settled and abandoned, who should we accuse? The Thatcher government and Scargill's N.U.M., for destroying deep coal mining? East Ayrshire Council, for allowing the town to contract in a managed way? The Coalfields Regeneration Trust, and Cumnock & Doon Valley Minerals Trust for spending their coal windfalls on the wrong things? Or perhaps the landowner at Knockroon, for siphoning opportunities away from an well-established community?
On reflection, New Cumnock illustrates William Playfair's belief that civilisation moves in a cyclical way. Playfair was a Dundee-born philosopher and scoundrel, the uncle of architect William Playfair of New Town fame, and the following quotation has become known as the "Playfair cycle":
Wealth and power have never been long permanent in any place.
They travel over the face of the earth, something like a caravan of merchants.
On their arrival, everything is found green and fresh; while they remain all is bustle and abundance,
And, when gone, all is left trampled down, barren, and bare.
Playfair summed up the capitalist system before it had barely begun. He anticipated the nature of mineral extraction, the scorched earth left behind by coal mining, and the dead communities left in its wake. In addition, he might well have recognised the fate of New Cumnock, and regretted the green fields ploughed down to create Knockroon.


Drew Mackie Comment:
The visit to Ayrshire was an interesting test of the carbuncle process. The team set off to assess several settlements across Ayrshire. These ranged from villages to small towns but all shared a common pattern of industrial decline, crass architectural intervention and the fragmentation of urban form.
New Cumnock is a tragic mixture of past glory and present decline, not helped by the fact that we visited it on a driech day - freezing cold, windy with bursts of rain. We met our guide in the village centre and toured the village. First up was the open air swimming pool which the community has been keeping open in the summer since the Council expressed its intention to close it in 2012. Although it took a stretch of the imagination to conjure up a vision of sun-drenched days calling for a cooling dip, the commitment of local people to keep this local attraction open is impressive. It is the only heated open-air swimming facility in the south of Scotland and one of only three in Scotland.
The subsequent stroll along the main street was depressing. Boarded up shops and buildings in a state of disrepair give a tawdry air. This is especially distressing for a town that promotes itself as an attraction for summer visitors and is itself surrounded by impressive countryside and quality hotels. The word that comes to mind is "forgotten". Many of the buildings in the Main Street belong to public bodies. And there are plans to reduce the public presence even further with the closure of the lcommunity hall
We ventured up a steep side street to view the Arthur Memorial Church. This was an interesting building in a state of decay. It lay next to and formed the gateway for a parkland area that obviously wished to attract visitors - not a propitious combination.
New Cumnock doesn't lack character, activities or buildings of note. Nor does it seem to lack the local will to regenerate and the community spirit to take the initiative. But it typifies the national decline. Major industries closing (local mining has long since disappeared) little local money to spend and public bodies squeezed to find the resources to keep local facilities open.
New Cumnock is a village that could benefit from the Carbuncle Award. It would point to the physical deterioration of the village while while praising the efforts of local groups to improve it.
Back to April 2013