Top Contractors
|
Send to friend
19 Apr 2012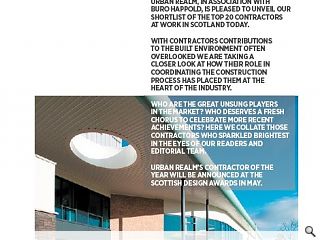 Urban Realm, in association with Buro Happold, is pleased to reveal the top 20 contractors at work in Scotland today.

With contractor contributions to the built environment often overlooked we are taking a closer look at how their role in coordinating the construction process has placed them at the heart of the industry.

Who are the unsung players in the market? Who deserves a fresh chorus to celebrate recent achievements? Here we collate those contractors who sparkle brightest in the eyes of our readers and editorial team.

Urban Realm's contractor of the year will be announced at the Scottish Design Awards in May.

AKP Scotland Ltd
Nominated by Richard Pears of ZM Architecture, AKP were praised for: "Stepping in at the last minute to a project which they then executed to a very high standard with a very professional approach."
Balfour Beattie/Mansell
Balfour Beattie won plaudits for their work on Ayr Campus, an adept build which exhibits a harmonious marriage of built and natural forms.
BAM
BAM started 2012 with a bang with their work on the Scottish National Portrait Gallery, a stunning refresh of a palatial building, reinvigorating the gallery to such an extent that it exceeds the original.
BHC Ltd
Geoff Crowley of Highland Colour Coaters had warm words for BHC, declaring that they: "Did a good job for us in our extensions and exhibition centre."
Bovis Lend Lease
Bovis Lend Lease have been making waves in Glasgow with the spectacular Hydro Arena, setpiece for the 2014 Commonwealth Games.
CCG (OSM) Ltd
Bruce Newlands of Kraft Architecture said of CCG's work at the Fife Housing Innovation Showcase: "Innovation in off-site manufacturing of next generation closed panel systems for residential and commercial use."
City Building
With the Glasgow House City Building have effected a community centric focus that has helped train hundreds of young craftsmen
Clarks Contracts
At the Dollan Aqua Centre Clarks have successfully reworked a sixties classic.
Fleming Buildings
Speaking of Maybole Parish Church Raymond Angus of Angus Design Associates said simply that Fleming are: "Good no hassle contractors."
Graham Construction
Frank Pollachi of S&P Architects said Graham's work for Edinburgh City Council exhibited a: "Collaborative and cooperative working ethos coupled with good quality workmanship and care in the refurbishment of the Royal Commonwealth Pool, a complex grade A listed building."
Interserve
The University of Edinburgh Business School has been transformed from a building no longer fit for purpose into one of the campus's most modern.
Laing O'Rourke
Strathearn Community Campus contributed to Laing O'Rourke getting the nod. It is an innovative new model for delivering educational facilities to rural communities.
Maxi Construction
Geoff Crowley of Highland Galvanizers vouched for Maxi, noting their: "Excellent service, quality and communications."
Morgan Sindall
HMP Prison Perth represents a department from the institutional approach, delivering a sensitive interpretation of the custodial environment.
Muir
Muir made it to the top 20 after impressing with a healthy workload over the past year. Alan Muir singled out one project in particular for Urban Realm though: "The contract I'm most proud of is the Cirrus office development opposite Glasgow Airport for Axa Real Estate Developments."
Ogilvie
The Bathgate Partnership Centre, winner of the Carbon Trust's new build category sees Ogilvie through. With this quality build Ogilvie have transformed the fortunes of the West Lothian town.
PAN Joiners & Building Services
PAN's Peter Newton singles out
Leijser House
as a defining example of their work. He said: "Quite often as contractors we are brought to the table after the design for a build has been completed, but sometimes we are fortunate enough to be involved from the start and provide what we feel to be a valuable contribution at the design stage."
Sir Robert McAlpine
Marischal College, challenging insertion behind an A listed façade, wowed everyone with their sensitive update of one of Aberdeen's finest buildings.
Springfield Properties
Bruce Newlands of Kraft Architecture plumped for Springfield Properties, noting that their housing demonstartes: "2010, 2013 and 2016 carbon emissions compliant performance."
TB Mackay
TB MacKay's sensitive intervention at an existing house at Blackness won plaudits.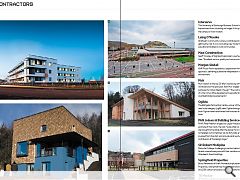 PAN Joiners Leijser House (bottom left) stands out as an example of contractors engaged in the design process from the start. Note that the print edition of this article carried a mislabelled image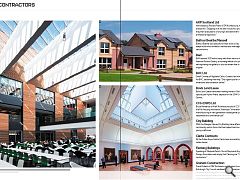 Ayr Campus (main picture) won plaudits for Balfour Beattie/Mansell
Back to April 2012