Spring Manifesto
|
Send to friend
24 Apr 2012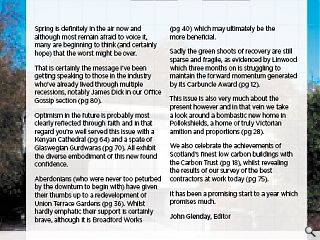 Spring is definitely in the air now and although most remain afraid to voice it, many are beginning to think (and certainly hope) that the worst might be over.
That is certainly the message I've been getting speaking to those in the industry who've already lived through multiple recessions, notably James Dick in our Office Gossip section.
Optimism in the future is probably most clearly reflected through faith and in that regard you're well served this issue with a Kenyan Cathedral and a spate of Glaswegian Gurdwaras. All exhibit the diverse embodiment of this new found confidence.
Aberdonians (who were never too peturbed by the downturn to begin with) have given their thumbs up to a redevelopment of Union Terrace Gardens. Whilst hardly emphatic their support is certainly brave, although it is Broadford Works which may ultimately be the
more beneficial.
Sadly the green shoots of recovery are still sparse and fragile, as evidenced by Linwood which three months on is struggling to maintain the forward momentum generated by its Carbuncle Award.
This issue is also very much about the present however and in that vein we take a look around a bombastic new home in Pollokshields, a home of truly Victorian amition and proportions.
We also celebrate the achievements of Scotland's finest low carbon buildings with the Carbon Trust, whilst revealing the results of our survey of the best contractors at work today.
It has been a promising start to a year which promises much.
John Glenday, Editor
Back to April 2012