Alloa College
|
Send to friend
13 Jan 2012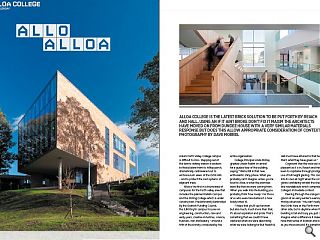 Alloa College is the latest brick solution to be put forth by Reiach & Hall. Using an if it aint broke don't fix it maxim the architects have moved on from Dundee House with a very similar materials response. But does this allow appropriate consideration of context?
Alloa's Forth Valley College campus is difficult to miss. Stepping out of the town's railway station it beckons to those below from its hilltop perch, dramatically cantilevered out to embrace lush views of the Ochil Hills – and to protect the root systems of adjacent trees.
Alloa is the first in a triumvirate of campuses for the Forth valley area that includes the planned Falkirk Campus and the Stirling College which is under construction. Predominantly bankrolled by the Scottish Funding Council, the 5,800sq/m campus focuses on engineering, construction, care and early years, creative industries, science, business, hair and beauty – around a fifth of the activity conducted by the entire organisation.
College Principal Linda McKay greeted Urban Realm on arrival for a guided tour of the building, saying: "We're still in that new enthusiastic shiny phase. What you probably can't imagine, unless you're local to Alloa, is what the premises were like that we were coming from. When you walk into the building you probably think 'how lovely'. For those of us who were here before it is how lovely times 10.
"I hope that you'll see function but also much, much more than that, it's about aspiration and pride. That's something that we couldn't have captured when we were describing what we were looking for but Reiach & Hall must have attuned to that because that's what they have given us."
Cognisant that the vista out is as pleasant as it is in, Reiach and Hall were keen to capitalise through prodigious use of full height glazing. This comes into its own at night when the complex glows confidently amidst the sheds and roundabouts which comprise the College's immediate context.
Peering through the orange hued gloom of an early winter's evening McKay observed: "You can't really see the Ochils here or the Forth from the other side, but in daytime when the building is full and busy you just can't imagine what a difference it makes to have that sense of location and scenery as you move around. It's something people always comment on when they visit the building; it's about the views and seeing Clackmannanshire and the river."
Two entrances are presented to the pedestrian, with the 'ground' level actually positioned above the front entrance (a quirk of the site geography) on Clackmannan Road. This front door lies at the top of no less than 48 steps spread along a meandering pathway which wends its way through the landscaped contours of the hill. Motorists it seems are the primary consideration with extensive parking to the rear.
Thankfully this space is kept open with no fences or signage barring access with the sharp gradient proving to be an enticing unofficial playground for local kids practicing their off road cycling.
Urban Realm was shown round by project architect Nick Richardson, who explained that the project accommodates three forms of usage; teaching, workspace and refectory spaces. Flexibility is the watchword for each of these areas with eight 48sq/m adaptable classrooms each accommodating 16 students – rather than designated spaces for specific people. There are no dedicated hard drives for instance with each terminal logging into a central server system.
The biggest challenge faced by the design team was the unforgiving terrain which left level ground in scant supply. What little there is has necessarily been used to accommodate workshops whilst a retaining wall had to be built around the remainder of the plot, required to hold a ground bearing slab.
Reiach & Hall principal Andy Law explained: "It's a challenging site on which to work on as a designer and it's undoubtedly a challenging sitefor the contractor. There's not a lot of space and it's very steeply sloping. It took a lot of time to get out of the ground and then we got hit by the hardest winter in living memory. It's a tribute to all concerned that Alex Salmond was able to crow that the college opened on time and on budget."
Conscious that further education colleges are notoriously inefficient in their use of classroom assets Richardson stated that the majority of spaces were designed to be flexible with only a few classrooms being department specific; notably hair & beauty – the first department people encounter upon entry through the main door.
Locals often pop in to have their hair and nails done by students in the College's very own hairdressers, incongruously positioned across from a simulated nursery - illustrative of the range of subjects taught.
Gesturing to a ground floor meeting space Law mused: "We always joked that that was where the motor mechanics would meet the nurses, but that doesn't happen because the motor mechanics aren't here anymore. That's one of the challenges of this sort of project. It's axiomatic that the brief at the end of the job is not going to be the same as the brief at the start of the job. Further education colleges have to be very reactive in the curriculum they provide to industry."
Mindful that it is always better to have too much space than too little there are generous corridors throughout, never less than two meters wide. Full height windows strategically positioned at the end of these through routes heighten the sensation of space and light, as with the recessing of radiators in custom designed cubby holes. No such foresight is evident for waste bins which clutter part of the space.
Full height doors continue this theme with break out spaces providing pauses where students can hold impromptu gatherings and exchange gossip. Each classroom has a vision window onto this corridor, making possible double banked classrooms for a highly efficient use of space. Read in conjunction with a voluminous library – its grandiose dimensions serving to deaden ambient noise, and 3.2m floor to ceiling height in classrooms, a 4m floor to floor height gives a feeling of light and air to the project which carries a heroic sense of scale.
A natural ventilation system which allows windows to open for air circulationin the summer is employed whilst in winter the outer layer closes to prevent drafts whilst giving the elevation a little articulation. 95% of rooms are naturally ventilated with solar hot water and rainwater harvesting bolsters the college's green credentials. Richardson noted: "Psychologically people can take a slightly warmer environment when it's naturally ventilated, people can take a three degree temperature increase if they can open a window."
Lighting is zoned so that lights next to windows can be shut down or lowered where natural daylight is available. Such schemes are sufficient to give the college a BREEAM excellent rating – it missed out on an EPC A rating because site constraints prevented installation of a number of "bolt on" renewables such as photovoltaics and wind turbines. "At one point we had sloping roofs to allow light in" Richardson mused. "Then practicality intervened."
Stressing the wider benefits of her new home McKay noted: "We're a community college, we try to play into the needs of our local community and be part of what will make that community successful and Alloa had issues around its town centre with major employers leaving the area and young people who weren't finding opportunity and focus. One of the things we hoped to achieve by moving from our previous premises was to bring our learning, our learners, our staff and our sense of dynamism into the heart of Alloa – that the footfall of 700 staff and students would enhance the town centre.
"We're part of that urban regeneration, we're heavily linked to the retail community here, to the local authority and indeed to our residential neighbours, who were the first visitors ever to see the building. We asked not just for a workplace for our learners but also for a building which would contribute to civic pride in Alloa, something with a presence in the centre of town and significance in Alloa's landscape."
Camped around Alloa's imposing ramparts however are the massed ranks of a besieging army of retailers, with giant Asda, Lidl and Tesco stores, complete with the inevitably over engineered roads and parking paraphernalia, which swamp the vicinity, an arrangement which unfortunately serves to water down one of the principal trumpeted benefits of the college's flit, its integration into the heart of Alloa's existing centre. One building alone cannot turn the town around - but it's a start.
Client: Forth Valley College
Project manager: Davis Langdon
Main Contractor: Miller Construction
Architect: Reiach & Hall
M&E Engineer: KJ tait
Structural Engineer: halcrow
Quantity Surveyor: Turner Townsend
Landscape Architect: Horner + MacLennan
Acoustician: New Acoustics
Fire Engineer: Safe Consulting
Planning Consultant: GVA Grimley
BREEAM Consultant: AECOM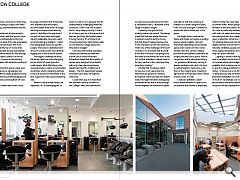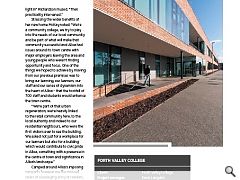 Back to January 2012