Keeping the Faith
|
Send to friend
13 Jan 2012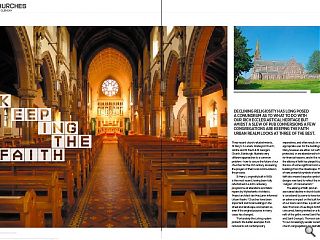 Declining religiosity has long posed a conundrum as to what to do with our rich ecclesiastical heritage but amidst a a slew of pub conversions a few congregations are keeping the faith. Urban Realm looks at three of the best.
Three recent church refurbishments, St Mary's in Lanark, Wellwynd Church, Airdrie and St Paul's & St George's Church, Edinburgh, illustrate very different approaches to a common problem - how to secure the future of our churches for the 21st century, answering the prayers of their local communities in the process.
St Mary's, originally built in 1859, is the most recent, having been fully refurbished in a £2m centenary programme of alterations and fabric repairs by Wylieshanks Architects. Project architect Iain MacLaren informed Urban Realm: "Churches have been important and focal buildings in the street and landscape, and remain so, even if the original purpose in many cases has changed.
"Fortunately the Listing system protects the better examples from removal to suit contemporary imperatives, and often results in new appropriate uses for the buildings. Many however are either not sufficiently protected, or are abandoned to their fate for financial reasons, and in this regard the ebbing of faith has played its part in the loss of some significant and valuable buildings from the streetscape. The lack of new powerful symbols of (whatever) faith also means bespoke symbolic designs now tend to reflect the new `religion` of Consumerism."
The ebbing of faith (and an associated decline in church building) is considered by some to have had an adverse impact on the built form of our towns and cities, a point which Alan Thomson of Lee Boyd Architects concurred, having worked on a full refit of the gothic revival Saint Paul's and Saint George's. Thomson said: "In our increasingly secular society, church congregations are dwindling and many of their historic buildings, once the cornerstone of a community are in rapid decline, often empty and unloved." However Thomson continued: "Even though our relationship with church buildings is changing they are still visual anchor points in our communities. Putting symbolism and religious resonance aside, the sheer scale and gravitas of many of our churches demand our respect and gives us essential punctuation to our built environment."
Not all churches can retain their original function however, as demonstrated by Wellwynd, a C listed church remodelled by GCA Architects in Lanark. It has been transformed into a new community business centre, retaining scommunity links which are all important in the eyes of Thomson: "Very few church conversions where the intended use is not some form of assembly are successful and the only saving grace is the survival of the fabric. St Paul's & St George's have been criticised for actively promoting secular use, they maintain an inclusive approach that has resulted in a calendar of activity that can exceed 70 events in a month, with a portfolio of clients from all sections of life and industry: local, national and international."
Several elements from both Lee Boyd and GCA demonstrate this line of thinking, including dramatic new build elements designed to clearly distinguish old from new and the insertion of mezzanine floors into the church space - to provide additional lettable office space or seating.
But is there a fundamental difference between designing for an earthly client or a higher power? MacLaren observed: "Often our commissions are for repair and modernisation, and usually reflect the lack of knowledge of, and attention to, the built fabric over considerable time. Clients tend therefore to rely on external guidance for the Diocese or presbytery but responsibility lies with the Church itself - usually the priest/minister and a Fabric committee. The relationship is therefore less commercial, in that trust, communication and relevant skill tend to be more important than cost, albeit that is clearly an issue."
But how can any new interventions, no matter how well conceived, possibly emulate past standards in materials, craftsmanship and scale given today's budgets and congregations? MacLaren answered: "It is difficult, but not only is it possible (with patience, skill and care) to achieve past standards (both in reconstruction and new build), but it is important since maintenance budgets are first to be squeezed over the years. Scale is more a product of planning considerations and strength of faith, whilst budgets are often set by the need to preserve/match the existing fabric. In this regard grant conditions often help us to persuade the client of the right thing, rather than the cheapest."
Thomson, echoed: "The standard of detail and the quality of materials at P's & G's is very high, but very much of a contemporary nature. There was no cause, with the exception of work to the stained glass windows to emulate traditional processes and period craftsmanship. There is a place for this when conservation is required, but the direction of the project demanded consideration of modern techniques often employing very specialist contributions and the use of technology. Perhaps this is rightly or wrongly the latter day equivalent of those processes employed by the original church builders, who after all were working to the limitations or possibilities of their own era. It is also a simple economic fact that even with P's & G's resources, construction was never going to be viable employing only traditional crafts and materials"
Key to P's & G's revival has been the insertion of new floating gallery elements linked by light walkways which double capacity to 800 and allowing pews to be replaced by flexible seating. Describing the genesis of the church's rebirth Thomson explained: "A key decision in the ensuing and complex process was to remain in their impressive early 19th Century Church, despite the fact that it was clearly no longer fit for purpose and required significant remodelling to satisfy the church's demands. Little had changed with the church fabric and interiors for 150 years and the enforced patterns of use were in conflict with the church's more contemporary presentation.
"The resulting project proposed a series of bold interventions that would attempt to retain the essential qualities of the period building but at the same time create modern comfortable environments for worship and flexible use. The use of a contemporary language was viewed by the Church as paramount to symbolise their status as a modern day church, looking increasingly forward for inspiration.
Noting opposition at the time from Historic Scotland Thomson stressed: "The Church asserted that if their building could not be allowed to adapt and change in this way, they would be forced to move out. This stance became entrenched when serious opposition was raised to the proposals and asked the obvious question: what do we do with a precious A listed church, if its own congregation can't find a way to ensure a sustainable future?"
Church architecture has evolved by necessity over the past two thousand years so it is heartening to see that process continue today. A clutch of design led practices are not only preserving this fine legacy, but crafting new additions to our ecclesiastical estates that future generations may enjoy. As a growing number of congregations begin to reverse decades of decline the Church is demonstrating it is still an active patron of fine architecture.
Urban Realm would like to pay tribute to GCA Architecture & Design founder Jon-Marc Creaney who passed away following a battle with cancer during the compilation of this piece. Although his practice has since been wound up Creaney's work lives on.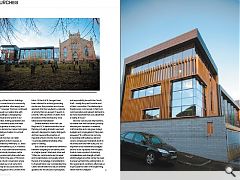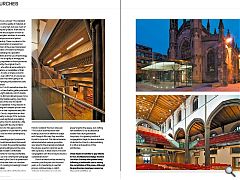 Back to January 2012