Top Interior Designers
|
Send to friend
11 Jan 2012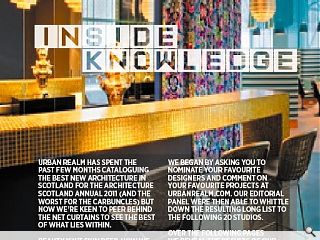 Urban Realm has spent the past few months cataloguing the best new architecture in Scotland for the Architecture Scotland Annual 2011 (and he worst for the Carbuncles) but now we're keen to peer behind the net curtains to see the best of what lies within.

Beauty isn't skin deep, how we experience a building from the street is but a small component of a buildings function. Keen to get to the heart of the matter Urban Realm has been on a hunt for for the top interior designers working in the country today.

We began by asking you to nominate your favourite designers and comment on your favourite projects. Our editorial panel were then able to whittle down the resulting long list to the following top ten studios.

Their interviews follow below.
QUESTIONS
A Should interior design be a consideration in the planning process?
B What makes your practice stand apart from your rivals?
C Are we too quick to judge buildings purely on their architecture?
1. GRAVEN IMAGES
Graven Images have long been the practice to beat in Scottish interior design, boasting a catalogue of work which is as impressive in its quality as it is in its quality. Readers gushed that Graven can be considered a "real internationally recognised interior design practice" which was "definitely leader of the pack here". Our judges concurred, handing Graven top spot.
It has been a landmark year for the practice, completing work on Glasgow's luxuriant Blythswood Square Hotel and following up their work on Edinburgh's Hotel Missoni with equally adept work on the interior of its Kuwaiti counterpart.
Graven's true tour de force this year has however has been their work on Glasgow's Corinthian Club, a flamboyant statement and a must see for any visitor or local.
Ross Hunter, Founding Director
A I think that the notion of Planning Permission governing the aesthetics of new interior spaces is ridiculous. However, the use of buildings is very much part of the planning process and it could be argued that local authorities ought to much more strict. For example the destruction on city centres could have been averted if bars, restaurants and shops were limited in size and ownership to local and independent operators. And why not incentivise high quality design by offering relief of business rates? Obviously the listing of buildings includes existing building interiors, and that is quite proper.
B We approach interiors in an architectural way - its always about the space first before any of the decorative stuff. But we are not afraid of colour and the integration of our graphics and communication team makes for spaces that are quite theatrical, and hopefully humorous. We regularly design for custom production, from furniture to wall and floor coverings. We are not afraid to travel!
C Funny question – I think successful architecture includes consideration of how buildings work, at all levels, rather than just what they look like.
2. HAA DESIGN
Adjectives such as "excellent", "outstanding", "fabulous" and "inspiring" peppered responses bearing the name of haa design, testimony which is borne out by the practices "ability to listen to a client's wishes and convert their desires into a design" - in the words of South Lanarkshire Council's Raymond Russell.
Several other people familiar with past examples of haa's work got in touch to vouch for the firms work, including one close to the firm's involvement with the Balhousie Care Group: "haa design worked with service users, carers and staff in the developing of a state of the art care home for older people. Their passion, commitment and understanding of how the environment can enhance the quality of care were exceptional."
Another added: "We have worked with Jean and team for 12 years and over a whole series of refurbishments, redesigns and fit outs. Their designs are always good, suit us and invigorate the team. But they are also great with budget and contract control."
Gillian Stewart, Interior Designer & MD
A Yes, we believe that buildings are for people, to live in, play in, work in and learn in. It therefore follows that the design of buildings should be informed by an understanding of people - the way they want and need to live, run their business or teach each other. Interior design is more than just finishes it is about developing a 3 dimensional model for people, from the inside out, based on an understanding of their needs, aspirations, vision and operation.
B We do what is listed in A - We like to ask questions, possibly we are nosy, we want to know how things work in our client's lives. We believe shared views and ideas are so much more fruitful. Almost two decades of having close up conversations with our clients and listening carefully has given us an invaluable insight into the way people like to work. Our expertise and experience, added to the critical mix of our client's specific aspirations ultimately enriches the final outcome.
C Yes, we believe architectural design is important, as it should delight and inspire, however the building ultimately has to work for the users, owners and investors.
3. JAMSTUDIO
JAMstudio, whose work for the Dalmore distillery has brought the small north east practice to national attention, has been praised for their "innovative" approach, making it into our top three thanks to their "very contemporary style which goes together with practicality."
A similarly contemporary aesthetic was noted in the conversion of Little Maldron Mill which boasts a high specification glass staircase, oak floors and quartz worktops in its luxuriant interior.
Marie-Louise Dunk, director
A We think it is absolutely essential to the planning process. There is no point having a beautiful exterior to a building if the interior spaces don't work properly and look great and vice versa. What we are not about is producing "statement" pieces of architecture that don't function properly as buildings. We don't differentiate in the way we consider the exterior and interiors of buildings, neither is more or less important than the other.
B A sharpness borne of years working in the chaos of London, our straight talking manner with clients, financial honesty with budgets that allows us to manage expectation, the humour we enjoy every day in the practice and the amount of sheer effort and endeavour that goes into each project.
C Tricky question! Given we are based in Aberdeen which does not have a great reputation for its recent architectural additions to the city; I would say probably yes, as we've been pretty vocal in our dissent recently ourselves!! Is it possible to have a great interior concealed within a really poor external envelope? Yes, but so often the poor exterior used as an excuse not to spend money on the interior, which means you have the worst of all worlds, inside as well as out.
4. DESIGN LSM
Design LSM, who recently put the finishing touches to Carluccio's Glasgow eaterie, were described as an "integrated practice" who "always adhere to a brief."
A relatively small company the firm nonetheless manages to secure big projects, Design LSM were praised for their attitude and personable approach, producing "creative innovative design with a classic twist" over the past 20 years.
One client, Ruth, wrote to tell us: "I work with Akbar Ashurov and we have been thrilled by the outcome of The Lawn Bistro, Wimbledon restaurant project. It has exceeded all expectations."
Simon Spiteri, Architectural Director
A From my perspective as an Architect, I would say no. I can't see the need given that the planning process deals with prescriptive National and Local Policy Frameworks which in turn affect the visual appearance of the building. There is a purist argument to say that form follows function, so you could say that the interior functions do inform the exterior design, but this still discussing architecture and nothing to do with interior design.
B A depth of creative talent which is balanced by a pragmatic and practical approach to problem solving.
C Yes sometimes, as there many examples of great interiors being housed within poor architectural buildings. There are also many other external and political factors affecting the outcome of the architecture. Interiors can be judged in isolation from the architecture that houses them.
5. IAN SPRINGFORD
Ian Springford are rightly famed for their high quality work "designed with simplicity and rigour" in the words of one respondent. These have taken the form of some beautiful interiors for Apex Hotels over the last few years. One reference noted: "ISA have a creative and sustainable approach to the conversion of existing office buildings into modern hotels. They provide the client with the best of both worlds by increasing floor area, and thus value, with a more efficient and better performing building."
Ian Springford, director
A We don't distinguish between the inside and outside; one has to inform the other, otherwise we're left with paper thin 'facadisim' on the outside or 'theme-bar' design on the inside.
B We try to take a broader view of the project and recognise that the building is only part of a bigger equation; the success of a hotel, for example, is not just about how it looks but is also determined by the guest service or quality of the food. Good design can facilitate this by working efficiently at an operational level or hamstring the business if these other critical aspects are not fundamentally understood.
C Buildings seem to have been reduced to 'iconic images', physical one-liners that are 'consumed' fast-food style through the media.
6. 442 DESIGN
442 Design certainly have a way with numbers, clocking in at number six in our rundown. No mere football formation this creative agency have now made a name for themselves with Grasslands, a remodelling of Edinburgh Zoo's cafeteria - as big a reason to visit the attraction as its new Giant Panda's.
7. SURFACE ID
Based in the West End of Glasgow, Surface ID is no stranger to awards, having recently toasted success at the National Restaurant and Bar Design Awards 2011 for their work on Stravaigin and the Grosvenor Café.
8. ARCHIAL
Archial may be under new ownership but it's still affording interior design the same attention to detail it always has. Recently the practice refitted a former MoD fuel vessel, transforming it into a base for the Vine Trust through an innovative application of western red cedar.
9. ABBOZZO
Abbozzo were cited as an "innovative practice" who provide "a first class service" chiefly from the practices inspired extensions to existing housing, notably at Giffnock and East Kilbride's Old Village.
10. PLATFORM9
An anonymous contributor said of Platform9: "There can't be too many Scottish interior design companies whose most recent project appears on the front page of most International Luxury Yacht magazines for the new Pershing 108 - plus they have just finished a multi-million pound ski lodge in Courchevel."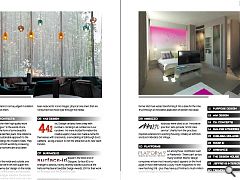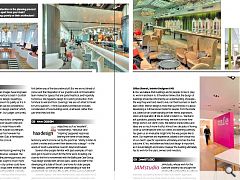 Back to January 2012