Diverse Practices
|
Send to friend
4 Jan 2012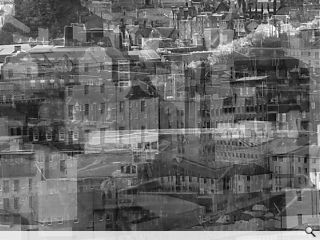 ES

Back in 2004, Koolhaas warned that: "The areas of consensus shift unbelievably fast; the bubbles of certainty are constantly exploding. Any architectural project we do takes at least four or five years, so increasingly there is a discrepancy between the acceleration of culture and the continuing slowness of architecture." Koolhaas' critique was echoed by his collaborator, Bruce Mau, who dismissed our economic and political systems as outdated and slow to respond to rapidly changing circumstances. Certainly the current economic downturn shows little sign of respite and begs the question: Why bother with architecture
Surely our precarious situation requires a critical shift in attitude along with a desire to adapt established working practices? Certainly the general acceptance of flexible part-time working reflects a new paradigm whereby fluctuating workloads can be resourced appropriately. Today no-one can afford to be idle or casually potter around the golf course in the faint hope of securing a commission and we all need to be cautious about squandering staff time on vanity competitions or unfeasible PQQ submissions.
So how might we weather the prevailing economic doom and gloom? Hippocrates summarized life as short but "…the crisis fleeting; experience perilous, and decision difficult." The definition of 'crisis' in relation to architecture is pretty fluid and our ability to endure can vary greatly. Directors of some big commercial practices may fret about tumbling profit margins and the erosion of annual bonuses, whereas smaller practices might react by undertaking a succession of cost saving exercises in order to trim back minor expenses. However, can we move beyond the negative associations of 'crisis' and examine how it can be a positive incentive for the architect to (re)shape their practice?
Oliver Chapman Architects was formed in 1997 and quickly garnered a number of awards and media recognition for its highly crafted approach to design. The practice has expanded its expertise into various building types, especially residential design for people with disabilities. In 2008, however, the practice moved from cramped rented premises on the Cowgate to a Victorian shop unit in Edinburgh's Old Town. The new property offered more space and allowed us to realize a nascent idea about launching a small gallery which could operate symbiotically with the practice. The ambition was to establish a place where a select coterie of sympathetic artists and practitioners could show their work. Although relatively small in scale, the gallery aspired to fill the void left by the demise of the city's dedicated architecture galleries.
We toyed with various names for this new venture before settling on 'Schop' - a quirky 17th century Scot's term for shop or workshop. Schop would be a new initiative dedicated to bringing the work of artists engaged in the built environment to a wider audience. The inaugural exhibition was Bridget Steed's 'Archived' which sought to uncover forgotten links to particular sites and create reminders of such lost places and their histories. Her delicate pencil drawings often allude to architectural elements and oscillate between cartography and scrimshaw. Other notable exhibitors include Nigel Peake ('Making Ends Meet'), Donald Urquhart ('In Land') and Alexander Bell's promenade performance of his book 'Peak Water' during the Edinburgh Festival Fringe.
Schop also offers structured learning programmes on architecture to a wider public. These classes allow anyone to learn about (and experience) the challenge of designing a building. They provide a focused introduction to a complex subject and offer a much-needed corrective to the glib showmanship of 'Grand Designs'.
The success of these evening classes emboldened us to expand our remit and offer a two-week Summer School to matriculated architecture students. We promoted it internationally and eventually selected eight talented Spanish students to join us during this year's Festival. Somewhat predictably perhaps the programme focused on the theme of 'crisis' but incorporated a diverse mix of walking tours and building visits. We were also fortunate to visit Richard Murphy Architects, Allan Murray Architects, Collective Architecture and Crew Architects, who all gave generously of their time to talk to the students and present their own work.
The Spanish students explored the city and adopted a forensic approach in order to identify specific sites demanding a more contemporary interpretation of 'crisis'. Each student then developed their propositions and presented a response to the site's perceived failing or 'rupture'. The results were refreshingly imaginative and drew well-deserved praise from the city's design tzar, Riccardo Marino. The success of this inaugural Summer School has bolstered the efforts of one (small) architectural practice to diversify its output, helped channel its enduring passion for architecture (into uncharted territory) and hopefully weather this fleeting 'crisis'.
Mark Cousins
Associate Director
Oliver Chapman Architects
Summer School Students 2011
Marta Ruiz Nieto
Maria Amat Viladomiu
Miquel Ruiz Planella
Martin Sunjic
Nuria Armengol Vidal
Gemma Guitart
Carlos Alvarez
Marc Grabuleda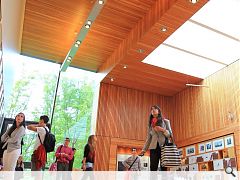 Scottish storytelling centre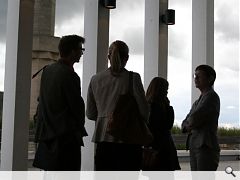 Summer School tour to Bennetts School of Infomat
Back to January 2012