Small Practices: Jam Studio
|
Send to friend
4 Jan 2012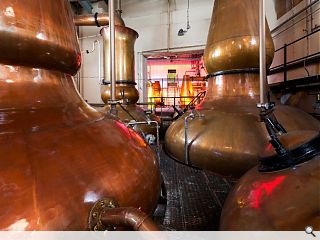 Having foregone the bright lights of London for the northern lights of Aberdeenshire husband and wife team John Wingate and Marie-Louise Dunk are carving out a piece of the action north of the border with JAMstudio. Eschewing life with the likes of HOK and Kajima Design for the independence of solo practice the pair are striving to show that good design isn't the preserve of a metropolitan elite. With their latest project, an idiosyncratic whisky distillery near Inverness, just completed Urban Realm decided to take a closer look to see what makes this practice tick.
Austin Smith Lord's Roseisle distillery apart Scots distilleries aren't renowned for their cutting edge design but speaking to Urban Realm Marie-Louise Dunk revealed that Dalmore were surprisingly receptive to modernising their brand: "It was quite important for Dalmore to step away from that traditional distillery look. There's a more subtle use of references to its past and background, perhaps less twee and tartan than you would find in a lot of other distilleries.
"We were in a four way pitch for the job, there was another practice from London and a couple of local practices, one from Wigmore and one from Inverness. In the pitch we always took the view that we would show quite a contemporary style of fit out. Dalmore have done a lot of work in re-branding in recent years and wanted something punchy and cutting edge to reflect that" noted Dunk. "The client said that 'the collar and cuff needed to match' for the brand.
A sense of theatricality permeates the centre from the use of lighting to an unorthodox approach to wayfinding, including hidden doors and scene setting Not making it obvious where the next part of the building might be for instance in the shop a hidden door at the back takes you through to the next part of the building. There's all sort of scene setting that we've done even in the production areas. "If you were to spend £100k on a bottle of Scotch what would you want that experience to be like?" The Dalmore has a strong sense of identity in the stags head logo which has a fantastic strength. We've used that deep burgundy red and added gloss black, chrome and silver to the finish.
"Everyone loves the fact that you walk through this fiery red lit hall at high level through all the heat and smell and you can look down into the ground with the water jackets around the store - which I don't believe you can do anywhere else. So you feel that you are right in the heart of the production process. It's not on the standard Speyside whisky trail so we wanted to do something that was a guaranteed winner in terms of getting people to come and have a look", explained Dunk.
Set piece furniture statements also populate the spaces, notably a crown cut oak boardroom table with metal inlays. "We are very proud of the boardroom; everyone loves the table with its inlaid silver stags head corners. We also particularly enjoy the alchemy room with its circular table. It's about a group of people having a dram around a great big circular oak table which we've had designed and manufactured locally. You get 12 people comfortably around and 14 at a push where before you would have done it propped up at the bar. This is much more intimate even though the table is so large."
From pitch to completion took just 18 months, a period which saw production at the distillery continue unabated, putting JAM in a, well, jam. "There was a short period of shutdown at Christmas where we had four weeks to install new lighting and a staircase down between the stoves in the production areas. Some fairly messy structural changes were required for the building including taking out a chimney breast and setting Dalmore up with a temporary operational space outwith the visitor centre.
Speaking of the challenges of juggling a relationship and a practice Dunk said: "It's not as difficult as you might imagine. Yes we do work very long hours but we have lots of other outside interests that we do including rally car driving. We also have a very bouncy Labrador pup called Shoot who we take hill walking."
Remarking upon the apparent malaise in Aberdeen planning Dunk said: "We've been laughing about the Triple Kirks decision and the comment 'Stewart Milne ate my church'. Joking aside it is horrific and some of the planning decisions being made here are a cause of real heartache for us. There are things being built at the moment in the Westhill area of Aberdeen which might as well be prisons being flogged as new office pavilions. They're horrific. Other than the Subsea 7 building from Michael Gilmore there's nothing else really to commend it. I got myself into hot water a few years ago for recommending the Holiday Inn Express for a Carbuncle - it came third!
"It's quite a sad state of affairs that if you see the effort put in architecturally to achieve consent for a major commercial development here, especially given a blank canvas to start with such as straightforward almost greenfield sites. It's been a source of upset for us but the difficulty for us is the strong relationships between one or two key players who seem to get whatever they want without having to pay much heed to the design."
Reporting four decent enquiries for projects in excess of £500k in the past week Dunk believes the practice will grow to around 10 or so, but "no more than that, because we quite like working as one team and I think the logistics of having a team of 10 is just about manageable. We actually have an interesting idea for building our own office and showcase a particular form of building which no-one is really doing up here at the minute."
Commenting on a lack of women in the profession Dunk added: "I've always had a desire to see other women progress within the practice. Just at the minute there are four women in the office, three of whom are architecturally qualified and I've got my eye on another girl so more than half the practice will be female. We know plenty of practices working here which don't seem to have any women at all."
In Aberdeen it seems small really is beautiful and with the Dalmore at least JAM have scored a slam dunk.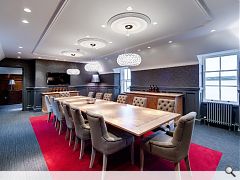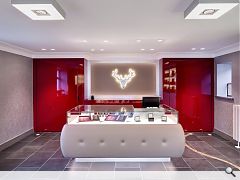 Back to January 2012