Morecambe wises up
7 Dec 2010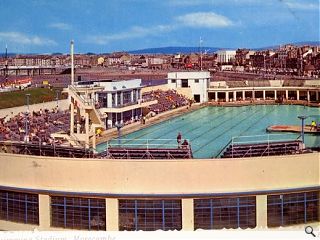 What distinguished a great place from a truly happy place? History? Setting? Character? For Wayne Hemingway, one of Britain's most prolific designers, the answer is all of these… and more. In a world of near boundless beauty Hemingway has found that true happiness often lies closest to home and his selection of Morecambe's Midland Hotel as his favourite place demonstrates that truism in a very real sense. "I've got a personal attachment to the Midland," Hemmingway states. "I was actually conceived there".

The Midland hasn't always been THE iconic structure on Morecambe's seafront; it once boasted a stately companion, a massive white ocean liner of a swimming pool, its luscious art deco styling providing an appropriately sexy venue for the Miss Great Britain contests that were staged there in its heyday. It was demolished in the nineties but if anything its loss accentuates that which remains and marks out the Midland hotel as a true survivor. Hemingway recalls this low point in Morecambe's fading fortunes: "In the years since I left Morecambe and especially in the years living in the south every time I went back the seafront become more and more unloved. The Midland Hotel became a blot on the landscape for many because it had fallen into a state of disrepair. The town was on its knees and all the bright 30's walls were stained black, it was a proper bed and breakfast and a place for semi down and outs. It was so sad to see Morecambe's premier attraction and focal point like that. Yet in terms of architecture and the ghosts of what had gone on inside the hotel remained absolutely important."
It was at this time that a succession of "ghastly mistakes" disfigured Morecambe's once grand seafront, chief amongst them Mr Blobby Land. The Noel Edmonds vehicle was a nationwide sensation in the mid nineties, prompting Lancashire Council to cash in with their very own poke a dotted ode to Crinkley Bottom in 1994. The fad soon ran its course however and fearing that they had gotten in out of their depth councillors pulled the plug on the venture a mere 13 weeks after opening, a scandal which became known as 'Blobbygate'. Blobby Land's demise ushered in a wild west transformation into Frontierland but even this proved short lived. It closed in 1999. "Thank god it's closed down now," stresed Hemmingway. These ill advised commercial blunders were compounded by a fall off in tourist volumes which led to an oversupply of bed and breakfast's. A situation which gave cause for Morecambe to become "a bit of a dumping ground" owing to there being so many vacant bed and breakfast's used to house "problem folk," a familiar tale for many British seaside resorts.
Thankfully this slide has been arrested in the recent past. "The council have come to their senses and realised that they've got to look after the intrinsic beauty of what that seafront is," says Hemmingway. "Morecambe has got some of the best views that you're going to get anywhere in Britain across water because in Morecambe you're directly facing the bay. If you look at a map and look at the shape of the British Isles you can see Morecambe Bay comes deep into England. There really is no better place to look at the lakes and the birdlife, it's quite amazing." Hemingway believes Morecambe's future lies as a counterweight to Blackpool, the town's gaudier coastal neighbour. "It's looking like it could be the complete opposite to Blackpool a few miles down the coast, which is what you need," explained Hemingway. "Blackpool is Blackpool and there needs to be the Blackpool's of this world but Morecambe has to be the counter pull to that as a classy place and it is very, very slowly turning into that. You can cycle along the front now, some very cool looking cafes have opened and they're stripping away all the tat. Two weeks ago a new coast to coast cycle route opened between Morecambe and Burlington. To me that's proper regeneration where you're encouraging people to come and cycle rather than encouraging people to come and wear daft hats."
At the heart of this transformation is of course the Midland itself which was rejuvenated by Urban Splash, reopening to the public in June 2008. Hemingway lauds "The Midland is now glamorous once again, when you go in there you dress up for dinner. It's a first choice for anyone looking for a function or marriage reception, it's got back to that standard and every town needs that. To have that overlooking Morecambe Bay is just brilliant. It feels like the early days again, when I was younger it was always seen as a bit too posh to get your ice cream or to go and get a drink so it was always an aspiration. If you've got a building as an aspiration then you've lifted the aspiration of the whole town. I think once that had been turned around people found that Morecambe was turning around and I think that's what architecture and urban design can do. I suppose in a way it's like stripping the country of its king or queen and then it takes a bit of adjustment, either it adjusts to a republic or it doesn't adjust. Morecambe was stripped of its king and it didn't adjust to it very well.
"Morecambe has got its focal point back and now when people hear about this beautiful hotel, its history and its setting it draws people here who've never been to Morecambe before and when they get there they can start to realise that there's more to Morecambe than just a nice hotel." It's a transformation in fortunes which has beguiled Hemingway and one which he hopes will have the tourists coming back for more.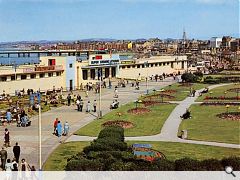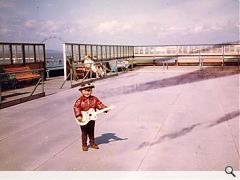 Back to December 2010