V&A at Dundee
7 Dec 2010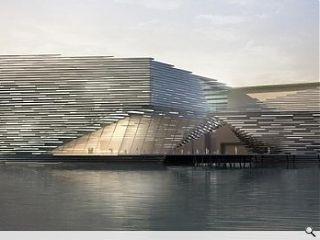 With the Japanese practice of Kengo Kuma & Associates emerging victorious in the V&A at Dundee design competition Urban Realm decided to undertake a closer investigation of the proposals by speaking to some of those involved at the heart of the competition process. Developed by Design Dundee Ltd (DDL), a consortium which includes the V&A, Scottish Enterprise, Dundee City Council and the Universities of Abertay and Dundee the project is intended to become Scotland's leading centre for design on a prominent site at Craig Harbour on the banks of the River Tay. But will this northern design outpost become the jewel in Dundee's waterfront necklace, or a millstone around the city's neck?
Kuma's win culminates an international hunt for a £47m structure that will anchor Dundee's waterfront regeneration, a process saw Delugan Meissl Associated Architects, REX with RMJM, Snøhetta with Gareth Hoskins Architects, Steven Holl Architects and Sutherland Hussey Architects go head to head at a city exhibition. But the process has not been without controversy. Sources close to the competition voiced concern to Urban Realm over the viability of the Kuma scheme, stating that though a worthy design it is essentially unviable at its stated cost. Indeed such is the consternation over this that at least one party has stated that there is a "likelihood" of seeking legal advice over whether to pursue damages and the recovery of costs incurred by the competition. Further cause for concern has also been levelled at an alleged lack of weighting given to the public consultation, despite the judging panel attributing it as a 'significant consideration'. The process saw the REX/RMJM design winning 42% approval in one of the local surveys, higher than the Kuma entry which came second.
Central to this anger is a clause in the competition brief which states 'any entry that cannot first demonstrate it can be built for £31m will NOT be considered further'. A strongly held belief by some is that Kuma's scheme cannot possibly live up to this fundamental brief requirement and thus should not have been given further consideration. This frustration was amplified by the caution evinced by others in the competition who employed independent cost consultants to value engineer their designs and ensure the projects were deliverable within budget. They allege that Kuma's scheme, at twice the size, will present very considerable substructure costs alone incurred by building out into the Tay. One source said: "The Kuma scheme is striking and beautiful but it is a design for a different a brief from the one we responded to. If V+A at Dundee cannot demonstrate that the Kuma building complied with their own strict technical brief in this regard they will be seriously exposed to legal challenge."
The same source concluded that Design Dundee Ltd is "…not living in the same sober economic reality of public spending as the rest of us", adding: "It is fucking frustrating to go through a knicker wrenching extended OJEC process with exacting criteria requested to then enter a process to be shortlisted, scored and checked for the client then to not apply the very same standards that applied to us and just throw the whole lot out the window to choose what they like because 'they' like it. It is undemocratic, elitist and makes a mockery of public spending and governance. The Kuma building, if delivered, is going to be great but the Dundee Council Team might have bitten off more than they can chew. More like £135 million of chewing."
This criticism was echoed by Urban Realm's Wrap columnist Peter Wilson, who observed of the scheme: "The Scotsman headline called it 'jaw-dropping design', but I suspect none of the images of the short-listed schemes for the proposed outpost of the V&A on Dundee's waterside are likely to induce this condition in anyone not directly connected with the project. A quick glance at the six proposed designs would suggest that at least three of the architects decided on a Google Map viewpoint rather than trouble themselves with a preliminary site visit and have taken a similarly astral perspective of the purported budget when drawing up their ideas. Why else would Kengo Kuma & Associates, Delugan Meissl Associates and the doggedly named REX propose projects whose structural gymnastics defy not only gravity but any sense of financial reality? Come on guys, we've been down this path before, remember - and we have the world's fanciest Doocot to show for our troubles."
Kuma's team includes cre8architecture, Optimised Environments Ltd, CBA, and the engineering firm Arup with work is expected to commence on site in autumn 2012. We spoke to Peter Bowman, the founding partner of cre8 who is leading the UK end of the operation, in an effort to find out a little more about the team and their aims: "It will be Kuma's first building in the UK and I know he's extremely excited about that and has been wanting to find something in the UK since they opened an office in France a couple of years ago." Discussing DDLs demands for an 'icon' Bowman continued: "You know when you're taking the brief in that some of the panellists are going to have the image of Bilbao in the back of their mind whilst obviously not wanting to create the same. It could be perceived as an advantage or a disadvantage in that Kuma's team were the only eastern team from a totally different culture. There was honesty and freshness in terms of the building and the form of the interior that was very exciting and we were able to get that across in the limited time that we had face to face with the judges."
Commenting on criticism from some tartan quarters over the perceived lack of all Scottish contenders Bowman said: "You can probably tell from my accent that I'm not Scottish, even though I work in Edinburgh and have lived here for 12 years. If I was setting out a brief for a competition like this I would expect the top architects in the world to be interested in it. There was one wholly Scottish team out of six, to have had more than that, if you're looking for an international group, would be unrealistic. If you look at the track record for doing the size of facility we're talking about here a lot of even the big names would fall short of that in terms of having built a £50m museum somewhere."
Sounding out an alternative opinion Urban Realm contacted runner up Gareth Hoskins for his own opinion: "It's disappointing that the council's pre call in a way precluded the Scottish practices. There was one question which said have you got two completed examples of new build £30m projects, really that ruled out most Scottish practices. We'd had our fingers burnt at the art school, we'd gone for that ourselves hoping to get into the final and didn't so we were trying to be a bit more cautious this time. Taking the prequalification literally, maybe we could have gone for it; we've got a £47m museum in Edinburgh and a £25m Aberdeen art gallery, maybe it would have all added up. But we didn't want to take that risk, better to be in it but it's certainly been enjoyable working with Snøhetta."
Hoskins continued: "There were two guiding principles on the project; one was the idea of a landmark or event. The other was very much about the operation and relationship with the water. It seems you have a masterplan for Dundee, with all that development area… and then the site is in the water. That was interesting," Hoskins noted. "It's a very important building for Dundee but it's not a terribly big building, it's only about 6k sq/m. A lot of the time you think iconic is either tall or has a very strong profile and you can see a lot of people have tried to create something very expressive, but no matter how we stacked the accommodation we could only get to six stories. If you look at the masterplan it's very much a gridded affair with buildings of around five or six stories. The building is sitting, broadly speaking, within the scale of its surroundings. It's very much a similar program to the lighthouse with temporary exhibition galleries, practitioner spaces, workshop spaces and a central space and a lot of the way that the galleries worked as a temporary collection to us dictated that actually they would need a flexible space that worked best on one or at the most two stories in double height spaces. It actually thus began to dictate to us a very horizontal organisation."
"We talked about the character of Dundee and that classic view across the Tay Road bridge with the very long horizontal of the water, the city itself, the High Street and then the Law Hill. You were never going to compete as a tall element but something horizontal works very well with the operation of the building and has a very direct connection to the water." If you're going to put it on the water then enjoy the water, make use of it. Don't build a bit of land and stick something on it, actually really engage with it. Rather than spend lots of money on additional bits of land and flood protection our building actually sits directly onto the water. It moves up to six metres with the tide." However Wilson critiqued: "Snøhetta, has clearly learned from its miserable experience on its competition-winning Turner Gallery at Margate, and has made no attempt at another Canute-like project. The design on offer has little of the waterfront panache of the Norwegian practice's Opera House in Oslo, but does at least look like some effort has been made to recognise the budgetary limitations, a touch of realism unlikely to find much favour with the dippy dreamers of Design Dundee Ltd."
Casting an eye over the remaining runners up Wilson added: "The other projects, to a greater or lesser degree, involve home grown practices, with that by the Glasgow School of Art competition-winning tag team of Steven Holl and JM Architects stepping boldly out across an improbably long unsupported bridge to an ET-like luminescent entrance. Here too the design manifests an example of the current fashion for a large and almost certainly unnecessary cantilevered element and is otherwise distinguished by the intriguing idea of taking its glazed curtain wall down into the waters of the silvery Tay. The final project – by Sutherland Hussey Architects – has already been passingly characterised in the Scotsman's letters' pages by Lindsay Buchan of the eponymous Edinburgh-based practice as looking like a power station. Which, although I can just about see where Lindsay is coming from, seems a bit unfair given that the proposal is clearly within the lineage and design vocabulary of other Sutherland Hussey schemes such as their sadly unbuilt visitor centre at Blairgowrie."
"No, the big problem with all of the proposals is that not one of them is likely to achieve Design Dundee Ltd's desired result, i.e. to deliver a Bilbao-effect on the city's waterfront, an iconic 'Guggenheim-on-Tay'. Quite apart from the fact that the phenomenon is no longer replicable (Edinburgh politicians and planners please also note), the DDL partners seem not to have noticed all of the other infrastructural improvements in the Basque capital that made it possible for Gehry's (then) $90m museum to become the flagship for that city's post-industrial regeneration. And if you're in any doubt about this, let me point you towards one random example: Hull and 'the Deep', "the world's only submarium" designed in 2001 by Sir Terry Farrell with £45.5m of Millennium Fund money and intended to revitalise that blighted port. You've not been down to see it? Somehow I don't think Design Dundee Ltd has either, but I can let them know the result: Guggenheim Effect nil, Hull City nil."
Whether or not the project ever comes to fruition is of course another matter in any event, the future of the project will be decided when the Scottish Government confirm whether they will splash £15m on the scheme when they approve their budget. The remainder of the funding is set to come from European, lottery and private sector donors. The V&A themselves will not be providing a penny to the project and nor will there be a permanent V&A exhibition, instead it has signed a 20 year deal to send two or three travelling exhibitions there each year. But don't hold your breath.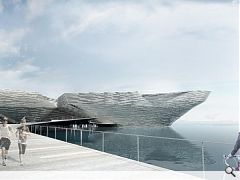 Back to December 2010