Do we need architects?
7 Dec 2010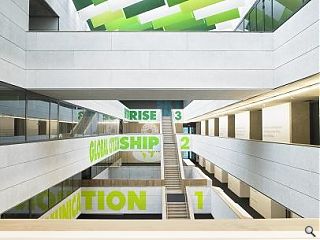 Architecture as a distinct profession is a relatively modern phenomenon with the terms artist, architect and engineer (together with their related vocations) regarded as interchangeable prior to the industrial revolution. An architect might be called upon to design a bridge, an engineer to design a stately home and an architect could be considered an artist. Only with the dawn of the modern era (and a ballooning in complexity of structural calculations) did these trades begin to diverge into the distinct professions with which we now associate them. But has that process gone too far? In the pursuit of narrower fields of view might we be losing sight of the bigger picture and ought we to be pursuing a greater cross pollination of ideas? Can what worked in past be made to work today? Wayne Hemingway believes such a feat is not only possible, but desirable.
In today's understanding Hemingway would be bracketed as a graphic or visual designer, someone focused upon the aesthetics and emotional appeal of design but essentially detached from the production of architecture. It is a contradiction which sits ill in Hemingway's mind, stimulating the creative to discard the straitjacket of convention and strike out into related arenas of his choosing. Explaining this branching out Hemingway asks: "What is design? What is architecture? If you've got a feeling about how you want to live what's stopping you do that? I wasn't educated, Paul Smith wasn't, Vivienne Westwood wasn't. It's not like being a doctor where you need to be trained. You just need an engineer so it stands up and an accountant to make it financially viable."
An articulate standard bearer against the "Wimpeyfication" and "Barratification" of Britain, Hemingway has been able to channel his disdain for suburbia into a productive partnership with, ironically, Wimpey. This culminated in the 800 property Staiths South Bank project in Gateshead, a project which demonstrated that it's "totally feasible" to cut out the architect claims Hemingway: "We'd be quite confident of working without an architect so long as we had an engineer working with us. You need an idea and you need somebody to make sure that it works. Does that mean the designer can have the idea and the engineer can work with them to see that it works, I think that it can. At Hemingway Design we'd be totally confident at attempting any architectural project without an architect but as long as we had absolutely brilliant engineers. I'm not saying we'd do it better, but we'd be confident in taking it on."
Staiths focuses upon the concept of "liveability", the idea that you create places in which people would be happy to put down roots at the heart of his designs but an idiosyncratic approach to roofscapes and colour hasn't found favour with all architects with some lamenting a lack of repetition. "The biggest thing for us about sustainability is happiness," enthuses Hemingway, "it's about ensuring that people are content in a place, as you put down roots you start to care more for your environment and think more about recycling."
Hemingway cites Westminster Academy, shortlisted for the 2008 Stirling Prize, as another example of a project which marries the best qualities of designer and architect. Built in collaboration with architects Allford Hall Monaghan Morris and designer Morag Myerscough of Studio Myerscough, it sports a super graphic façade that arose through close collaboration between designers and artists interacting with the architecture. Speaking to Urban Realm Myerscough said: "I've worked with Alfred Hall Monaghan for 17-18 years but it was only when the school came up that we had this perfect moment when it all came together. As architects they responded knowing that I would be putting interventions in there, so their architecture was simpler in some aspects so that everything would work together, it wasn't an afterthought. I often start just having a look at the very beginning so that I understand where the whole thinking is coming from. Its all about not being told later on here's a white wall, put something on it. It's about working collaboratively at the early stages."
Myerscough is careful to stress that she would still shy away from full on architectural jobs however: "I work with spaces but I don't build buildings. I believe I could build a building, but I'm not sure I could build a school. I like influencing how people move in space; I don't really want to build the walls. When I started I wanted to do three dimensional things but in my discipline that wasn't possible, but over the last 20 years I've made a position for myself where I want to design spaces and three dimensional forms are where those things happen. But I also respect the phenomenal difference of thinking that an architect has that I like responding to, architects are more aware of how buildings must work for people. I like breaking them down and making them think a little bit differently.
"For me the furniture is sometimes as important as the spaces because that's what people are using and interacting with directly. Architects can take on other roles such as furniture designers, artists or fashion designers because of how their position is seen and many are now integrating colours into their spaces."
Architecture, by the demands of its teaching, necessarily limits its utilisation to a small niche of society, but is that cutting out the majority who may have something equally as valid to say? "I think it wouldn't have worked very well for our careers to have taken seven years out at that age to study, I think we definitely learnt a lot more in seven years of having our own business allowing us to do what we do now than seven years studying", points out Hemingway. "But that doesn't mean that you shouldn't study, there's more than one way to skin a cat. Not that I've ever tried skinning one, but I imagine there's more than one way."
Heatherwick Studio is one practice which has married architecture, sculpture and interior design… to sensational effect, most recently with the UK Pavilion at the 2010 Shanghai Expo, The Seed Cathedral. An extravagant confection it boasts 60,000 transparent 7.5m long optical "hairs", each of which has a seed embedded in its tip. This simple idea was strong enough to stand out amidst the 200 countries taking part in the event, the largest ever.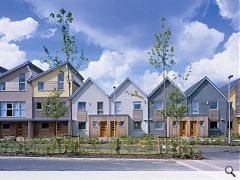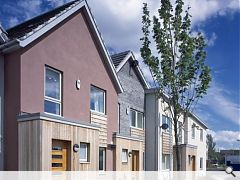 Back to December 2010