RMJM go for gold
26 Oct 2009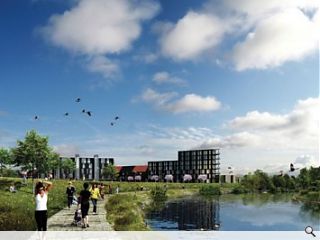 Its not a sprint but a marathon. RMJM have started the detailed design stage for the Glasgow Commonwealth Games AthletesÕ village. Here Prospect looks at the sort of hurdles the team will face along the way.

With news that the City Legacy Consortium comprising RMJM and developers CCG, Cruden, MacTaggart & Mickel and W.H. Malcolm, have won the race to design and deliver the Glasgow 2014 Commonwealth Games Athletes Village come questions as to how such an ambitious project will be realised. Never before has Glasgow staged such a significant sporting spectacle and with a pending worldwide audience of millions the pressure is now on to ensure that it is Glasgow which wins big.
Beating both the Broadway Malyan Consortium with Arup, Drivers Jonas and New City Vision and PPC Consortium with Ian Simpson, gm+ad, Elder and Cannon, Reiach and Hall & Nord, RMJM now face twin onerous tasks. Not only must the consortium provide accommodation and facilities for 6,500 competitors and officials, but after the Games road show rolls out of town, a new east end residential neighbourhood withÊ1,400 low carbon homes and a care home for the elderly must be provided.
GCC will provide the land for this free of charge in return for a later profit sharing agreement, a move designed to alleviate the still tight lending environment for developers and allowing work to commence next year without handicap.
The Athletes Village site, an intense pocket of development that constitutes but a small portion of the wider Clyde Gateway context, presents a particularly potent mix of potential pitfalls for the consortium partners. Flooding diagrams and how their effects can be mitigated dictated much of the design constraints, necessitating a significant SUDS proposal which is effectively a canal running parallel to the river, some of which takes the form of a culvert.
Heavy contamination of the site posed further perils for remediation as does a nearby sewage treatment works which threatens an odouriferous Glasgow welcome if the plant is not upgraded.
ItÕs not all grim news however as the site is actually remarkably verdant, sporting a lot of open space, with a disarming absence of anything in the way of existing buildings apart from an inappropriately titled, ÒWhat Everyone WantsÓ factory. This forgotten terrain belies its inaccessibility; with even locals unaware of what exists. With the potential arrival of Edinburgh Zoo to the Cuningar Loop however, there is transformative potential for the lives of neighbouring communities some of which will be of interest even to southern commentators, notably Jeremy Paxman whose granny lived in a surviving tenement flat adjoining the site. PaxmanÕs nan succeeded where successive politicians have failed by reducing the persistent Newsnight provocateur to tears on the BBCÕs ÒWho do you think you areÓ programme after tales of gritty squalor from the Paxman household were unearthed.
Paul Stallan, RMJMÕs European Design Director, is keen to stress that it remains early doors in design terms for the estate: ÒOur approach was very much master planning and design coding, creating character zones and wrestling with the scale and layout of units. We havenÕt really gone into the architecture as such other than to investigate certain textures such as dark brick, landscapes and the type of planting we would foresee. Even within that framework thereÕs a lot of scope for difference.Ó
For RMJM it was very much about the structure of the place, particularly how the home zone concept could be employed after witnessing its successful implementation at ParcLifeÕs Craigmillar scheme. This calls for a family friendly environment looking at how spaces can be shared between vehicles and pedestrians, an alien concept to the planners.
Density has been dictated by the citiyÕs desire to affect a set proportion of 75 per cent family housing with front and back gardens (recurrently requested in residents surveys), necessitating a very low scale of development in internal areas, the remainder will comprise more urban townhouse forms. ÒWhat weÕre trying to do is create an urban/suburban dynamicÓ, enthuses Stallan, Òcreating enclosure spaces and urban coherence but at the same time bringing families in. As the development comes out toward Springfield Cross, Parkhead Cross and toward the river in certain places the scale is going up to six or seven storeys but on the whole itÕs a low level scheme punctuated by elements of height. Other schemes were much denser, but we took a balanced view with public open space and amenity.Ó
The Village area is designated for residential use, 30 per cent of which will be affordable with no visual distinction made with private residences, with some community elements including a care home planned, the thinking being that too much retail in the village itself will be to the detriment of new shopping hubs being created at Springfield, Parkhead and Dalmarnock Cross. Glasgow City Council are driven by the need for a social legacy of local employment and jobs. To this end RMJM partner developer, CampbellÕs, have been researching a new house type for a number of years. This model comprises a panelised housing kit set up in a factory five minutes from the village to a system that allows flexibility after the Games to put up party walls, staircases etc whilst minimising disruption and waste whilst also providing employment opportunities for locals, a key objective of the Games. Further opportunity will be provided by encouraging locals to give up their free time to participate in welcoming people and showing them around whilst representing the city.
Stallan says: ÒA row of townhouses, semi detached dwellings or flatted units can potentially accommodate between 16 and 22 athletes depending on the house type. Effectively kitchens and living rooms are functioning as bedrooms during the Games. The organising committee have certain criteria which they require such as residents centres which take the form of buildings within a courtyard. These are structures that must be maintained so you might have a home/office, or a very extravagant bin shelter! WeÕre trying to make sure that any additional design weÕre doing for the athletes has a use and legacy to make that effort worthwhile.Ó
Further containing costs will be a Òtented communityÓ adjoining the village like a Òbattery packÓ, explains Stallan. This has been planned schematically to demonstrate what can be accommodated with the City Legacy consortium developing a concrete platform for them to occupy. ÒYou donÕt know the shape and form of the Games until six months beforeÓ, Stallan reveals, Òwhether there will be six thousand or eight thousand athletes, big countries like Canada and Australia come over with a thousand athletes whereas Sri Lanka has five, this requires division of not just the houses but the Village itself.Ó
A transport hub is planned for the perimeter area of the Games Village, with accommodation built in for bus drop off points. Stallan points out: ÒItÕs wholly internal travel weÕve looked at and the storage requirement with athletes arriving with things like canoes strapped to their backs. A lot of people descending on the village at any one time presents a host of logistical and security issues which must be resolved whilst minimising hassle. You also need to make sure people get to their events in time because there have been cases in the past where people have been stuck in lifts or the buses havenÕt comeÉ theyÕve only been training for 10 years!Ó
Unforeseen design consequences present themselves in many guises, but one of the more off the wall come from the lubricated antics of the swimming cohorts at such sporting extravaganzas as previous event organisers have warned Stallan: ÒSwimmers always finish their events first then go out and get pissed for the rest of the week causing havoc in the village, so you need to keep the swimmers apart.Ó
Despite the many pitfalls that lie ahead progress on such an important national scheme, particularly in the current climate, provides architects, developers, officials and the public an unprecedented opportunity to focus their gaze upon long term goals providing the east end with a real sporting chance.

very gehry
Hot footing it from a meeting with Frank Gehry in LA, Paul Stallan, RMJMÕs European Design Director, took time out to explain RMJM and GehryÕs collaborative approach to New Campus Glasgow, which has seen the services of Gross max and Graven Images being requested in a partnership of talents, with scope provided for each player to make their mark.
One of five shortlisted teams, the others being Archial, Atkins (with Michael Laird Partnership), BDP and Hopkins (with Bennetts), the practices are working up a series of options for the mammoth education in GehryÕs signature Òcrushed canÓ forms.
ÒWhat most people donÕt get with Gehry is that itÕs not just iconic stuff, if you look through his catalogue of work there are a lot of solid urban solutionsÓ, enthuses Stallan. This litany of acclaimed work though is borne out of a highly singular design approach as Stallan reveals: ÒGehryÕs studio is just astonishing; the environment is ten times bigger than our studio, itÕs an industrial shed, like a joinery workshop. Every single corner is stacked high with models of all shapes and sizes in wood, plaster and paper. These guys work constantly on models; itÕd blow your mind, IÕve never experienced anything like itÓ.
This AladdinÕs cave of joinery is symptom of the CalifornianÕs wood is good philosophy, instructing his team to work directly on models to achieve a more intuitive understanding of space, volume and connectivity, reversing the traditional approach to design work by dumping sketching and CAD drawing to leap straight into the spit and sawdust, drawing sections and cuttings digitally after scanning the results.
Stallan took to this unconventional approach like a duck to water: ÒWe sat about cutting up somewhere in the region of twenty working models, itÕs great therapy. We were looking at a totally contextual site model emphasising vistas, views, permeability and public space, it really had to engage with the city and this mighty tower block behind youÉ itÕs a fantastic site.
ÒI got on the roof of the College of Building and Printing for a tour of the three colleges, the views are just spectacular you can see right into the city chambers,Ó Stallan recalls, adding: ÒCathedral Street can take scale, but it needs more permeability north and south. We printed out a huge Ordnance Survey plan to walk over and put models on, colouring in spaces all the way from Sighthill, through Townhead, the College and George Square. At the moment if youÕre in Townhead trying to get to George Square there are all sorts of convoluted routes to get there.Ó
What really excites Stallan and the RMJM Glasgow team is that New Campus Glasgow is a college, not Higher Education. This entails a more accessible and relaxed architectural form with less of an institutional approach. Stallan remarks: ÒThereÕs a travel agent, bakers, hairdressers, even half an aeroplane in the food technology building to teach air hostesses. ItÕs a really funky curriculum happening in these blocks but none of it takes place on the street, you should be able to walk along Cathedral Street, grab a pint and get your haircut.
ÒI did suggest moving the 747 onto the street but IÕm told itÕs stuck in there!Ó
Back to October 2009