At Home with Andy MacMillan & Tom Connolly
18 Aug 2009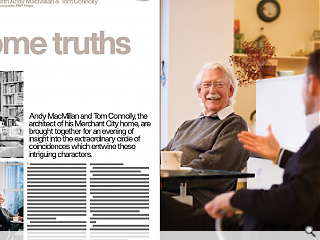 Andy MacMillan and Tom Connolly, the architect of his Merchant City home, are brought together for an evening of insight into the extraordinary circle of coincidences which entwine these intriguing characters.
It may be the ultimate seal of approval. Certainly, it is quite a feather in the cap for the apprentice to have the master approve of his pupils work to the degree that he now lives in it. Essentially, that is what Gillespie, Kidd and Coia's legendary Andy MacMillan has done, having moved into the penthouse flat in Glasgow's Merchant City that has been his home for ten years, designed by his former pupil at Glasgow School of Art Tom Connolly, now with Elder and Cannon. The block was the first in the Merchant City to be redesigned, kickstarting the mushrooming renaissance that continues today, and MacMillan's tacit endorsement of his former student's work by actually living in it appears to be unique in Scotland. Bringing the master and the apprentice together for the first time, in MacMillan's home itself should, we thought, be fun.
The two men clearly retain a great deal of affection for one another, and are more than at ease in each other's company, trading jokes and playing architectural ping pong with their views on the city, the building and indeed each other. Connolly is remarkably frank about the pragmatism behind the decision to become involved in the regeneration of the site, which he acknowledges was for strictly financial reasons, at a time when his practice was grateful for the intervention.
"The Merchant City as you see it now, no one had an earthly idea that it would go anywhere," he says.
"They didn't use the term 'regenerate', but wanted to see if people were going to want to live down here. Andy Doolan and Andy Burrell came to us –as Cantel, as they were- and found a young practice daft enough to take on a lot of responsibility, and who might just give it a lot of commitment. Well that was us; we were dying for a job."
MacMillan for his part was sufficiently impressed with the design and the ambience that he moved out of his Victorian home that he and his wife had shared for some forty years to take up residency in the building's penthouse, with its iconic signature glass turret.
"When I was brought down to look around this place, I thought, 'Yes, this is pretentious enough for me,'" he jokes.
"It was a mixture of the spaces which are in the original concept, and the tower which I recognised from earlier drawings which I saw when I was at the school. I saw its potential. I was in negotiation for the flat for two years before I got it. It is like a lighthouse."
Unlike in other parts of Glasgow, the regeneration of this part of the Merchant City was not envisioned in Gordon Cullen's 1985 masterplan 'The Potential of Glasgow City Centre', which proposed strategic visible bastions to complement the string of pearls concept along the city's waterfront. Whilst the plan proved massively influential to a generation of architects and planners, stimulating physical and political change, it did not influence Connolly's conception of Merchant City renewal.
"Cullen's masterplan only extended as far as Argyle Street. Most of this was born out of the initiative of Glasgow City Council, who had a lot of property on their hands. They were given a point in time with the conservative government that allowed them to move them on."
An incentive of £6000 was offered to the initial owners of flats within the block, which were available at a retrospectively unbelievable £30,000 price tag when the first units were sold in 1993. Connolly's team initially designed a series of rectilinear urban blocks, picking up from a design philosophy originally promulgated by MacMillan, which filtered down into Connolly's design.
"Where Andy influenced myself and my peers, Glasgow was an incarnation of the study of the urban block. We were being allowed to explore this," he says.
"You don't get many sites where you engage this type of crossroads. It is a fantastic site. Historically it was a very vibrant place."
MacMillan is also eager to praise Connolly and his young colleagues for their ability to produce consistently themed buildings that nevertheless retained sufficiently distinct stylings.
"Because the school was in Glasgow the 4th year did buildings on this scale. A lot of schools of architecture didn't ask students to get involved with designing a façade this height. It is quite interesting that you built three blocks which are all quite radically different from each other. Yet they came out of the one office," he says.
"There are good spaces inside. It is not just a close. It has been manipulated. We lived 40 years in what was described as a ruined farm in the middle of the city. When I walked in the door and saw this; the light. It is designed by a sensitive architect. I don't care if he's blushing. We've enjoyed it."
The master and former apprentice remain deeply satisfied with the building and its status some fifteen years after the phased refurbishment was completed. One suspects that, left alone, they would jaw well into the night, as long as the coffee and whisky flowed. The property has been adapted under MacMillan's ownership, with the elder statesman removing one of the built-in cupboards in the main public room, which extends the full depth of the building, with rooftop views of the city to three sides. "We made a few small changes," he says.
"The bedroom door used to be in the hall, but we moved it to make an ensuite, and shortened the hall. For ten years I tried to design a way of opening the kitchen.. We had something to build on."
"That move just complements the design. It shows you how flexible the place is," adds Connolly.
The footprint, MacMillan notes, extends over 2000 square feet, encompassing the same area as three whole flats of the building's lower floors.
"We've made a few modifications to personalise it, which any architect would do. The place lends itself to conversation; to exploiting the places that have been provided," he adds.
"I could show you a plan of our Victorian house, and the plan of this house superimposed on top of it. Dimensionally they are the same. We moved from one house which was Victorian, to another house the same size, but with no walls.
"As an architect, the nice thing is that whilst it is very skilful outside, it is also very skilful inside. And that's unusual. It is still a building that people remember. It is stylish and people recognise it."
There has an urban block on the site for almost 300 years. The revitalisation of the site has retained the authority of an urban block, and the vibrancy of an organic street, and the variety of a genuine urban development. MacMillan notes that Glasgow is an urban centre for 2 million people within the greater conurbation. There was a fallow period, he notes. After the first development it seemed as if nothing was going to follow. But Connolly observes that Merchant City regeneration took off as Glasgow itself took off, and the domino effect of a regenerated Merchant City has helped the process accelerate.
"I noticed that first in Amsterdam," he says.
"Old Amsterdam became the recreational centre for the new Amsterdam. People come in from all around. Every time a bank closes, a restaurant emerges. Very stylish, too. The Merchant city set a standard for excellence. There are a lot of very interesting stylish buildings. If this Olympic village goes that way [east], the city centre will expand. Glaswegians like that. Although there are some sad intrusions …quite near my favourite pub," he adds.
Reflecting on his former student's project that is now his home, MacMillan is happy to acknowledge that the building became an icon for the Merchant City.
"I used to do a lot of work with Scottish Enterprise, and every leaflet they put out had this as a symbol of the regeneration," he says.
"Aye," adds Connolly. "It was the only one up!"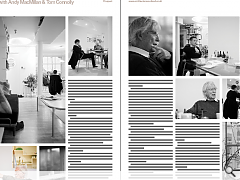 Back to August 2009