Static travellers
26 Oct 2009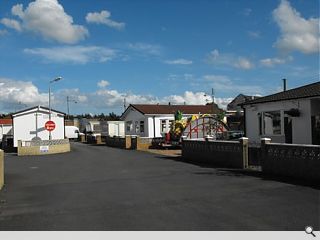 ItÕs show time in a battle between Glasgow City Council and the travelling community as the authority seeks to clear sites in advance of the 2014 Commonwealth Games.
In towns, villages and cities across the UK travelling show people have defined summer for 100s of years Ð with their brightly lit stalls and rides, sweet smelling confectionery and distinctive sounds of pipes, bells and sirens.
However, at the end of each summer, their ancient wagons, lorries and assorted vehicles lumber home, usually belching diesel fumes and trailing a long queue of traffic behind them.
But where is home? Well for many in the North their destination has been invariably the city of Glasgow Ð where they have taken over waste-ground to allow both men and machinery to recover from the stresses and strains of a tough summer.
However, over the last 50 years or so the migratory patterns of these travellers have changed. With improvements to the countryÕs road network and types of mobile accommodation the community has become increasingly sedentary.
In other words, the travellers no longer travel as much and their camps Ð slotted away in places such as Pollok, Dalmarnock, Bridgeton, Carntyne, Parkhead and Springburn Ð have become increasingly permanent.
Rather than caravans many, for example, feature substantial brick-built villas Ð which have usually been constructed without reference to either building or planning controls.
The east end in particular enjoys a close affinity with travellers and Dalmarnock, soon to be home of the 2014 Commonwealth Games, houses approximately half of GlasgowÕs 3,000 strong traveller community.
However, this link could soon be broken as Glasgow City Council pursues a policy of moving the travellers out of Dalmarnock to a new site in Duke Street, which is being master planned by Keppie.
At first glance the project may have seemed straightforward. But it has opened up a can of worms Ð as the council wrestles with human rights concerns, and the logistics of taking ownership of a patchwork of sites, with a variety of different owners and leaseholders.
Mitch Miller, editor of The Drouth magazine and from the traveller community himself, gives his opinion: ÒMost would have been happy to move if required, after all they are travellers. But I understand the Council approached them to arrange proper planning permissions for the current sites and houses prior to the Games announcement.
ÒHowever, as soon as the Council won the games they seemed to change their tune saying that because the sites lay between an industrial and residential zone there was no way of accommodating them as far as planning was concerned. So now they are being forced to move.Ó
A walk through the sites in Dalmarnock demonstrates just how settled these communities now feel. Situated behind old industrial walls are pleasant estates that put one in mind of a Haven Holiday Park. Neat roads meander between pitches, ornate garden walls define boundaries and signs telling drivers to slow down are evident. Even the occasional house has been constructed Ð however this feature is even more impressive in districts such as Carntyne where some are akin to Palladian villas complete with pillars.
Said Miller: ÒItÕs a tradition of travellersÕ homes that the inside is where the focus of ornamentation goes whereas the outside is kept fairly plain.
ÒYouÕll find Palladian villas in Carntyne, they are actually just chalets but with Greek columns added on, travellers like a bit of bling and some are tarted up to look very palatial with a few specially made double decker chalets. You do get some very strange architectural expressions.Ó
Miller said the community will be disappointed to leave Dalmarnock for the new site in Duke Street, which itself is part of Carntyne.
ÒFrom the travellersÕ side there was a desire to make the Dalmarnock site legitimate and secure the proper planning permissions, but at no point were they able to gain this. ItÕs important for travellers to have everything together, itÕs their culture, but with planning regulations, there was a sense that travellers couldnÕt win and the council werenÕt consistent with them.
ÒI think people are upset having moved to Dalmarnock in good faith when their original site in Partick was put up for redevelopment several years ago and there is concern that relocation of too many travellers to a smaller site in Carntyne will lead to feuding and fights between families.Ó
The move will certainly cause angst amongst those already based in the new location.
Already the proposed move has provoked objections from some such as John Wheatley College Ð which normally flaunts its social inclusion policies.
Others argue that the proposed site itself, marking a prominent gateway into the city, is simply inappropriate for such a development from a built environment perspective.
Despite their transient profession, Miller says that show people felt like part of the city, not visitors. However this disruption reminds them how vulnerable and alien they are.
Circling the wagons
Writer Mitch Miller, who edits culture magazine The Drouth is part of the travelling community. Here he writes an account of his life, gives insights into different perceptions of the meaning of a settled community and compares the story of a group of travellers who moved on to land near Tessa JowellÕs home with the issues faced by show people in Glasgow. Miller rounds off his account with a ÔschematicÕ (overleaf) of the site his family hailed from to demonstrate the complex nuts and bolts that hold these communities together.
I have a picture of myself as a baby that still amuses me. I am sat in the pram, hood down and hair free to the breeze, red cheeked and perfectly content. Above my tufts of hair a ÔLONG VEHICLEÕ plate stretches over the unmistakable rear bumper of our 38-foot caravan. Being Travelling Showpeople we never called it that Ðto us it was always the wagon. Even when we tried living in an ordinary house home was Ôthe wagonÕ. If plastic swords swished dangerously near a Dux ornament, or a tennis racket rattled against the wood panelling we would be reprimanded to Ômind the wagonÕ. House was legally accurate, but psychologically, we never really lived in one.
While not a Romany myself, the news that a trailer site has been developed at record speed next to Tessa JowellÕs £1m Warwickshire pile reminded me just how weird that conception of home seems to ÔnormalÕ people. And itÕs not just nostalgia; backlit by the involvement of a particularly controversial New Labour Minister, the incident has rooted out very familiar, sometimes very ugly, popular preconceptions.
As a mortgage holder I feel for Tessa. Allegations over her dealings with Benito Berlusconi and the double-gilded poison chalice of the Olympics have already furrowed her fetlock. And here comes a consortium of 16 crafty Romany families who fetch up 200 yards away plunging her into Ð to quote the SunÕs restrained, dignified analysis Ð Ôevery homeownerÕs nightmareÕ.
Whatever your views of the groupÕs actions, one has to admire their speed and industry. In a single long weekend they converted grazing pastures into a very permanent looking caravan site, plumbing in water, electricity and hard standing on the land they bought. Warwickshire council must now contend with article 8 of the human rights act which guarantees Ò the right to respect for his private and family life, his home and his correspondenceÓ as the group bids for retrospective planning permission.
People with barn conversions, delicate old ladies and local hacks have naturally been appalled. ÔInvadersÕ, ÔswarmsÕ and ÔeyesoreÕ being the recurring rhetorical flourishes, and presumably locksmiths are having a beano. Tory Councillor Chris Saint fumed brilliantly, remarking that ÒIt is not what law abiding citizens want to see on their doorstepÓ.
I am a connoisseur of bigoted outbursts, and that definitely joins the collection in the ÒSpeaks VolumesÓ volume. But the Warwickshire case is merely the highest profile incidence of Travellers buying land and developing it without planning permission, knowing they can stay long enough to see most of their children through local schools. They want a more settled life, but not necessarily to live in a house. That is not as counterintuitive as it sounds. There are many benefits of Ôcamp lifeÕ worth preserving beyond the superficial rhythms of nomadism Ð those of mutual protection, a sense of community and the ability to arrange your living space according to friends and family, rather than the arbitrations of an architect or urban planner. As imperfect as any other sort of living, at its best it allows children some breathing space in a safe environment Ð one where a baby can sit outside in their pram, sucking in the fresh air surrounded by a chorus of friendly eyes.
The Warwickshire consortium seems to consist of better off families looking to escape the endless cycle of illegal encampments and forced evictions. Locations are developed without planning largely because they know that permission will almost always be refused. Planning laws were not designed for developments such as Gypsy sites or ShowmanÕs yards, where residential and commercial concerns exist side-by-side (although notably, no-one bats an eye when a farmer wants to do the same).
This sticking point tends to lead to flat refusal. There are Ð for Gypsies and ÔethnicÕ Travellers Ð the council sites built in the 60s, but these have been failing for a very long time, and a single incident can clear a site in a matter of hours. The result? Put crudely, yet more traffic on the lay-bys, or families driven into housing where they feel isolated and are often at the mercy of local bigots. Private developments around extended families provide an answer, but are frequently stymied by red tape, local prejudices and NIMBYism. And so families continue to move from pillar to post.
Keen Jowell-watchers have been quick to point out that the Minister has herself contributed to the ranks of those Travellers looking for a place to stop. Last year she approved the bulldozing of official, approved Gypsy sites in LondonÕs Newham and Hackney districts to make way for the 2012 Olympics. Families who had lived in Clays Lane for more than 30 years had to be moved to locations elsewhere in the city.
If the Warwickshire consortiumÕs actions arenÕt payback for this ÔJowell-movementÕ Ð one of many colourful suggestions made by media types Ð then the universe clearly has an excellent sense of restitutional humour. As Olympic costs soar, JowellÕs equity plummets. But what is not so funny is the danger that if these new alternatives are unsuitable, the London families will vote with their feet and back onto the road.
ItÕs not just LondonÕs Travellers who are being affected by these grand city spending sprees. A fad for big city carnivals is seeing whole communities smothered in corporate bunting. Although ethnically and culturally distinct from Romanies, over 1,000 Travelling Showpeople in Glasgow face a similar problem. Friends and relatives of mine who live on winter yards in Dalmarnock have discovered they too stand in the way of progress, or, to be more exact, the athleteÕs village for the 2014 Commonwealth games.
The ÔgroundsÕ are ordered, peaceful oases in the red-brick desert of the east end. Tucked between boxing gyms, decayed factories, mobile snack bars and rubbish tips, they have been here for over 25 years and are a permanent home for many families, particularly older Showpeople who no longer travel. Most of these families moved here after another wave of development, many hoping it would be their last big shift. In all that time, despite meeting all the necessary health and safety standards the occupants have never been awarded permanent planning permission Ð typically being given provisional planning to be renewed in three-year cycles.
The hope was always that the council would relent and make it all official but years of prevaricating have, for them at least, paid off. Everything Ð wagons, lorries, gyms and snack bars Ð must go by 2010. Dalmarnock residents have been offered alternative accommodation, batched with a number of other ShowmanÕs yards in Carntyne and Shettleston. There is a general feeling of being herded, of clearance Ð the word ÔreservationÕ has been dropped here and there, with varying degrees of seriousness. But even in Shettleston (not an area known for its barn conversions) there is NIMBYism. As the tenth cup of tea was poured, mine host told me that the head of a leading educational institution in the east end Ð and one not shy to trumpet its Ôsocial inclusionÕ credentials Ð remarked that a ShowmanÕs yard would move into the area over their Ôdead bodyÕ.
Travellers must wonder just what it takes to please Ôthe settled communityÕ (whatever that isÉ). TheyÕre not wanted on the roads, or on laybys, or village greens, but when they try to play the game and find their own patch of dirt labyrinths of clauses and exceptions Ð in Glasgow weÕd call them Ôa-buts!Õ Ð open up before them.
And so, like Josef K or the most gymnastic of camels, Travellers could be forgiven for thinking the verdict is already decided. Unsympathetic town planners, vote-grubbing ministers, house prices, the corporate takeover of cities, and ÔPikieÕ and ÔChavÕ entering the OED Ð all factors that prompt families such as those in Warwickshire to circle the wagons and say to hell with the consequences. Ms JowellÕs situation may well be a ÔnightmareÕ Ð a profound threat to the system of liberty and property Ð but in the end, Gypsies and other Travellers remain defendants in search of a crime.
Back to October 2009