Why Union Square Divides Aberdeen
26 Oct 2009
A planning battle is raging in the heart of Aberdeen as oil magnate Sir Ian Wood offers to put £40m into a new Union Square. But will the city lose more than it will gain?
Aberdeen, or more specifically its planning department, has been no stranger to controversy in recent years with Councillor Martin Ford, Chair of the Infrastructure Services committee, turfed out for daring to disagree with Trump, and Marischal college being gutted in a costly council relocation project. To say nothing of £60m in cutbacks as the Council dance a merry jig around their tottering budget in the aftermath of a scathing Accounts Commission report. The irony is that these tales of woe come on the back of unprecedented oil wealth which has contributed precious little, or more accurately nothing, to the cityÕs built environment - its finest architecture all a legacy of the pre boom years.
An attempt to right this wrong has however merely resulted in a new entrant in the oil capitals growing rostrum of questionable planning decisions as battle lines are drawn over a steeply sloping site, described as a Ònatural amphitheatreÓ at Union Terrace Gardens which despite geographic prominence has lain underutilised. This could be about to change however as two protagonists lock horns in an epic David and Goliath battle over the very soul of Aberdeen.
In the blue corner stands the Peacock Visual Arts Project, with AberdeenÕs leading contemporary arts organisation working in conjunction with Brisac Gonzalez Architects, who have designs on establishing the city as a leading cultural centre by bringing four of the cityÕs key arts organisations together under one roof with space for galleries, printmaking, television and dance studios, workshops, music and talks.
Grappling with a tight topographically challenging site, Edgar Gonzalez, architect of the Peacock Visual Arts development, outlined his practices approach to the topographical challenge presented by the site: ÒOnce upon a time, the gardens were an integral part of the city. Today the gardens are not used very much, in many ways creating an urban void in the city centre. How do you incorporate a building without extinguishing the park? It was an interesting problem we faced. The solution is discreet from the street contour hugging ripple of accommodation, three one storey buildings recessed from one another that have made the steepest part of the gardens accessible.Ó The result is an unlikely organic form more closely aligned with the distant paddy fields of China than the oil fields of Aberdeen but one which successfully engineers the steep gradients of unusable space into accessible land, bolstered by unique roof level access, dictated by a need to protect views of His MajestyÕs Theatre. A Victorian stair around a Robbie Burns Space and two public lifts taking people directly to the gardens are provided, opening access to the disabled.
In the red corner is oil baron Sir Ian Wood, who with architects Halliday Fraser Munro (HFM), Scottish Enterprise and Aberdeen City and Shire Economic Future (ACSEF) - a local body aiming to promote collaboration between the public and private sectors to promote economic development - has revealed his very own Ôgrand projetÕ, a lasting monument to the oil years on a hotly contested five and a half acres of land. Wood has pledged £40m of his own hard earned towards formation of this Ònew heartÓ for the city centre and to this end has commissioned a draft feasibility study for raised gardens over the Denburn dual carriageway, costed at between £110m and £140m. Three options will be put to public consultation this September, two providing a complete or partial decked garden and transport hub and one to Òenhance and retain the existing iconic feature which is Union Terrace GardensÓ, to the benefit of the Peacock Centre. Unfortunately thus far the project has been very much to the detriment of Peacock.
Though just a pie in the sky of Woods minds eye the scheme has still ruffled PeacockÕs feathers as doubt and uncertainty prove a menace on its terraces. A situation not aided by HFMÕs report which comes out strongly in favour of the nuclear option, saying of Peacock: ÒThe delivery of this project will effectively put an end to any future possibility of Ôraised gardensÕÓ and gallingly concludes: ÒIn terms of connectivity and impact on the wider area we see no benefits being derived from this optionÓ, suggesting that minds have been made up irrespective of a pending public consultation.
Many in the oil capital would beg to differ with this assessment, pointing out that criticism of the raised deck has not been hard to find with consternation building over the burden likely to fall on taxpayers who will likely be lumped with the exorbitant bill at a moment of frugality, having to stump up the required readies to make reality of a vision which for many remains rooted in fantasy, as AberdeenÕs threadbare coffers attest.
Peacock have 75% of their required £15m funding in place and completed design work in May of this year for what is by all accounts a highly regarded scheme. Gonzalez remarks: ÒWoodÕs scheme is effectively covering over our site and gardens, the two schemes are incompatible. The longer we wait the weaker our project becomes, if this doesnÕt happen in the near future we will die of stagnation, losing our Scottish Arts Council funding of £4.3mÓ. Despite riding a coach and horses through his plans Gonzalez insists his door is always open for talks with anyone, a move backed by local commentator Colin McColl of McColl architects: ÒItÕs very emotional because Brisac Gonzalez have made a very positive move for Union Terrace but I personally donÕt see why Peacock and ACSEF together couldnÕt find a better solution.Ó Wood has, however, compromised his ability to negotiate, with recent hyperbole leaving no room for doubt on which direction this process is headed: ÒThis project has the potential to make us the Houston of the western hemisphere. The report and images present us with a real opportunity to become a world energy city.Ó
It is not merely the clash of designs that has been called into question, but the viability of WoodÕs scheme as a concept which would be equivalent in scale to MoscowÕs Red Square. ÒIÕm not an objective bystander, but Aberdeen is not a fantastically large city. Is there critical mass to support such a large public space?Ó Gonzalez queries, ÒThe Denburn Valley opening to the city centre is quite phenomenal. Is it really a problem? Belmont Street has lots of bars and restaurants, the view is spectacular and the gardens themselves have their own micro climate.Ó
McColl agrees: ÒUnion Terrace is a Victorian formalisation of the Denburn Valley, and Union Street straddles that, but the proposal doesnÕt seem to acknowledge this. It lacks an architectural or urban concern for this legacy and could lead to a dilution of the axial nature of Union Street itself. It is a commendable vision but the underlying philosophy isnÕt being debated deeply enough. It would have been better to have an international design competition for the site.
ÒI do think the idea of a central public space is a good one. Aberdeen needs that and £40m is a generous figure. But what will you do to humanise that space? £140m of capital, equating to £25m an acre, is not a lot of money, but Aberdeen has never been able to maximise funds from the lottery and government. Tens of millions are being spent on Glasgow and Edinburgh but Aberdeen has never been able to access that pot.Ó
Such is the air of controversy that a presumptive press release from (ACSEF) claiming an exclusive display at The Lighthouse, ScotlandÕs centre for architecture and design, was soon pounced upon. Gonzalez says: ÒThe Lighthouse were displeased with how theyÕd been told to show the proposal. ACSEF were involved in WoodÕs scheme to showcase an open forum of certain schemes but gave certain conditions that only the two Wood schemes could be shown, Peacock could not be part of it.Ó A Lighthouse spokesperson responded; ÒWe were approached to cover the Union Terrace scheme in Aberdeen and a very general discussion was held on the topic which ACSEF over interpreted. We are not in discussions at all with ACSEF, nor in any kind of advance discussions with regards to Union Terrace Gardens. ThatÕs not to say that there wouldnÕt be any coverage in the future were we to do anything.Ó
How Aberdeen adapts to its rapidly changing circumstance is the subject of much debate both locally and nationally. It has been the economic darling of Scotland for decades, but have those years of plenty been squandered? Future generations of Aberdonians are deserving of some trans generational manifestation of their fortuitous economic bounty but WoodÕs over arching ambition is arguably not it. At a time of climatic, political and economic change, a truer legacy would be better afforded not by being Ôthe Houston of the Western hemisphereÕ but by furtherance of the city as a genuine world sustainable energy capital.
Planning expert willie miller , originally from the area, explains why the wood scheme is rotten
My first experience of Union Terrace Gardens was as a child, there was a distinct sense of being somewhere special Ð the changes in level, the paths disappearing down to the trains, the promenade along Union Terrace where we could watch people playing draughts with oversized pieces, walking dogs or just running around in the sun.
Of course IÕve been back to Aberdeen many times since but the magic of that green space in the midst of the Silver City never wears off. The prominent public buildings stand like sentinels on Rosemount Viaduct and the jumble of other buildings and the railway create a unique and atmospheric urban scene. Taking visitors to Aberdeen for the first time, the likely reaction to Union Terrace Gardens is surprise, wonder and appreciation. It is part of the multilayered composition of old resting gracefully on older that makes the old town and the more recent higher level of Union Street such a great piece of collaged city centre townscape.
Gordon Cullen appreciated these assets in his 1980s plans for the area although he was anxious to cover over the railway and build ponds. Even so, like his plans for Gretna, there is a sense that while he got some of the most critical elements a little wrong, the overwhelming thrust of the proposal was to value what is there rather than try to create something entirely different.
The idea that Union Terrace Gardens is a development opportunity rather than a park seems to have been around from the early 1980s when Scotland really took to heart the idea that all things municipal were bad and all private sector development was good. The same approach to public assets helped to create a dismal retail park next to the beach in Aberdeen Ð truly a candidate for a Carbuncle Award.
The Peacock Trust proposals are interesting but need much more development to ensure that the buildings retain what is special about the Gardens. Sir Ian WoodÕs clumsy proposal seems set on obliterating every positive aspect of the Gardens under daft economic arguments, multi-level parking and an urban space without form or function Ð this with the apparent support of the First Minister. Strong echoes of the Trump saga anyone?
It is about time that Aberdeen started to recognise that place is an important element of the cityÕs make up which should be cherished rather than sold off for inappropriate and wrong-headed developments. That will require a very different mindset to the Thatcherite and Blairite developer perspectives that dominate at present.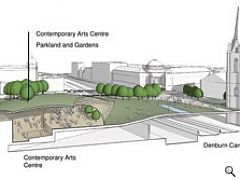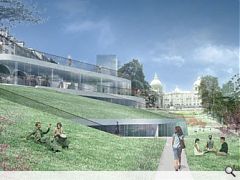 Back to October 2009