Mo town low down
26 Oct 2009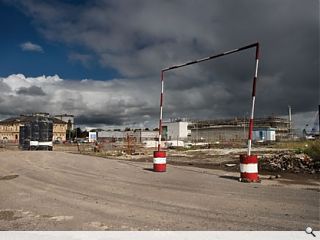 The biggest crane in Europe is hard at work hoisting sections of the new M74 into place. Prospect commissioned top photographer Mark Seager to visit the site and dodge over-zealous security guards in order to record the goings on for Prospect readers.

Glasgow bound motorists will have found ongoing M74 engineering works difficult to miss as work motors along with the largest mobile crane in Europe continuing to winch sections of blue steel into position above Kingston bridge access ramps.
Road closures and diversions have marked the first tentative spurs of roadway which will soon snake some five miles from Tradeston to Rutherglen, a river of traffic paralleling the Clyde to cater for the cities current transport priorities.
Being delivered by Interlink74, a joint venture consortium comprising Balfour Beatty, Morgan Est, Morrison and Sir Robert McAlpine, the route will be BritainÕs most expensive road, weighing in at £445m, £89m per mile of tarmac.
This automobile equivalent to the mediaeval walled city will envelop central districts with what eco warriors have slammed as an environmental car crash, taking a dig at the concept by pointing across the Atlantic to Boston which has invested billions in sinking its obtrusive freeways into the earth, making GlasgowÕs M74 look decidedly 1974.
Improved traffic fluidity on the M8 is also doubted by campaigners who foresee a new choke point where the two Motorways meet, a view shared by glum patrons of ÔThe Kiloran BarÕ, which will soon stand in the shadow of the elevated road, who have been pondering the inexorable march of steel between pints.
Clarkson generation petrol heads are however rather more receptive to the concrete streetÕs charms and the ability to sail unimpeded over the wreckage of GlasgowÕs industry.
Remediation of contaminated land and opening access to the east end and Commonwealth Games site, (see page 28), are adjudged to be a prize worth pursuing in this auto centric world view.
Whichever side you are on there is no denying that the project is a feat of engineering Ð and Prospect commissioned Mark Seager to capture the scale of this project on camera. More pictures overleaf.
Back to October 2009