Why wood is good
26 Oct 2009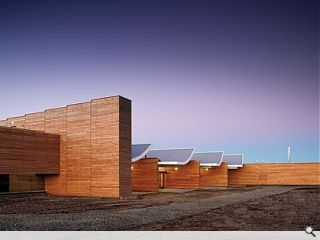 Timber is enjoying something of a renaissance with improved supply of premium products and raised environmental concerns dovetailing to make timber a winner.
Despite the fact that man has been building with wood for hundreds - nay thousands - of years, itÕs remarkable that knowledge of this most basic of construction materials is still very often just that: basic. Knowledge comes in two forms Ð education and practice Ð and in an age when we nowadays all too rarely teach elementary woodworking skills in school or materials science in university architecture departments, it can be little wonder that timber is invariably employed as a generic term with little corroborative understanding of the species-specific properties inherent in the almost limitless range of hardwoods and softwoods available to us for use in construction. A little knowledge can of course be a dangerous thing, but there is no doubt that when it comes to structural design and detail construction with timber, a lack of knowledge Ð whilst not necessarily life-threatening Ð can play seriously havoc with your professional indemnity insurance premiums.
If that all sounds a bit doom and gloom, it need not be Ð there has been a remarkable renaissance in timber design and specification by UK architects over the past two decades and indeed much of the technical innovation in its use Ð whether in ÔgreenÕ form or with the latest generation of engineered or modified woods Ð has been taking place in this country. For those more used to associating all things that are good and exciting in timber construction with central European and Scandinavian locations, this is a significant development. Green timber for example Ð a traditional building material long displaced by more ÔmodernÕ construction materials and techniques Ð has made a remarkable comeback over the past few years, the most visible application being at the Loch Lomond and the Trossachs National Park headquarters at Balloch by Page Park Architects. Purported to be largest green timber framed building in the UK, itÕs structural frame is a hybrid of huge sections of home grown Douglas fir (pre-cut for assembly by the Carpenter Oak and Woodland Co Ltd), glulam beams, I-joists and plywood panels and whilst the final result all looks very simple it is in fact a veritable model of cutting edge timber engineering.
In terms of large (i.e. non domestic) structural timber frames, Douglas fir has become something of the material of choice, having been used by RMJM a few years ago at Lauder College in Fife and currently by Simpson & Brown Architects for the Robert Burns Museum at Alloway. Not that Douglas fir is the only structural material option Ð European oak is being used at the Rosslyn Chapel Visitor Centre by Page\Park Architects Ð but it is the large section timber that is most readily available in Scotland.
And with ever-increasing environmental demands, the whole issue of home-grown timber suitability and availability has changed substantially in recent years. In the external timber cladding market, for example, home grown larch is now being actively marketed by both Russwood (ÔScotlarchÕ is their registered trade name for it) and BSW, one of the countryÕs largest sawmillers. A whole host of recent projects have made exemplary use of home grown larch including the Culloden Battlefield Visitor Centre by Gareth Hoskins Architects and the soon-to-be-completed Royal Botanic Gardens Visitor Centre in Edinburgh by Edward Cullinan Architects. Given its exposed location, Raasey Community Hall by Dualchas is perhaps the most courageous of recent examples and anyone in any doubt about the durability of larch when used in external cladding applications needs to keep an eye on this one as the timber is also employed as the roof covering.
It may be less obvious from its exterior, but the Royal Botanic Gardens building can be regarded as the first significant use of cross-laminated timber (CLT) in Scotland. An engineered timber application that has been around in Europe since the early 1990s, CLT has taken off in the UK over the past few years and indeed significant numbers of new schools in England have made outstanding use of this very adaptable panel product. Not only does it tick a large number of the environmental boxes every building project is currently confronted with (e.g. carbon sequestration, airtightness, acoustic and thermal performance) but, being prefabricated and cut with CNC routing equipment in the factory to produce bespoke architectural solutions, it also responds to industry aspirations for more off-site manufacture and more on-site construction speed. When the economy does pick up again and pressure for new buildings becomes urgent, you can be sure that CLT will be one of the materials most in demand to meet the challenge. A variation of cross laminated timber (which is a glued product), Brettstapel uses dowels rather than adhesives to fix the component parts together and a good example of its use can be seen in the new primary school at Acharachle in Argyll by Gaia Architects.
The characteristic common to all of the projects mentioned so far is that the architects involved have not only done a great deal of research into the use of timber, but they have done so over a number of projects, building up experience as well as confidence in the creative options available to them. Not all timber research needs to be in-house or project specific Ð continuing professional development seminars are, for example, one route to gaining a better understanding of the many ways that timber can be employed in buildings. An increasing number of practices, however, are recognising the benefits to be gained from working directly with academic institutions to not only increase their own knowledge of the subject but also to develop new timber products, systems and applications that may, in the fullness of time, produce a supplementary income stream. The Centre for Timber Engineering at Edinburgh Napier University is working with an increasing number of architectural practices (from one man bands to large commercial offices) on a wide range of applied research projects so donÕt think for a minute this route is not for you: if youÕve got ideas about using timber, call me. If theyÕre good, IÕm certain weÕll find a way to develop them.
Peter Wilson is Director of Business Development for the Centre for Timber Engineering at Edinburgh Napier University (0131455 2272;
pr.wilson@napier.ac.uk
)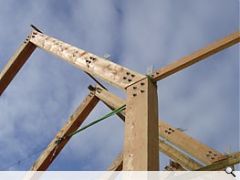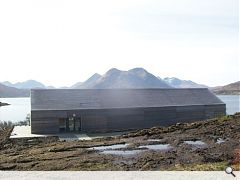 Back to October 2009