Gordon Cullen: The Potential of Glasgow City Centre (1985)
|
Send to friend
2 Sep 2008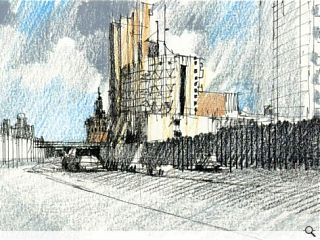 The Cullen report is important for distilling the scattered threads of new thinking in urban planning into a well illustrated blueprint that mapped out step by step policies to be pursued in a bid to allow the city to escape industrial decline. Though entirely unbuilt as imagined the vision for Glasgow proved massively influential to a generation of architects and planners, providing a manifesto for physical and political change.
Key to the vision was enhancement of the city centre to become a honey pot, thereby luring in outside investment, trade and peoples by creating an environment conducive to retail, leisure and business. The strategy proposed called for implosion, much as stellar evolution, Cullen called for contraction and upped densities to rekindle the flame of urbanity. The central artery of this new heart would be Buchanan Street which would act as central spine flanked by the culturally discrete districts of Blythswood New Town and the Merchant City. The street would become a new civic promenade delineated by grand public squares terminating at the riverfront which would itself become a "sequence of places" breeding diversity and coalescing a chain of distinct destinations.
Cues to the central cities importance were to be highlighted by strategic "bastions" or high rise structures immediate to the motorway edge as it scythes through the city centre. Contrasting landscaping on opposing edges would create clear visual distinction of inside and out. Grand archways would signal arrival and departure from the central district commanding key gateways at Sauchiehall and Ingram St's.
A riverside chain would conjoin destinations of individual identity, a "string of pearls". By stressing such inter connectivity no element or place can be considered in isolation, all are chess pieces in a wider strategem, terminated by the "full stop" of encircling bastions.
Buchanan St is polarised through establishment of defined uses, a leisure area at St Enoch Yard, an "urban village "enclosed by an arcade comprising glazed vaulting and space deck roof. The centre of gravity in the street is punctuated by Gordon Sq, to command the Ingram St axis into the Merchant City. Key focal points such as this would be protected by glazing accentuated by projecting arched bays. With an emphasis on entertainment to extend vitality beyond business hours. Thomson's Caledonia Rd Church would be transplanted to a new civic space at Caledonia Sq, a citadel of culture situated upon an elevated, level podium providing formal articulation of the knuckle between Buchanan & Sauchiehall St's.
Following the then government's policy to encourage greater involvement of private enterprise in regeneration the body known as 'Glasgow Action' was established, founded on the principles of Gordon Cullen's report. By 1988 the board, composed mostly of local businessmen, were able to report that the polar buildings of the Buchanan Street axis were under construction with proposals in hand for realisation of a new Broomielaw commercial quarter. The precursor to todays International Financial Services District.
Back to September 2008