Ewan Imrie - The Rising Star
|
Send to friend
25 Jun 2008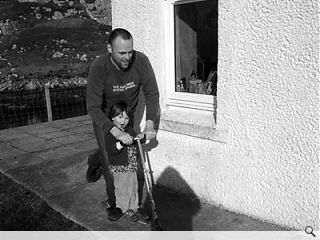 Self-effacing or self promoting, arty or geeky, the new recruit is an astonishingly varied breed. This column looks at their lives, loves and hates of young or newly appointed architects. If you would like to participate in this column contact darcie.condie@carnyx.com
Name Ewan Imrie
How old are you? 36
Where were you born?: Born Dundee, but raised in a village called Kemnay near Aberdeen
Which newspaper do you read?: Evening Times
Where did you study?: Strathclyde University for Architecture. Previously studied Fine Art at Duncan of Jordanstone in Dundee.
Can you draw?: Reasonable, but my 5 year old draws better than me.
Where do you live?: In the East End of Glasgow
What was your first job in architecture?: My first job was a year's YTS in 1989 at Allan Cumming Architects in Aberdeen mainly working the dyeline printer and drawing toilets
What was your first job?: I had a paper round
Where do you work?: Collective Architecture
What colour is Friday?: Amber
What are you working on at present?: Mainly a regeneration scheme in Stranraer involving 200 new houses and an urban strategy aimed at providing variety, improving pedestrian movement and providing quality open space on a steeply sloping site.
How many hours a week do you work?: About 45 hours a week on average.
What is the most entertaining or exotic job you have ever worked on?: The redevelopment of the Titan Crane in Clydebank. Getting to climb a crane on a weekly basis is what boyhood dreams are made of.
What is your favourite building?: Never good at favourites, but the one I have enjoyed visiting most in the last year is St Bride's, East Kilbride by Gillespie, Kidd and Coia.
What is your favourite city?: Probably New York, but have a soft spot for Minsk, Belarus which is quite amazing for its soviet planning and brutal architecture
What is your favourite painting?: Sculpture has more meaning for me. In particular the Donald Judd installations at Marfa Texas have to be seen to be believed.
What is your favourite record?: Spiderland by Slint, or Treddin' on Thin Ice by Wiley
What is the best excuse you have ever heard for a building being late?: Never heard an excuse; only spurious allegations!
Where did you get your shoes?: Not that big on shoes, but got my last pair of trainers from the scate shop in King Street, Glasgow
Back to June 2008