Outsourcing
26 Sep 2007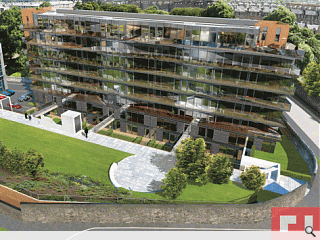 Catriona Smith, of Pixel Image, looks at the pros and cons of outsourcing the production of 3D images to countries such as China, Bangladesh and India
You don't have to stop to ponder for long the Scottish Parliament in Edinburgh or 30 St Mary Axe – fondly known as the Gherkin –
in London to grasp the notion that standard two-dimensional drawings are inadequate tools for communication by today's architects.
These buildings are fantastic, often controversial, explosions of curvilinear shapes. They are also examples of a new approach to planning, designing and constructing buildings: building information modeling that has replaced two-dimensional documents with 3D digital models packed full of real-world properties.
Keeping this work in-house can stretch even the best-equipped team but with planning authorities requiring wider consultation through ever more sophisticated 3D models, producing them successfully has never been more important for architects.
The key to creating an accurate and effective 3D model is clear communication. From the outset it is vital the modeler understands the client's aspirations, the architect's design intentions and the purpose of the building intimately. If you decide to outsource then it is not a given that every agency will achieve this kind of understanding, creating a risk their 3D modeler will not accurately grasp the purpose of the model. Worse still, he may not understand who it should appeal to or whether it is intended to "sell" a building to a client, planning authority or a third party blue chip tenant.
It is clear the expectation from clients across the board for high- quality 3D digital models has never been greater. Consequently; it makes sense for architects to seriously consider the pros and cons of outsourcing 3D modeling to specialist agencies.
Outsourcing offshore
If budgets are tight it may be tempting to outsource modeling work to an offshore company - and there are a few extra advantages tied-in to making this decision. It is cheaper source and offshore modeling companies can often significantly reduce the turnaround time fromg a commission to producing the finished model. However, a large question mark hangs over their ability to communicate with architects and truly understand their clients' requirements.
The risks associated with outsourcing 3D modeling offshore far outweigh the benefits. While their core skills may be evident, the images and models offshore agencies in China, India and Bangladesh produce all-too-often underline the disadvantages of a lack
of UK cultural sensitivity.
These modelers tend not have the training to interpret correctly architectural drawings and professional experience to instinctively and missing detail. There is a strong risk that inaccuracies could be found in their models when it is too late.
They are also unlikely to have samples of the physical finishes of a building to guide them. Their lack of a local image library means that, again, they are unlikely to be able to give their models the accuracy I believe should be applied right down to getting the white lines on the road right.
These offshore companies are unlikely to bother with indemnity insurance and their reliability and accountability to the client can be sketchy.
Outsourcing to a traditional UK company
The other option for outsourcing 3D digital modeling is to one of the architectural visualisation companies providing a service exclusively from the UK.
Keeping the work within the UK does mean you are much more likely to benefit from the local and cultural knowledge. These companies are also usually available for site visits and, without a language barrier, communications are simplified.
But with all these attractive advantages comes high costs. The process of outsourcing 3D digital modeling to UK companies is second only in terms of cost to keeping the process in-house.
Keeping 3D modeling in-house
So with all this risk, cost and lack of control apparently blighting outsourcing, you may well be asking why not just keep it all safely in-house? While the in-house process has admittedly the attractive qualities of being fully integrated within the design team, with immediate and ongoing access to the project and a commitment to get the work done, it all comes with the highest of all costs - and the slowest turnaround.
One of the most crucial aspects of the digital property imaging and design business is the capacity and desire to invest in meaningful R&D. The time and money we have invested in this part of our business has ensured the quality of our 3D models is consistently at the cutting edge of technology. But maintaining this quality comes at a price and one that I imagine
most architectural practices would be reluctant to invest into.
We set up Pixel Image 11 years ago and in that time have gained a wealth of experience in communicating design. We do things differently from the rest of the market. We offer a full spectrum of services while striving to constantly innovate new products
and technologies to drive back the limits of 3D virtual imaging.
Our response to the demand from architects for a fast turnaround has been to establish an offshore 3D modeling team that allows us to deliver on time, but offer competitive costs to our international client base. Our training program, management and
stringent quality
control systems in the UK manages-out the risks that can exist in outsourcing 3D modeling overseas. And accuracy is maintained by our principle of taking all our briefings from architects through our head office in Edinburgh.
The wholesale shift to 3D has dramatically changed the way architects source images of their designs. It is a smarter way of working, but chose your agency carefully as it only works when you get it right.
Back to September 2007