Buildering
26 Sep 2007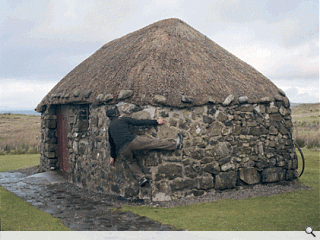 Alex Hartley's work is playful and engaging. He takes the built environment as his subject and invites us to reflect on it from a different angle.
Alex Hartley has his first major solo show at the Fruitmarket. Running until 21 October, the exhibition covers the development of his work – from his early days producing sculptural work inspired by empty gallery spaces, to recent photographic works based on a visit to Scotland.

Hartley is one of a growing band of contemporary artists – such as Toby Paterson, Langlands and Bell and Sam Griffin – that collaborate with architects and take architecture as their subject. The current exhibition includes a glass box containing a blurry image of Ronan Point following its collapse, which was produced 10 years ago, alongside a very similar piece featuring the Seagram Building at night.
Case Study is a life-size model but you can't actually walk into it. It's made up of sandblasted glass behind which sits a model that is backlit, creating a piece of sculpture with a life of its own. As you approach it, it goes out of focus; as you move back into the room, the character of the other space inside the glass box becomes clearer. Not only are they interesting explorations of space and perception, they are also beautiful sculptural objects in themselves.

In some of the early works there is a very direct engagement with the subject of modernism, so much so that Hartley is often described as one of those artists who explores the failure of the modernist utopian vision. However, when interviewed at the Fruitmarket Gallery it became clear that it's not really his theme.

From 2001 to 2003 Hartley made the radical decision to go to the USA to work. The main work he undertook in the States was a series of large photographs which form the backdrop for small models. Each depicts the relationship between the natural landscape and human intervention. A Random Act of God shows what appears to be the site where a building has just collapsed off the edge off a cliff. Hartley describes these works as stories – the viewer can't avoid trying to understand why or how somebody has found themselves in this position.

He likes to give them intriguing titles – such as It was madness to think they would never find us – as a clue to the imaginative process behind each tale. A Random Act of God could be a comment on global warming and the impending doom facing the planet. Many of the works have an environmentalist, vaguely apocalyptic presence but they are not didactic or necessarily cynical.

Hartley describes the development of this work as accidental, the photographs were initially the output of what started as tax-deductible holidays exploring the North American landscape. In a similar arbitrary way, Hartley's sightseeing trips around LA's architectural icons led to his second body of work. On discovering that many of the best buildings were hidden behind security fences, Hartley began to climb to take pictures. He then started to record the climbs in the same manner as they might be recorded in your standard climbing book. The result was LA Climbs, published by Black Dog, a fusion between an architectural guidebook and a climbing guide.

It seems like a pretty basic idea, a one-liner really – buildings aren't just for living in as the architect intended, you can traverse their walls and hang from their rafters like Spiderman. The concept is very post-modern, based on ideas about image, experience and the everyday; and, like so many post-modern ideas, elusive when you try to get to grips with the concept and digest the substance.

That said, the works do provide some unusual vantage points for the camera and there is a certain pleasure from seeing a man two-thirds of the way up one of the giant marble walls at Richard Mieir's Getty Center. In this case the daring ropeless intervention of one man does seem to humanise the soulless and over-egged building.

In preparation for his show at the Fruitmarket Gallery, Hartley agreed with the Director Fiona Bradley that he would try and do a version of LA Climbs in Edinburgh. However, after he undertook some research he came to the conclusion that Edinburgh climbs might be too great a challenge of the time available. Which is a shame, because I think I might really start to appreciate the transgressive and slightly radical quality of the work if I saw Hartley at work on some of the canons of Scottish architecture with which I am most familiar.

Instead Hartley did a tour of Scotland with a camera. Gnomic is a hilarious image of Hartley climbing a crofter's cottage in Kilmuir. He appears to be held by the wind on the surface of the rubble stone wall. As part of this tour Hartley visited St Peter's at Cardross and climbed it. Hartley says he is keen to avoid the Where's Wally? scenario, where looking at his pictures just becomes like a child's game involving spotting the single boy camouflaged in the crowd. Given that St Peter's is already a highly evocative ruin rather than a pristine building, there is very little that Hartley could do to alter our perception of it.

The result is pretty light-hearted and ironic. There is a great picture of a very miserable looking spec bungalow sitting in the shadow of the Forth Rail Bridge. You might expect the climbing route to be across the bridge, instead it is a very uninspiring traverse across the front of the bungalow. In this one image, Hartley manages to say a lot about the gap between Scotland's built heritage and is aspirations and the poverty of imagination in much new development. It's not such much beauty and the beast as high and low aspirations cheek by jowl.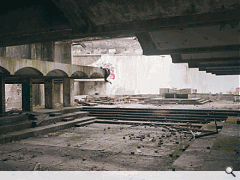 Back to September 2007