Six Cities festival
10 Sep 2007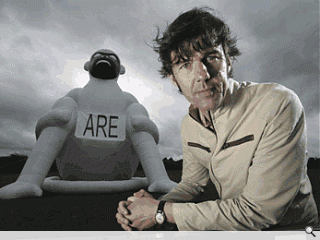 Design is... Scotland's Six Cities Festival was loosely organised around the theme 'design matters', an idea that found many forms of expression – from inflatable monkeys to a programme of interventions, exhibitions and lectures.
From the media's point of view, the highlight of the Six Cities Festival – Scotland's first-ever nationwide celebration of design in its major metropolitan areas – was Stefan Sagmeister's Everybody Always Thinks They Are Right. The artwork consists of six inflatable 30-foot monkeys, each located in a different city, each carrying one word of the title statement. The title itself is taken from Sagmeister's diary and ongoing project Things I Have Learned in My Life So Far.
Following the launch of the installation, Sagmeister enthusiasts packed Glasgow Film Theatre to hear the man behind the record cover designs of Lou Reed's Set The Twilight Reeling and David Byrne's Feelings talk about his work.
The New York-based designer is so successful that he now occupies a space at the very top end of branding, far removed from commercially driven mainstream graphic design. This gives Sagmeister considerable artistic freedom, but it also makes him both the communicator and the ideas generator – which given that his 'ideas' are strongly reminiscent of those droll little couplets you find in the Little Book Of Calm makes his work funny but ultimately disappointing.
One of the highlights of the Edinburgh programme was the Edinburgh Architecture Association's annual lecture, given this year by the artists Langlands and Bell. Prior to the lecture, the couple took part in an informal workshop with invited architects and artists at which they showed some of their earlier film work and talked about their views on the relationship between art and architecture. The couple also revealed they are currently building their own house and studio on a rural site in the south of England.
Also taking place as part of Six Cities was a project by Arcade Architects, artist Shaeron Averbuch and a group of Edinburgh locals. They transformed an unappreciated space in the city's southside – an area dominated by a redundant and spiritless traffic island – into a colourful tropical island. The island was painted with tropical flowers surrounded by a 'sea' of grass and road signs which made way for palm trees. A pink path connected the island to the mainland. The whole three-day project was then recorded using time-lapse photography.
We are all familiar with the 'design matters' thesis – if you thought design was about designer labels and gadgets, you were wrong. "Design its not a luxury, it's about every aspect of our lives," say the design disciples. As a design magazine, Prospect would not seriously suggest that design is not important, but exactly how important is it? In the past designers and architects have lobbied hard to get public recognition for the contribution to our collective well-being, but today government and enterprise agencies appear to be singing from the same hymn sheet.
To understand why 'design' and 'creativity' have become politically sexy, we need look no further than Sir George Cox, head of the Design Council, author of the Cox Review and pioneer of this new conversion to creativity. He opened and provided the intellectual backbone for the Six Cities Festival.
Conscious that creativity has (thank you Sir George) become a catch-all term, he admitted being troubled by the fact that some graduates were leaving university without realising design, innovation and creativity were not the same thing. However, he went on to argue that the unpredictable character of contemporary society means everyone – not just traditional creatives – need to be creative. "It bothers me that too few business schools really teach how you manage a creative culture," Cox explained. "If we want the economy to change, we have to make the whole business environment more creative, and it encourages me that since my report has been produced, that you can see real evidence of change, such as this festival."
There is evidence, too, that there is a growing body of opinion-formers who seriously believe a more 'design-conscious' society will be better organised, more productive, and commercially successful. The idea that educating the public to like good design can ultimately improve the UKs economic performance is a seriously flawed thesis. And the reality was underlined by the festival's propaganda campaign, a series of obscure posters on the theme 'Design is…' which appeared particularly patronising.
However, if you put on one side its dubious intellectual underpinnings, the £3million Six Cities design festival was a pretty successful – albeit a tad expensive – event. Those who attended lectures and shows enjoyed looking at new work and listening to talented practitioners.
And there was a buzz, that kind of collective energy that hasn't been seen in Glasgow since The City of Architecture and Design in 1999.
Back to September 2007