Elder and Cannon at Garnethill
10 Sep 2007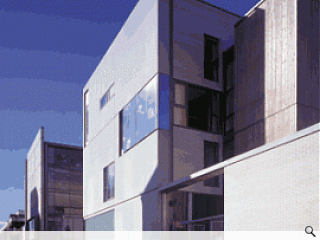 Triptych Elder and Cannon has completed its third building for St Aloysius among Garnethill's tenements. Photographs by Keith Hunter.
GARNETHILL is very Glasgow. It's got the 'hill', the art school, the Catholic Church, Chinatown and an appealing mix of shabby, working-class tenements and a couple of streets of well-healed middle-class ones.
Then there is St Aloysius, one of Scotland's most highly regarded private Catholic schools. St Aloysius sits where the city grid climbs up to embrace the ridge from which the area takes its name.
The urban grain is highly legible – from the top of the hill, the streets frame spectacular rollercoaster views down to the Clyde and over to the south of the city, while to the north, the vistas are contained by the majestic face of the Campsies. Somehow the natural exuberance of the topography reinforces the clarity and elegance of the city grid.
Like Glasgow School Of Art, St Aloysius has, over time, bought a number of properties and sites in the area, so it now has what might broadly be described as a campus. The special thing about this campus is that its circulation areas and break-out spaces are the city streets – spaces the school shares with the rest of the city.
When St Aloysius Junior School was completed in 1999, it was the city's best-kept secret. All eyes were focused on The Lighthouse and Homes for the Future. The fact that Elder and Cannon had produced a really groundbreaking school that made a unique contribution to the urban fabric of Garnethill went unrecorded. Then, in 2004, the RIAS gave Elder and Cannon its annual prize for the practice's second intervention in the area, the Clavius Building on Scott Street. This year the practice has completed its third building which brings together two independent but related facilities: a spirituality centre on the ground floor and a residence – a large house for up to 10 priests and their guests on the upper three floors.
This house contains a small chapel, visible as a tall timber box at the rear, a reception and dining space contained within an internal double volume, and an upper lounge leading to a roof terrace. Like the Clavius Building, the residence presents a panelled concrete gable to Scott Street, book-ending the long run of tenements and marking its civic nature. The residence is, however, a touch more gentle and domestic, and a little less gritty than its partner opposite.
The south-facing roof terrace, which looks like it has been carved out of the block, provides a deliberate challenge to the solid stone boxes that surround it, but it's also entirely at home. This is partly because it faces on to the Clavius Building, but also because the massing – like the other two buildings in the triptych – is perfectly judged.
Back to September 2007