DEMOLISHING MAINE ROAD
19 Nov 2004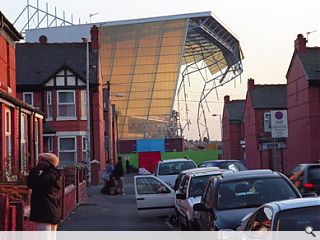 by Len Grant
It wasn't really that many years ago that the residents around Maine Road would make an extra few quid on match days by taking in supporters' bikes.
"We'd pack them into our back yard and a couple of our neighbours' back yards as well," recalls resident Dorothy Jones. "If there were any tandems, we'd have a go on them up and down the back entry. That was good."
Maine Road football ground was one of the last that was nestled within the terraced houses of the inner city. As such, Manchester City Football Club was inextricably linked to the community: local people had jobs at the ground, businesses thrived on the bonus of match days and residents endured the disruption and litter.
When I was commissioned by Manchester City Council to document the demolition of the ground, it immediately provided lots of opportunities. Demolition is much more photogenic than construction: the giant robotic machines, the unpredictability of how the rubble falls, the nostalgia of it being an ending rather than a beginning.
More interesting for me were the social and economic consequences of the club leaving Moss Side to be eventually replaced with 400 or so new homes.
Dorothy Jones remembers her match days were a chance to catch up with friends and family. "It was always open house here," she says. "Friends would call in for a cup of tea before the game. It was always full. You miss all that. It's dead round here now on a Saturday afternoon. Absolutely dead."
For local businesses, the final whistle at Maine Road had a much greater impact. Pubs, shops, burger vans and chippies all felt the pinch after the last game. The Parkside pub, well known amongst fans ("win or lose, there was always a party"), closed within weeks of City's move across town to the City of Manchester Stadium.
At the Claremont Chippy, Sue and Essey Saeli have found it difficult. "One match was equivalent to a week's takings," says Essey. "So imagine twenty home matches a year; we've lost twenty extra weeks in takings. The shop was struggling during the week but the matches saved us."
They are mindful now that extra homes will also bring new facilities and new competition. "We are still concerned about the future," says Sue, "but I am just keeping my fingers crossed and I keep on being brave and positive. It's the only way. I can't do anything else."
Residents too have been worried. Fifteen acres is a big site and whatever goes there will bring considerable change. To their credit, the Council have handled the residents' consultation with care and consideration. There is a real feeling of involvement, and it seems there is a thriving residents' association on every other street in this part of town. People get together and get things done.
During the demolition, vermin was a real issue, as many remember being inundated when previous stands were dismantled and replaced.
"My biggest fear was being overrun by mice and cockroaches," explains Margaret Blaney, whose back yard adjoins the site. "But the Council have been really, really good. All the residents' associations moaned and so they've treated it before it happened. I'm really impressed with them, to be honest."
Although the club's departure from Moss Side has not dramatically improved the first team's performance, it has had a positive effect for many homeowners. Two years ago, two-bedroomed properties would have fetched only £15,000. Now they are changing hands for nearly £100,000.
"Who'd have thought?" says shopkeeper Jit Pandit, "Now, all of a sudden, it's become a nice, desirable location, one-and-a-half miles from the city centre, close to the motorways, the heart and soul of the city – the Curry Mile – only 500 metres away. Yes, yes, I'm selling the area because it's my future!"
Full Time at Maine Road, Photographs by Len Grant was commissioned by Manchester City Council and is published by Len Grant Photography, with an introductory interview with Radio 2's Mark Radcliffe. Available from www.cornerhouse.org/publications, price £13. ISBN 0 9526 7203 0.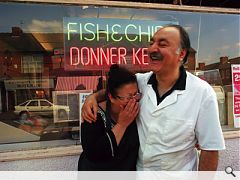 Back to November 2004