Three health centres that set new design standards
19 Nov 2004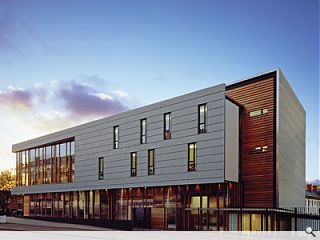 By Anna Chambers
Let's face it – nobody really wants to visit their health centre. You go there only if you have to, and the experience can be miserable: harsh fluorescent lighting, cramped and unwelcoming spaces, people coughing all over you while you await your often flustered and late-running doctor, and all this while you're not feeling at your best. It is easy to understand why people often avoid them altogether and try to recuperate on their own.
It seems like common sense, then, that every effort should be made to make health centres as pleasant as possible. Greater Glasgow NHS Primary Care Division seems to be getting round to that way of thinking. With an enthusiastic team that includes an architect, John Donnelly, in the Estates department, the Trust has overseen the improvement of three medical centres, all completed in the last year. Two of them – the Easterhouse Community Health Centre by Davis Duncan and the Baillieston Health Centre by Page and Park – are extensions to existing buildings in the city's east end. The other is a prominent new building on Dumbarton Road in Partick, designed by Gareth Hoskins Architects.
John Donnelly joined the Division four years ago, after working for years as an architect and deciding it was time for a change. He explains that the difference between these three schemes and their predecessors is the way that they were procured. "The key fact that links the projects is that none of them were won on a fee tender basis. That is part of the reason we were able to appoint good architects and to determine a fee that allowed them to develop good buildings."
This marked a departure from the Division's normal way of working. Its standing financial instructions were that any project over £1 million needed to go to a competitive fee tender. For Easterhouse, the first of the three buildings to get off the ground, the "Brooks" method of tendering was used, where a design is picked without knowledge of the fees. The Division had just appointed a new Head of Estates, Tony Curran, who was very open to looking at different procurement methods. They interviewed four architects: two they had previously worked with and two they hadn't. Davis Duncan's design was selected by a panel consisting of estates staff, local GPs and staff from the Auchinlea mental health resource centre at Easterhouse.
The £2.5 million scheme unifies the 1970s brick boxes of the existing health centre and adjacent mental health facility by creating a new shared entrance and the use of a continuous curved white rendered wall. It also provides community and staff rooms and a series of garden courtyard spaces. Circulation routes within the existing building were reconfigured around a new glazed courtyard, off which are the reception areas for the four GP practices. The centre is now feature-lit as part of the Glasgow City of Light initiative.
The client is very pleased with the results. "The building is very similar to the architects' original ideas – they delivered what they said they would," says Donnelly. "They got all the functional aspects spot-on, plus that little bit extra. It is somewhere you don't mind being. I think it is a universal success. Everyone recognises that we have resolved a lot of problems here."
A few months after Easterhouse, funding was secured for an extension to the Baillieston Health Centre. Page and Park, who had come a close second to Davis Duncan at Easterhouse and had impressed the client, was commissioned. Because the budget was under £1 million, no tendering process was necessary. The extension is now complete, but the contractor is still on site, working on external landscaping. The existing centre is a drab 1980s building, and Page and Park's extension creates a completely new entrance to the centre and a glazed courtyard area inside. The expanded community services moved into the extension, allowing the two GP practices to expand into the spaces left behind. "We originally tried to reorganise the whole building," says project architect Alistair King, "but were constrained by the budget and by the amount of disruption." Page and Park's work has made a huge difference internally, opening up the centre and providing much-needed light. "The client has been a breath of fresh air," says King. "It is great to have an architect as a client, who pushes for good architecture."
At the Partick centre, Gareth Hoskins, who had worked with the Division before on a small ward conversion at Leverndale, was initially given a feasibility study for the community health centre, which grew to encompass the provision of nursery facilities. The local community liked the designs and, when funding was secured, Hoskins was retained as the architect.
The centre, which opened in August, is situated on the main thoroughfare of Dumbarton Road on the corner with Sandy Road. It replaced an existing nursery building, which was demolished, and an old clinic which is now empty. The new £2.2 million centre combines the services of the two old buildings (pre- and post-natal services, dentistry, podiatry, health visitor services and nursery facilities) as well as physiotherapy, and more consulting rooms and admin space.
The façade facing north onto the main road is three storeys, and is fully glazed at ground level, reflecting the shop windows in the tenements across the road. The nursery is in the basement, accessed from the western side of the building and opening out to a sheltered garden to the rear, thanks to a sloping site. The rear elevation has untreated timber cladding with louvres to provide protection from solar gain to the large south-facing windows.
Public areas such as the waiting room are positioned towards the street side, and treatment and consulting rooms to the rear, within a distinct iroko timber-clad box. The atrium space that runs through the three floors makes orientation easy, as does the clear signage and numbering of all doors. Visiting the centre on a sunny autumn day, the quality of light is excellent – from the reception areas on the ground and first floors you can see right through the building, with light coming in from the glazed north façade and from the south-facing windows on the stairwell.
Each centre has a very obvious entry point and is welcoming and bright. Inside, they all have pleasant reception and waiting areas and are extremely easy to navigate. "Often, the arrival point to health buildings can be really off-putting. With all the centres, we've tried to get buildings that, on arrival, feel like somewhere that you don't mind coming to, or sitting for a while," says Donnelly. The centres have something else in common – they all encompass multiple services. "There is definitely a move towards co-location, bringing services together," says Donnelly. "The perceived advantage is that when professionals delivering health and social care services are looking at caseloads, it is easier for them to work as teams and take a more holistic approach if they are accommodated in the same place."
The next centre in the pipeline is at Pollok on the south side of the city. A similar procurement process to the one used at Easterhouse was repeated here; coincidentally, Davis Duncan won this too. Their initial design uses a similar device to Easterhouse - a screen wall will be used to create a feeling of unity between the disparate parts of the existing health centre. Glasgow City Council is keen to incorporate other elements into a larger scheme – an expansion of the adjacent sports centre and library, a Citizen's Advice Bureau, social work services and One Plus, a childcare service. Davis Duncan has completed a feasibility study for the overall scheme but, as the council have different procurement methods, the health centre and civic realm aspects may end up being delivered by different architects.
Although there is now a lot of debate about how the architecture of healthcare can affect its users, this normally focuses on hospitals, where patients spend long periods of time. For centres such as these, the design is more likely to affect the staff who work there every day, rather than the patients. But do workers appreciate a better quality environment?
"The people who worked in the old centres understandably wanted more space and greater functionality, and didn't immediately look beyond that," says Donnelly. "However, if you show them what can be done, they become more open to ideas. At Baillieston, for example, the brief was just to provide extra rooms for several departments, but Page and Park has created a whole new entrance and changed the feel of the building. The appetite is there, but you do need to take it to people, so they realise that there is an option."
But is that option only there because Donnelly himself is an architect, and therefore recognises the value of good architecture? "There is no doubt that some project managers have a different set of priorities," says Donnelly. "They are solely concerned with timeframes and cost, which doesn't always sit well with people who are trying to produce architecture. These three projects were delivered later than they would have been if we had used architects we had worked with before, and for a public body this can be a problem because our funding is tied to specific financial years. But bringing in new design teams has given us new solutions. Architects should understand that pursuing a design agenda isn't an easy option for clients."
So, does it help to be an architect when commissioning architects? "I think it is useful for a client group to have an architect on board, to reassure them that proposed designs are workable and achievable. However, it can be quite difficult – and sometimes it is hard not to overstep the mark and start throwing your own design ideas in! Architects commissioning other architects – that could be a recipe for disaster!" Donnelly jokes.
Back to November 2004