Book Review - Architecture in Scotland 2002-2004
15 Oct 2004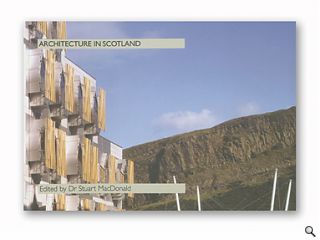 The list begins with the parliament and ends with An Turas, but is anything in between worth getting excited about? Mark Cousins looks at the Scottish Executive's bi-annual architectural review.
"Architecture in Scotland 2002–2004" may not be the most poetic or arresting title but it does (as they say in advertising parlance) "exactly what it says on the tin". This is the second in a series of bi-annual reviews that combines reflective commentary with a catalogue of noteworthy projects. Dr MacDonald uses his introduction to set the scene, raise pertinent issues and précis salient aspects of the invited essays. Certainly the articles by Deyan Sudjic, Terry Farrell, Mary Arnold-Forester, Gordon Murray, Malcolm Fraser, Lucy Byatt and Ian Alexander are absorbing and insightful but what is the expected "life span" for such a publication? Will it become a cherished item in our libraries, a valuable reference source for future scholars, or be consigned to the remainder bookstores?
A number of changes have been introduced since the inaugural review, including the title's subtle shift from "Scottish Architecture 2000–2002" to "Architecture in Scotland 2002–2004". The incorporation of this preposition goes beyond mere semantics; in effect, it allows the selection committee to determine a project's eligibility by geographical location and neatly side-steps any awkward arguments about nascent nationalism and the definition of "Scottish" (is it based on birthplace, postal address or RIAS affiliation?). Paradoxically, this review is noticeably slimmer, despite the number of featured projects having jumped from 26 to 36; the imperative must remain quality not quantity.
The book judiciously employs a couple of seminal examples (the Scottish Parliament and An Turas) as "bookends" whilst the other projects range from the oh-so-familiar (Frank Gehry at Dundee) to the soon-to-be-realised (Oliver Chapman at Tramway). Most tend to be clustered within the Central Belt and, somewhat predictably, Glasgow tops the charts with 16 entries, whilst Edinburgh scrapes in with 11 projects, including Andrew Doolan's austere addition to his Victorian villa and LDN's mellow consolidation of Newhailes House.
No doubt the selection committee spent some considerable time debating the merits of the various nominations and no obvious omissions come to mind. One suspects, however, that a deliberate effort has been made to be inclusive but one hopes that Caithness has something more worthy than the Telford Street housing scheme.
The Architecture Policy is intended to "do more than promote pretty pictures of star buildings" and the bi-annual review is just one component in the Scottish Executive's array of initiatives. It is a commendable endeavour (undoubtedly) but it feels rather "thin"; most projects are illustrated with only one colour photograph and hardly any drawings. Dr MacDonald may lament the Scottish media's paltry level of critical engagement with architecture compared with other European countries but (if sufficient monies were made available) could the bi-annual review not model itself on pre-eminent publications such as "el Croquis", where projects are comprehensively documented (plans, sections, details, etc.) and lavishly illustrated?
Scotland should be more confident about its contribution to contemporary architecture. Surely the completion of the new parliament is the necessary catalyst and the bi-annual review an ideal vehicle to promote our talents abroad? If it is to achieve its full potential, however, it deserves more support (from across the profession), more editorial input and more creative chutzpah.
by Mark Cousins
Title:
\'Architecture in Scotland 2002 - 2004\'
Edited by:
Dr. Stuart MacDonald
Published by:
the Lighthouse 2004
Price:
£ 10.00
ISBN:
1-905061-00-5
Back to October 2004